These tomato and herb bagels are low carb, gluten free and full of fiber. Great toasted with cream cheese or as a sandwich and perfect for a low carb diet!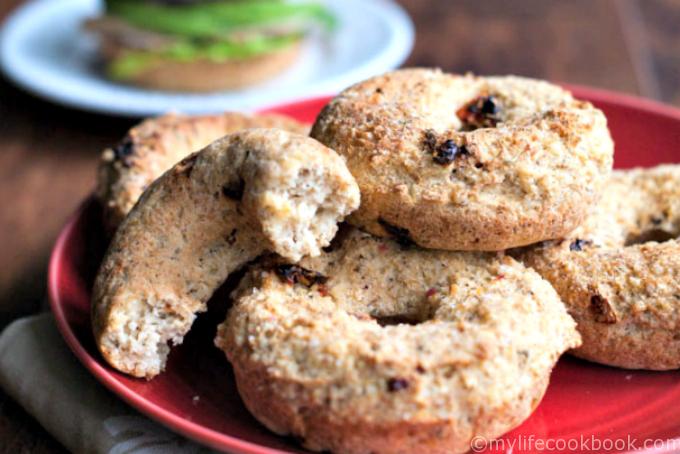 When I was younger I would love to go to Einstein Bros. Bagels and get a veggie bagel sandwich. I would still love to eat one but wheat does not agree with me much anymore. I can have it occasionally but I always run the risk of getting a bad headache. So it's not quite worth it. This week I decided to try my hand at gluten free and low carb bagels. I've made  low carb blueberry bagels in the past but I wanted something savory and was delightfully surprised at how good these came out. Now I'm no competition for Einstein Bros. bagels but if you are doing a low carb or gluten free diet, you might want to give these a try.
I think I've mentioned before that I'd like to get more use out of my donut pan
. I've even gone so far as to make gyro meat bagels! So this recipe was also another excuse to use my lovely donut pan. To make these bagels, I used a blend of Italian seasonings, sun dried tomatoes and garlic because I really love that combination. However you can use a different combination of herbs and spices if you have one in mind.
This was not hard to make. The "flour" part of this recipe is a mixture of almond flour, coconut flour, ground flax seed  and psyllium husk powder. The psyllium is new for me and it definitely gives the bagels that chewy feel. The liquid ingredients are egg whites, vinegar and boiling water. That's for the psyllium husk powder.
Portion out the dough into 6 pieces and spread in the donut pan. Make sure you spray the pan first. Bake for 20-30 minutes and you've got bagels baby!
tomato and herb bagels (low carb, gluten free)
I made myself a turkey avocado sandwich and it was quite tasty! I've also eaten these with cream cheese. One thing to note though, they are very filling. I would not eat more than one for a meal. There is a heck of a lot of fiber in these bagels and quite a lot of protein. Here's the nutritional breakdown:
1 bagel = 120 cals / 4.7g fat / 11.8g carbs / 5.5g fiber / 9.4g protein  = 6.3 g net carbs
Tomato and Herb Bagels (low carb, gluten free)
These tomato and herb bagels are low carb, gluten free and full of fiber. Great toasted with cream cheese or as a sandwich and perfect for a low carb diet!
Author:
Denise Wright (MyLifeCookbook.com)
Ingredients
¾ cup almond flour
¼ cup coconut flour
¼ cup flax seed, ground
3 Tablespoons psyllium husk powder
2 teaspoons baking powder
½ teaspoon salt
2½ Tablespoons apple cider vinegar
3 egg whites
1 teaspoon Italian seasoning
3 Tablespoons sundries tomatoes, chopped
1 teaspoon of crushed garlic
1 cup of boiling water
Instructions
Preheat oven to 350 degrees.
Grease a donut pan and set aside.
In a large bowl, mix the dry ingredients (almond flour, coconut flour, psyllium husk powder, flax, salt, baking powder)
Add the sun dried tomatoes, garlic and spices and mix again.
Next add the vinegar, egg whites and boiling water.
Mix until a sticky dough forms.
Divide mixture into 6 portions and spread smoothly into donut pan.
Bake for 25-30 minutes and check for doneness. Should be firm to the touch.
Let cool and enjoy! Store in the refrigerator or freezerr.
This post may contain affiliate links. For more information please visit our policies page.
---
More low "sandwich" ideas to try!