These roasted Parmesan delicata fries are a delicious change of pace this fall. They are a good lower carb substitute for potatoes.
You might also like these pumpkin fries with buffalo aioli.
I just recently discovered delicata squash. I am so excited because it is simply delicious! It's creamy and a bit sweet. So today I bring you some roasted Parmesan delicata fries. It's a delicious side dish that is perfect for fall. And while delicatas are not extremely low in carbs, they are lower than potatoes and therefore make a great substitution.
What Does A Delicata Squash Taste Like?
Delicata squashs are from the same species as summer squash however they mature in the winter and are considered a winter squash. The skin is very soft so you don't need to peel them like you would a butternut squash. And you can even eat the seeds so you can eat every part of this squash…except the stem. 😉
.
As for flavor, they are a bit like a potato but with more flavor. The sweetness is not as sweet as a sweet potato, but maybe that of a butternut squash. So maybe it could be best described as tasting like a butternut squash with a potato consistency. Yeah that's about right.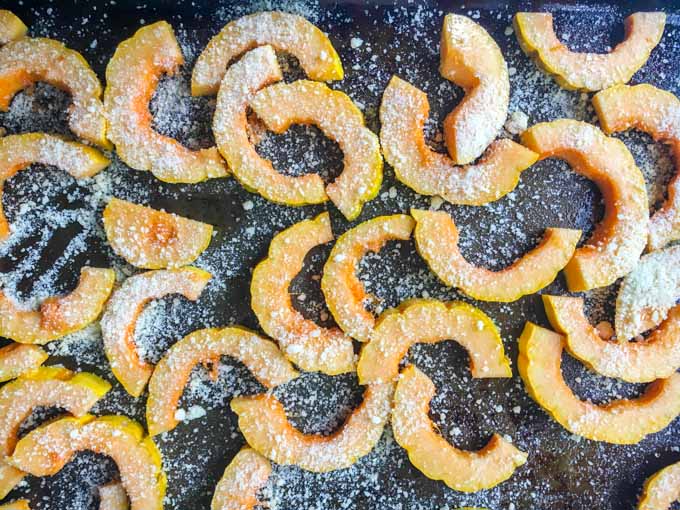 Roasted Parmesan Delicata Fries Recipe
These fries are very easy to make. The skin is edible so all you have to do is cut it in half, scoop out the seeds and cut them into half rings. I tossed them with olive oil, Parmesan cheese and salt and pepper. You could also try some rosemary or other spices if you like. I just wanted to keep it simple
Then roast them for about 15 – 20 minutes and they come out nice and browned like those pictured above. Check on them and flip them if you want half way through. I did not flip them and they browned only on one side which was fine for me.
Nutritional Information For Delicata Squash
Delicata squash are high in fiber, especially when you eat the skin like in this recipe. It also is high in both vitamin A and vitamin C. There are about 80 calories in a cup of delicata squash, 17.9g carbs and 5.7g fiber so 12.2g net carbs. It's also high in potassium and manganese. You can read more from Dr. Axe in this article and get more nutritional information here.
Can You Eat Delicata Squash Seeds?
Yes, roast them! Just wash them, pat dry and toss with olive oil and salt. Roast in a 350 degree oven for 10 – 15 minutes. They are smaller than pumpkin seeds but taste very similar.
I hope you enjoy these delicata fries as much as we did. It's fun to try different squashes in the fall. They are good for you and delicious!
*NOTE* It's hard to find a definitive nutritional source for delicata squash. The following is for 1 serving if I used winter squash information. However since you are eating the skin I would think there would be more fiber so given that here is the nutritional information for 1 serving:
128 cals / 8.1g fat / 13.7g carbs / 4.3g fiber / 2.4g protein = 9.4g net carbs
Parmesan Delicata Fries
These delicata fries are a delicious change of pace. They are a good lower carb substitute for potatoes.
Ingredients
1

delicata squash

2

tablespoons

Parmesan cheese, grated

2

tablespoons

olive oil

salt & pepper
Instructions
Preheat oven to 450.

Cut squash length wise and scoop out seeds.

Cut each half into rings. These will be your fries.

Toss with olive oil, Parmesan, salt and pepper. Or any other seasonings you like.

Roast on sprayed cookie sheet for 15 minutes or desired level of brownness.

Enjoy!
Add this recipe to your Mix!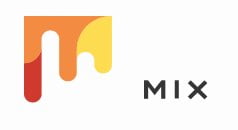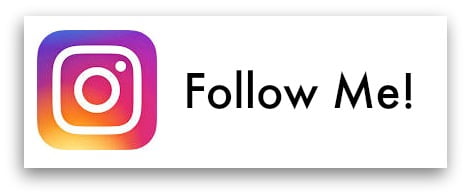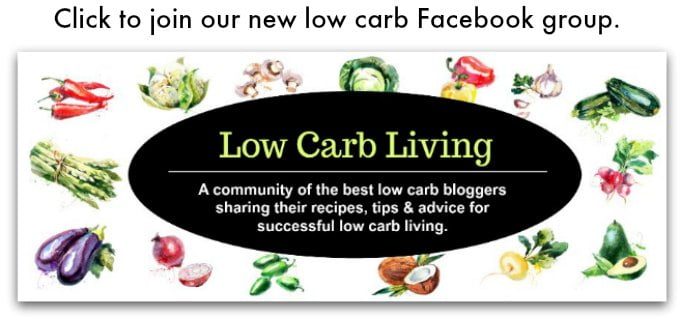 Check Out The New Ebook!