If you like Indian food you will love this easy beef curry recipe that you can make on the stove top or in the Instant Pot. Spicy and delicious you can easily make this dinner any night of the week.
You might also like this Thai curry butternut squash noodles recipe.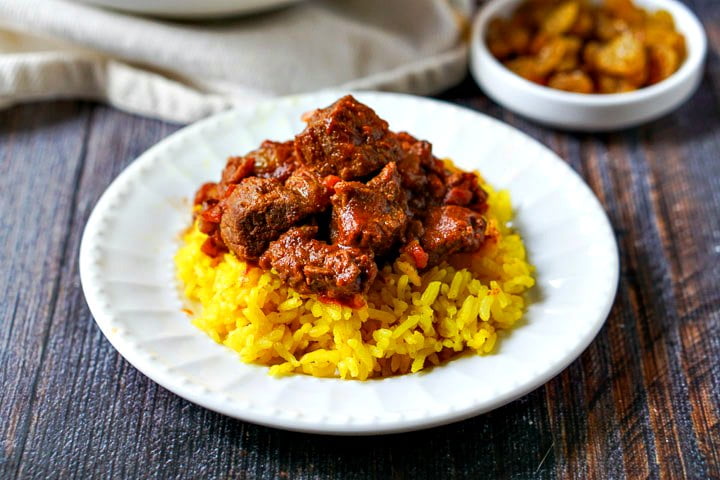 When we lived in England for a year, one of the things we loved most was getting a curry from the many Indian restaurants nearby. So when we came back to the United States I had to learn how to make curry so we could continue to enjoy this spicy dish.
Luckily enough I found this great Indian curry paste and it made the job so much easier for me. So today I'm sharing with you this easy beef curry recipe that you can make on the stovetop or in an Instant Pot. It's spicy and flavorful and I'm sure you will love it as much as we do!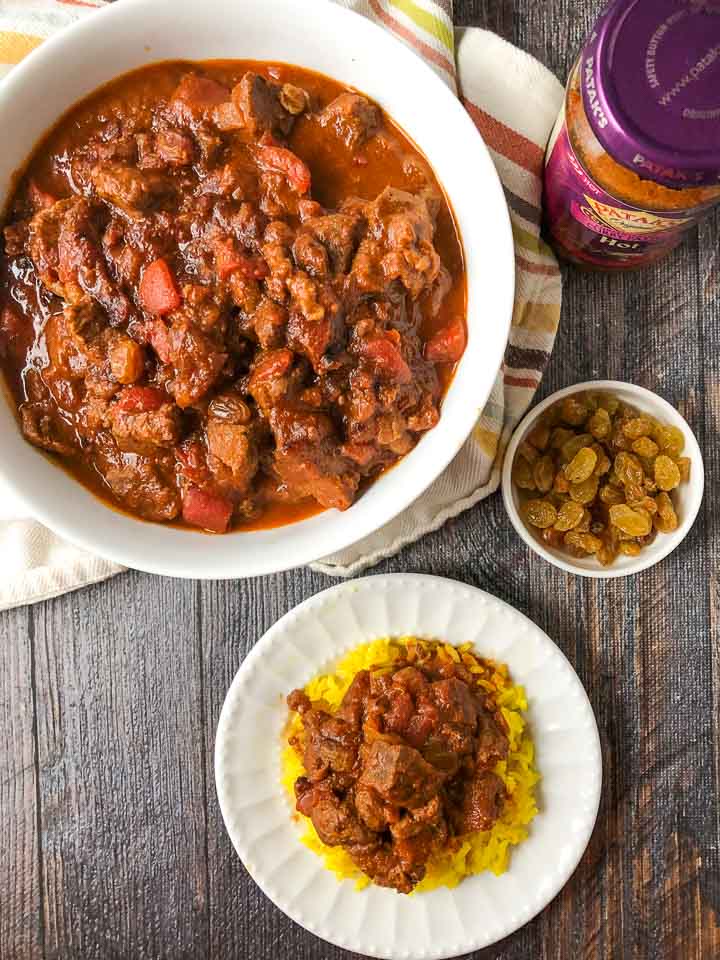 Indian cooking is not something I know much about. The more I looked into it, the more intimidating it seemed to me. There are many exotic spices involved and I wasn't sure how to get started.
So before I tackled one of those more complex recipes I tried a Patak hot curry paste that I found at my local grocery store. It was so delicious I've never tried anything else.
The Beef Curry Ingredients I Use
There aren't many ingredients needed to make this curry dish because I was using the paste. So the ingredients I used were beef stew meat, onion, Patak hot curry paste, diced tomatoes, tomato paste, beef broth and golden raisins. By the way, I bought both the mild and hot curry paste but we ended up like the hot.
By the way, this recipe is essentially the recipe on the back of the jar of curry. I've just tweaked it a bit over time with golden raisins and tomato paste to give it a bit of sweetness to counteract the heat.
How To Make Beef Curry On The Stove
It's fairly simple to make. In a nutshell, you just brown the onion and meat in a large skillet. Then add some water or beef broth and simmer for an hour or until the meat is tender. The smaller you cut the pieces of meat the quicker it will cook.
Once the meat is tender, add everything else, cover and simmer for 30 minutes or until the tomatoes are soft and meld with the rest of the dish. When it's done, I serve it over Holy Rice which is just rice that I add turmeric to. My husband calls it holy rice because it forms holes when it's done and I use turmeric because that was how my mom makes it and it looks pretty.
How To Make Beef Curry In The Instant Pot
To make this in the Instant Pot you first brown the beef and onions using the saute function. Then you add in the other ingredients and pressure cook for 20 minutes. Below is what it looks like before you pressure cook it.
Lastly you quick release the pressure when it's done and then simmer using the saute function to cook off some of the liquid. This will concentrate all the flavor and make your curry thicker like it is below.
When you cook it on the stove, a lot of the liquid will cook off but in the Instant Pot, the liquid can't escape. So that is why you want to simmer it after pressure cooking.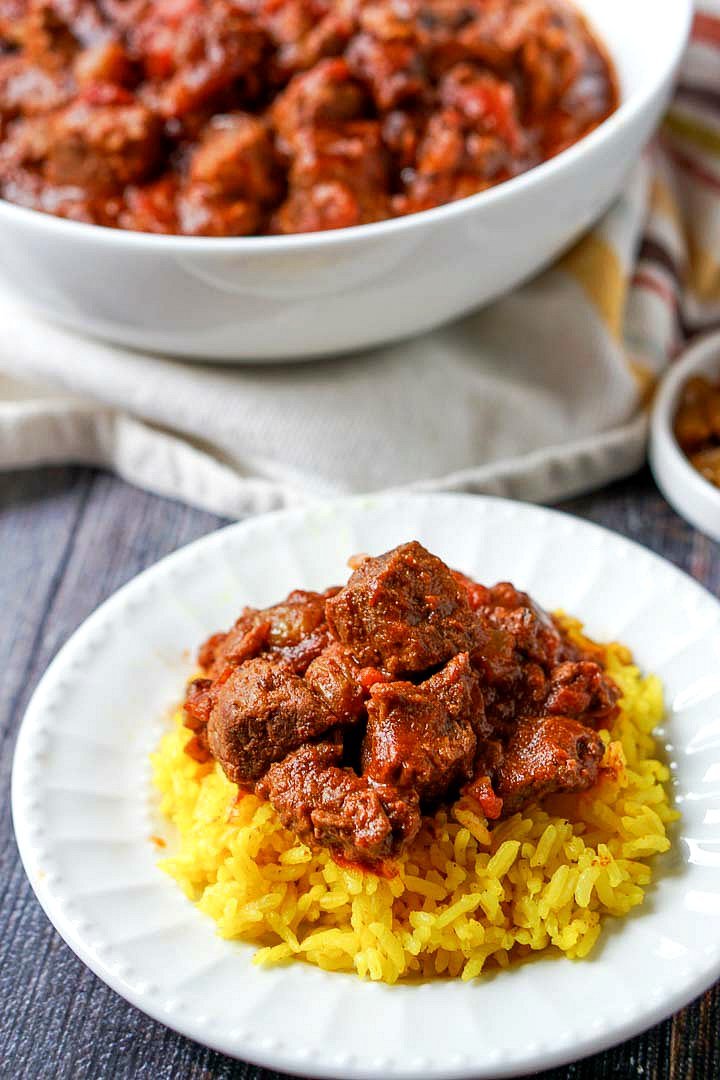 UPDATE: This curry paste comes in mild, hot, extra hot, madras, vindaloo, tikka masala and more. I used to buy it at my local grocery store but it's no longer available so I buy it here on Amazon
.
I hope you give this one a try because it truly is delicious! I'm so excited that my son Max finally likes spicier foods because my husband and I both love this dish and I want to make it more often. Enjoy!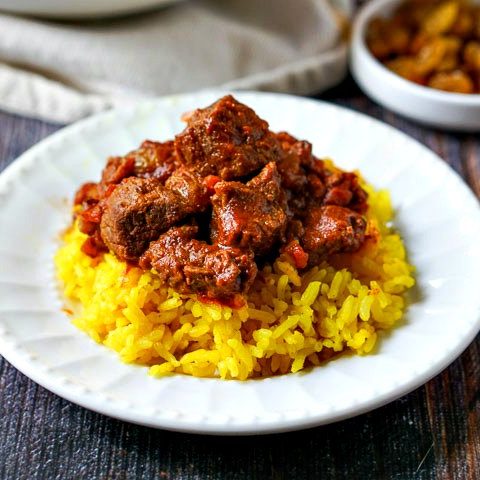 Easy Beef Curry on the stove or in the Instant Pot
This Indian dish of beef curry is so easy and delicious you will want to make it on a regular basis.
Ingredients
½ large onion, chopped
2 T olive oil
1 lb stew meat
salt and pepper to taste
2 cups beef broth, or water
1 can diced tomatoes
2 Tablespoons tomato paste
3 Tablespoons Patak's Curry Paste
½ cup golden raisins
Instructions
To make on the stove top
Heat a large sauté pan to medium high.
Add your olive oil and onions and sauté for a few minutes.
Next add the stew meat and brown.
Once the meat is brown, cover the meat with either beef broth or water until it is almost covering the meat.
Bring to a simmer, cover and cook for about an hour until the meat is soft. Check to make sure the liquid is still there so the meat doesn't burn. you may have to add more water or broth. When it's finished you want just a little liquid in the pan.
When the meat is tender, add all the other ingredients (diced tomatoes, tomato paste, curry paste, raisons.)
Mix to combine and add a little water or broth if it seems too thick.
Cover and simmer for 30 minutes or until the tomatoes are softened and meld well with the rest of the mixture.
To make in the Instant Pot
Hit the saute button and adjust the heat to high.
Add 1 tablespoon of oil and then the stew meat. Sprink salt and pepper and then brown the meat (about 5 minutes). Hit the cancel button.
Add in all of the other ingredients, mix and attach the lid. Push the release valve to the back and manually cook for 20 minutes.
Quick release the pressure and then hit cancel. HIt the saute button and bring to a simmer until some of the liquid cooks off. This may take 15 minutes or so. Watch that it doesn't burn. **
Serve over rice and enjoy.
** Note the reason you want to cook off some of the liquid is because when you make it on the stove, much of the broth cooks off giving the curry a nice thick sauce. When you make it in the Instant Pot none of the liquid can escape so it's much more watery. Boiling off the excess liquid will give a more concentrated taste.
Nutrition Information:
Yield:

4
Serving Size:

1 grams
Amount Per Serving:
Unsaturated Fat:

0g