This past Christmas Eve day, I was running around like a whirling dervish. I didn't have anything to grab for lunch but I did have some zucchini and pesto that I wanted to use up so hence this lovely dish was born. Yeah I know it was Christmas, and surely I had better things to do than to think of my own belly, but this took only minutes to make and it was healthy and delicious.
I just used zucchini and these two things from Trader Joes…their Genova Pesto (I was in Genoa once!) and Raw Pine Nuts. I just love Trader Joes. I'm not sure if it's their wonderful products, low prices or just the fact that it's difficult for me to get there that makes them so special to me. Probably all three things.;)
I am very familiar with pine nuts as I grew up with them toasted and sprinkled on my food. My father was Lebanese and we ate many Middle Eastern foods that included pine nuts such kibbeh, meat pies, rice pilaf and even some sweet desserts. I like to eat them in pasta too. If they weren't so expensive these days, I'd eat them on everything.
Pesto Zucchini Noodles Recipe
On to the recipe. First you need to make your zoodles or zucchini noodles. Using my Pampered Chef Julienne Peeler
, I made my zoodles, put them in a salad spinner, sprinkled some salt on top and let them sit for 10 minutes.. The salt takes out some of the moisture in the zucchini.
While you are waiting for your zucchini, brown the pine nuts in a non stick skillet. You don't need oil or anything, but make sure to watch them because they brown very quickly. Mine are almost burnt in the picture below. They don't need to get that dark but hey it was Christmas Eve day and I was a bit preoccupied. 😉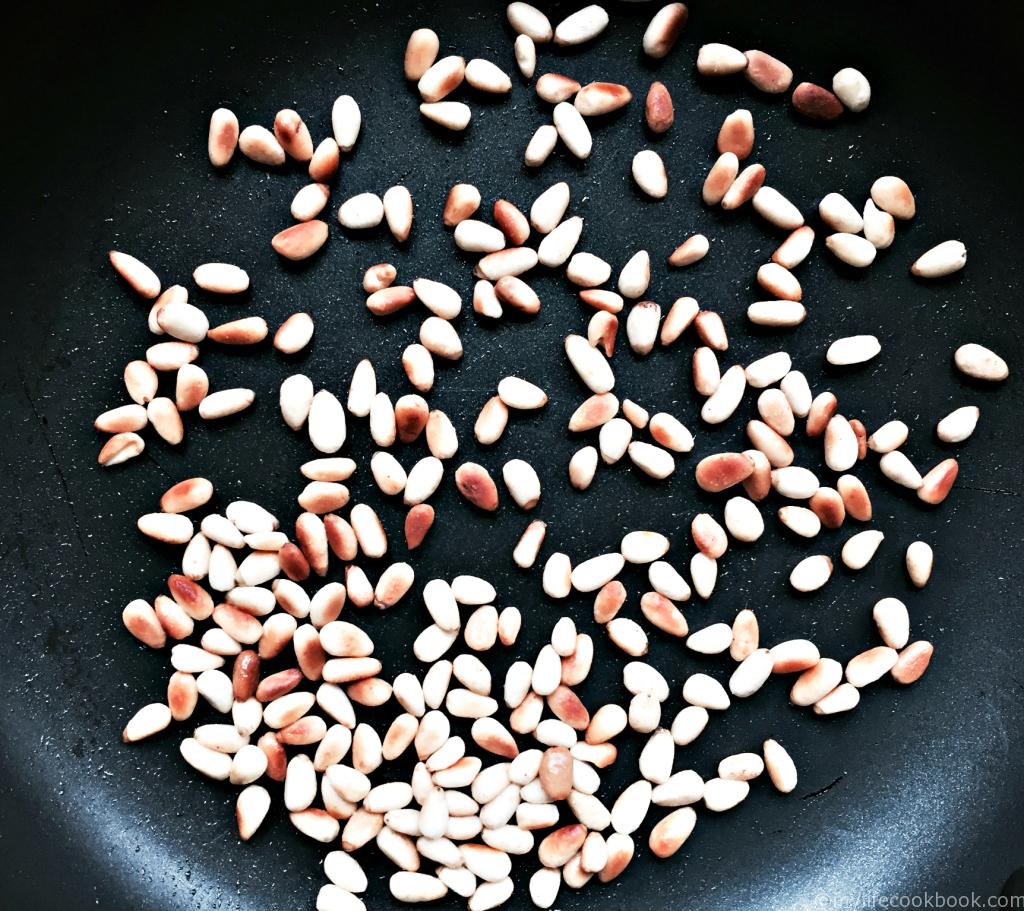 When the pine nuts just start to brown, take them out of the skillet or else they will continue to brown. You can put them on a paper towel to cool. Once your zucchini noodles are done being salted, make sure to rinse them and dry very well. The salad spinner is good for getting them dried quickly but you can just use a paper towel or tea towel if you want. Next take your zucchini noodles and toss them in the skillet you had the pine nuts in and add a little of the pesto. Just cook them for a few minutes to get them tender. Add more pesto to your liking and your done. Transfer to a plate and top with pine nuts and grated cheese for a delicious and quick meal.
And here is the end result. Doesn't that look good?
Merry Christmas to me! Enjoy.
Pesto Zoodles with Pine Nuts
This is a very easy and very quick dish to make.
Ingredients
2

zucchinis

salt

Peso

¼

cup

pine nuts

grate cheese

optional
Instructions
Using a julienne peeler or spirlalizer, make your zucchini into noodles.

Put them in a salad spinner or on some paper towels and sprinkle with salt.

Let sit for 10 minutes.

In the meantime put your pine nuts in a non stick sauté pan and roast over medium heat until brown.

Watch as these burn quickly.

Take them out of the pan and let cool on a piece of paper towel.

Rinse the zucchini noodles and dry very well.

Add to the sauté pan with a tablespoon or so of pesto and cook for a few minutes.

Add more pesto to your liking and let everything heat through.

Take the zoodles out of the pan and on to a plate. Top with pine nuts and grate cheese if using.

Enjoy!