These Paleo Meyer lemon ginger biscotti are so easy to make and are gluten free. Fresh, Meyer lemon and spicy ginger are perfectly balanced with a hint of honey sweetness.
You might also like this easy keto chocolate chip biscotti!
Every time I go to the Strip district in Pittsburgh I buy my father-in-law a big bag of biscotti ends from Enrico Biscotti. He just loves them (as do I), so I got to thinking I would try to make one that was more Paleo. That is I'd make it gluten free and use natural sugars like honey. I also wanted to use a few of my Meyer lemons that I also bought on that shopping trip. Oh the good things you can buy in the Strip district! So that is how I came up with this Paleo Meyer lemon ginger biscotti. What a great taste combination!
In case you didn't know, a Meyer lemon is a cross between a traditional lemon and either a Mandarin or regular orange. They are typically smaller and less acidic and have a yellow-orange color to them. To learn more about the differences check out this article from one of my favorite cooking sites The Kitchn. This is the first time I've tried them and I'm hooked! They are only available November through March so when you see them, you have to snatch them up. My sister Patti is growing a dwarf Meyer lemon tree indoors and you can see that on her blog Hearth & Vine. She also has a tasty Meyer lemon vinaigrette you should try.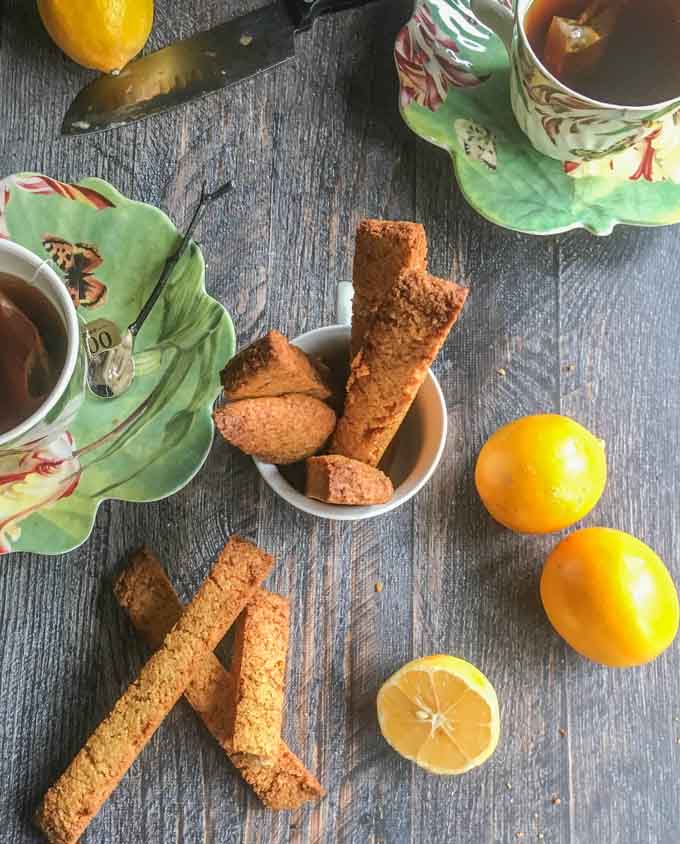 I was VERY please at how easy it is to make biscotti and how good they came out. I know I've said it a million times but I am not much of a baker and evidently you don't need to be one to make biscotti! The almond flour worked like a charm. I also added a bit of coconut flour too. You just mix the wet ingredients in a large bowl and the dry in a separate bowl. Then mix together and form a flat football looking mound on a silicone mat or piece of parchment paper.
Then you bake until golden brown. Once they have cooled you cut them into pieces and turn them on their sides. Bake for 10 minutes per side and then turn off the oven. Once the oven has cooled down they will be nice and crunchy and perfect with a good cup of tea or coffee.
Paleo Meyer Lemon Ginger Biscotti
I have also made these with Truvia sweetener instead of honey and took out the coconut flour and they were great too if you want a sugar free cookie. I'm warning you now that I will be making a lot more of these in the future so if you have any flavor combinations you'd like me to try, let me know in the comments. Enjoy!
The nutrtional information for 1 piece is 157 calories
10.8g fat / 11g carbs / 2.2g fiber / 4.1g protein = 8.8g net carbs
NOTE: To lower the carbs in this recipe, you can substitute ¼ cup Swerve brown sweetener for the honey. This will bring the net carbs down to 2.4g net carbs.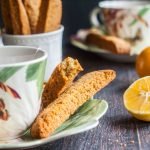 Paleo Meyer Lemon Biscotti
These Paleo Meyer lemon ginger biscotti are so easy to make and are gluten free. Fresh, Meyer lemon and spicy ginger are perfectly balanced with a hint of honey sweetness.
Ingredients
1

cup

almond flour

2

tablespoons

coconut flour

1

egg

3

tablespoons

honey

1

teaspoon

baking powder

¼

teaspoon

salt

2

tablespoons

butter

melted

2

teaspoons

ginger

grated

1 ½

teaspoon

Meyer lemon zest

from 1 lemon
Instructions
Preheat the oven to 325 degrees F.

In a large bowl add egg and beat.

Add honey, butter, ginger and zest and mix well.

in a separate bowl, mix the almond flour, coconut flour, salt and baking powder.

Add dry mixture to the wet mixture.

Line a cookie sheet with a piece of parchment paper or silicone mat.

Shape the the mixture into a flat rounded rectangle.

Bake for 22 minutes or until golden brown.

Take out of the oven and let cool for 30 minutes.

Using a sharp knife cut into 8 pieces buy pushing straight down and not in a sawing back and forth motion.

Turn pieces on the their side and bake for 10 minutes.

Flip and bake another 10 minutes.

Turn off the oven and let sit in the oven until they are completely cool, about an hour or two.

Store in a sealed container.
THIS POST MAY CONTAIN AFFILIATE LINKS. FOR MORE INFO PLEASE VISIT OUR POLICIES PAGE.
---
More healthier sweets to try!