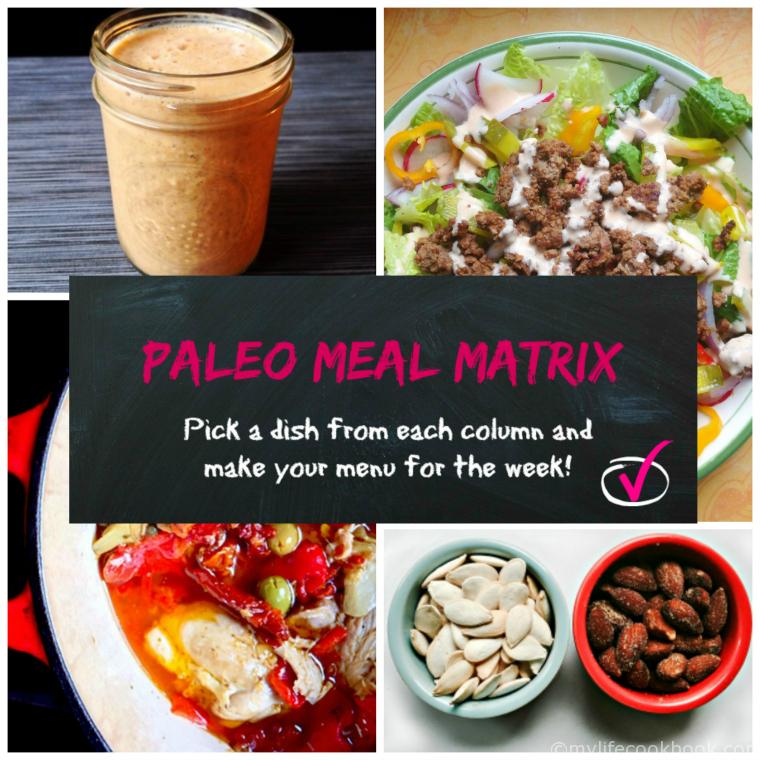 I Have To Get My Act Together.
This is not just a Jan 1st kind of thing….it's a "I ate and drank too much over the holidays and didn't exercise one bit" thing. It's time to get back to healthy eating and exercise. For me that is a modified Paleo approach. I say modified because I like to keep it low carb and sometimes that involves dairy.
Have you ever read Tim Ferriss' book  The 4-Hour Body
? One thing I always remembered from that book is that he tells you to keep it simple…eat the same few meals over and over again for successful weight loss. I know this works for me so I plan on having the same breakfasts (protein smoothie) and lunches (big yummy salad) to keep it simple and to keep me from getting off track.
To help me, I've  organized some of the recipes from my blog into good options for my meals. So if you would like to follow along with me, you just have to pick one meal from each column and click on the link for the recipe. I have a few recipes I'd like to try this week so I will continue to add to the list as I find more Paleo-ish recipes for my site. And remember…
---
These are my thoughts on how I am going to start eat healthy again. Let me know if you have any thoughts, advice or comments! And check out the Paleo Meal Matrix below to for meal suggestions.
For Breakfast
Keeping it simple, I will have a protein smoothie for breakfast everyday. I am not much a breakfast eater so this works for me. But for those that need a more hearty breakfast, you could substitute one of the other meals  or eat an omelet of some sort. I am going to try to do some IF  on days that I don't go to the gym and see how that goes. On those days it's Bulletproof Coffee or Matcha Magic for my morning slump.
For Lunch
I truly enjoy a big salad. I almost always get one when we eat out because I really, really like them. it. This big salad (remember Elaine from Seinfeld?) means a big bowl of romaine or other greens, lots of veggies and some type of protein. If you are not a salad person, leftovers from dinner the night before will work great or try a hearty soup. I plan on eating a lot of soup too because there is something about that warming liquid that fills you up faster. Plus I love soup and so does my family.
For Dinner
Lastly for dinner, I will try to keep them as family type meals with a Paleo slant. That means it will most likely be some type of meat and vegetable. You can add a salad or soup if you want more or you can add a starch if you need that. I will probably try to steer away from starches such as pasta, bread, rice and potatoes at the beginning just to get my weight down again. If you are going to eat starches I suggest nutrient dense options such as sweet potatoes, plantains and winter squashes.
For Snacks
I usually like something sweet for a snack so in the afternoon I look forward to a piece of good dark chocolate. I only eat it in the afternoon and it seems like a treat. However sometimes I like something else like crackers or pumpkin seeds or nuts. The problem usually lies in mindless eating and portion control so I am going to limit the chocolate to 1 square (Trader Joe's Dark Chocolate) or one small cup (¼ cup …I measured them) of nuts or seeds.
---
---
*Smoothie Recipes
Shamrock Smoothie:  almond milk, Great Lakes Gelatin (green canister), baby spinach, peppermint extract, vanilla, chia seeds and sweetener
Berry Protein Smoothie: frozen berries, almond milk, protein powder, chia seeds sweetener
Pumpkin Pie Smoothie: almond milk, frozen pumpkin, vanilla, pumpkin pie spice, Great Lakes Gelatin (green canister), chia seeds, sweetener
Coffee Protein Smoothie: vanilla protein powder, cooled coffee, chia seeds, cream of coconut
**To make this Paleo, don't add the pasta
***To make this Paleo, don't add the beans