If you love the flavors of chocolate and hazelnut you will love this Nutella no bake cookies recipe. With only 6 ingredients you can whip up a batch of these chocolate oatmeal cookies in about 15 minutes. Great to have on hand for a healthy snack or dessert.
You might also like these healthy homemade hazelnut butter recipe.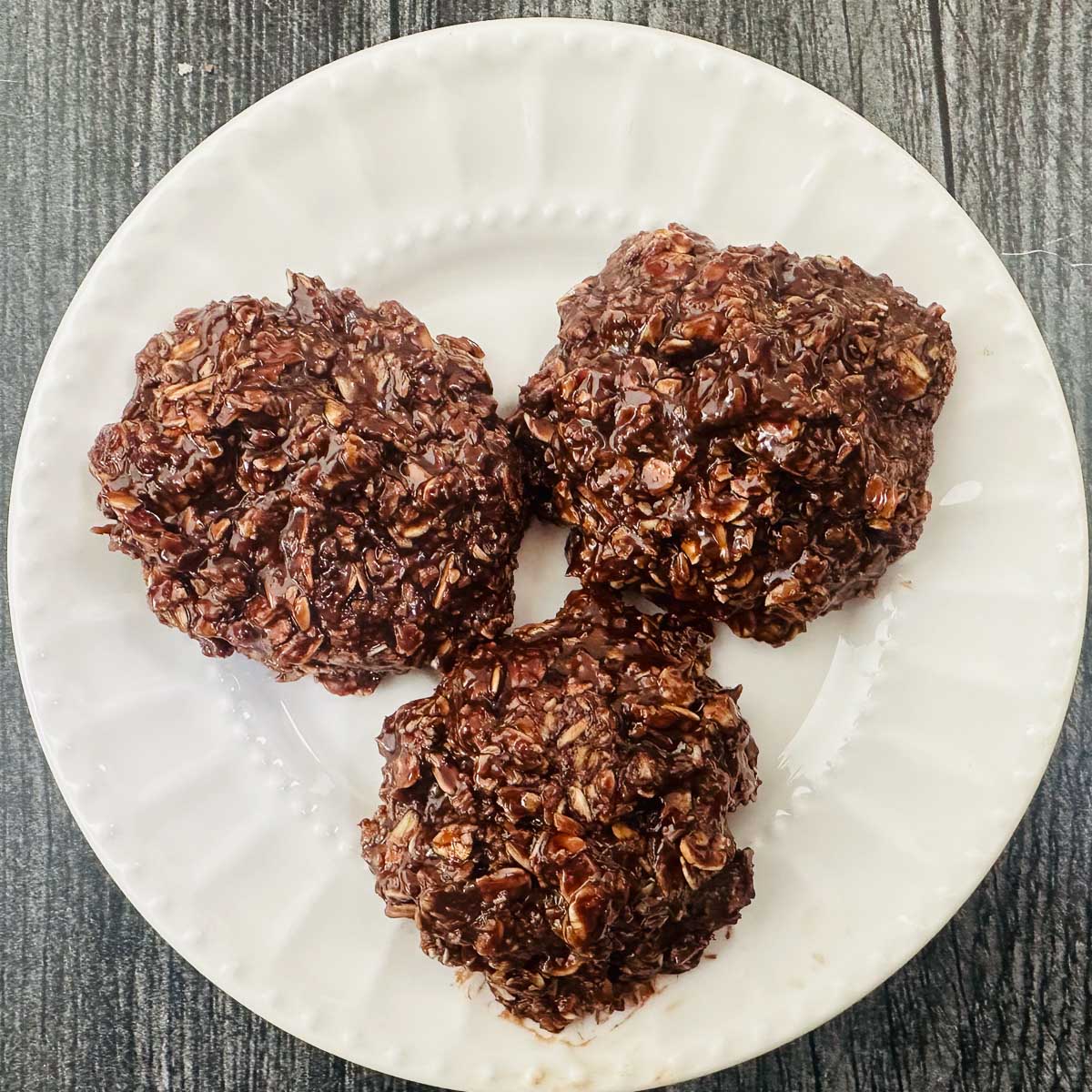 I learned about Nutella many years ago while in Italy. They had little packets of it like butter packets for the bread at breakfast and once I tried it I was hooked on the taste. It is essentially a chocolate hazelnut nut butter but it has added sugar so it's tastes sweet too.
Now you can buy just about anywhere in the US and so I thought I'd make batch of these Nutella no bake cookies. It's a spin off of the classic no bake cookie recipe that everyone knows about. Those use added unsweetened cocoa powder and peanut butter.
I love them because of the flavor combination but also because it's a simple recipe and there is no oven involved. I keep a bunch in the freezer and break one out when my sweet tooth comes calling.
And while I wouldn't call them health food they are a bit healthier than chocolate chip cookies. So I can sort of feel good about it. Plus they are both sweet and have a chewy texture to make them very satisfying to me.
How to make no bake cookies in a nutshell.
To make these easy cookies you just need to bring butter, milk and sweetener to a simmer on the stove. Then add in the chocolate chips and Nutella and mix well until the chips are melted and it becomes a thick chocolate sauce. Mix sauce with the oats until coated. Then scoop out cookies and place on a cookie sheet and refrigerate until they harden.
Note that normally you would use unsweetened cocoa powder and peanut butter in this recipe. The Nutella takes the place of both of these ingredients in classic no bake cookies.
Recipe ingredients I used.
I only used a few simple ingredients to make these no bake oatmeal cookies. However you can make a few substittutions if you want. I was trying to lower the sugar a bit.
Oatmeal
You want to use quick cooking oats for this recipe because whole oats are just too chewy. However if you only have whole oats, just pulse them in a food processor until they look like quicks and they will work fine.
Nutella
It's best if you can use this brand but even at Aldi there is a chocolate hazelnut spread and you can also use that. I just never have but I can't imagine it is much different.
Chocolate Chips
I used these dark chocolate chips I get from Aldi. You can use milk chocolate or semisweet, whatever you like.
Sweetener
I used sweetener because I was trying to keep the sugar down and Nutella already has sugar in it. That is why I used dark chocolate chips instead of milk chocolate. If you don't care about sugar, go ahead and use regular white granulated sugar.
Almond Milk
Again I wanted to keep the sugar content down and I use almond milk for everything. However you can use regular milk, oat milk, coconut milk, whatever you want. The almond milk just saves on calorie, carbs and sugar.
Butter
I like salted butter instead of unsalted butter for this recipe so there is no need to add salt and we are not baking so it doesn't really matter that there is salt in it.
Optional Items
I melted the chocolate chips in this recipe but you could also add them at the end instead so when you bite you get a chunk of chocolate. You could also toast coconut and use a bit less oatmeal and add that to the cookie for more of a crunchy texture .
You could also play around with flavor extracts. I didn't add vanilla extract because I was trying to keep the ingredients down but it would certainly go well. And of course hazelnut extract would add even more flavor. Pour any of the extracts into the sauce once you've taken it off the stove.
Lastly if you have some hazelnuts you could toast and chop them and add to the cookie.
Let's make these Nutella no bake cookies!
Step 1: Get out a medium saucepan and turn the heat to medium. Add the butter, sweetener and almond milk. Bring to a rolling boil then turn the heat off.
Step 2: Add in the chocolate chips first and mix until they are all melted. This should just take a minute. Then add in the Nutella and mix well to combine. Eventually you will get a nice smooth chocolate sauce.
Step 3: In a large bowl add the oatmeal. Then pour the chocolate sauce over top and mix until all the oatmeal is coated. Let set for a few minutes while you prepare your baking sheet.
Step 4: Get out and cover 2 large baking sheets with parchment paper. Using an ice cream scoop or cookie scoop make mounds of cookies with it and place on the prepared baking sheet.
Step 5: Place in the freezer or refrigerator for a few hours to harden. When to your liking take out and store in an airtight container. I like to keep them in the freezer because you can just grab one and they are not too hard to just eat right away.
These can get messy if they aren't refrigerated. When you hold them they will be a bit stick and melty. To store them in the refrigerator or freezer for best results.
This recipe made 20 large cookies for me and I used a regular size ice cream scoop. If you use a cookie scoop you can get quite of few in this batch of cookies. Please scroll down to view the printable recipe card.
Other ideas for using Nutella hazelnut spread.
Below are some recipes that I already made with primarily peanut butter but Nutella would a be a good flavor change. You can just use the same amount of Nutella as a substitute for the peanut butter in each recipe.
You can also use it with hand pies and puff pastry tarts, make a frosting or mix in or top ice cream with it.
Well if you are a Nutella fan you will love this simple no bake oatmeal cookie recipe. The sweet and creamy Nutella mixed with chewy oatmeal makes for a very satisfying sweet treat. Enjoy!
Nutella No Bake Cookies Recipe
For a healthy and easy sweet treat try these Nutella no bake cookies. using oatmeal and a few other ingredients.
Ingredients
½ cup butter
½ cup sweetener
½ cup almond milk
1 cup Nutella
4 cups quick oats
½ cup dark chocolate chips
Instructions
Get out 2 cookie sheets and cover with parchment paper or wax paper.
Place a medium sauce pan on the stove and heat to medium heat. Add the butter, milk and sweetener.
Bring the butter mixture to a rolling boil then take off the heat. Stir in the chocolate chips and mix until completely melted. Then add in the Nutella and mix until you have a thick chocolate sauce.
In a large mixing bowl add the oatmeal and then pour the chocolate sauce over top. Mix well until all of the oats are coated. You can use less oatmeal and then add more until you get the consistency you want. I started with 3 cups and added 1 more cup because it was too wet.
Using an ice cream scoop, place mounds of the oatmeal mixture on the cookie trays. Place in the refrigerator or freezer for an hour or two until they harden.
Store in an airtight container in the refrigerator or freezer. They will stay soften enough in the freezer that you can take one out and eat it right away.
Nutrition Information:
Yield:

20
Serving Size:

1
Amount Per Serving:
Calories:

178
Total Fat:

10g
Saturated Fat:

7g
Trans Fat:

0g
Unsaturated Fat:

2g
Cholesterol:

13mg
Sodium:

78mg
Carbohydrates:

19g
Fiber:

2g
Sugar:

9g
Protein:

3g