This Mexican chocolate matcha drink is a healthy and delicious way to start your day. What do you think is in it? Only 2.6g net carbs per serving.
This is my new fav drink. I whip it up every morning and it keeps me going until lunch. As the weather gets cooler I always crave a cup of hot chocolate. That's where this recipe comes in. It's a cross between a bulletproof matcha drink and a Mexican hot chocolate. It's simple to make, low carb and I just love it.
I made sure to put lots of tasty and good for you ingredients in this drink such as:
Coconut oil – protects against infections and may protect against heart disease
Cayenne – stimulates digestion, breaks up congestion and anti-fungal
Cacao powder – has a wide variety of antioxidants, supports healthy heart functions, enhances physical and mental well being
Matcha green tea – great source of anti-oxidants and phytochemicals, less caffeine than coffee gives you a boost of energy without the jittery side effects (You can learn all about the wonderfully properties of match tea in my post Matcha Magic. )
Cinnamon – anti-inflammatory effects may help lower the risk of disease, can improve cholesterol, triglycerides and blood pressure and has a potent anti-diabetic effect
To be honest you can't really taste the matcha at all. However I like the boost of energy it gives me. It's much milder than coffee but it gets the job done. I but my matcha from my friend Debbie. She sells Steeped tea and has a great Facebook page if you enjoy tea.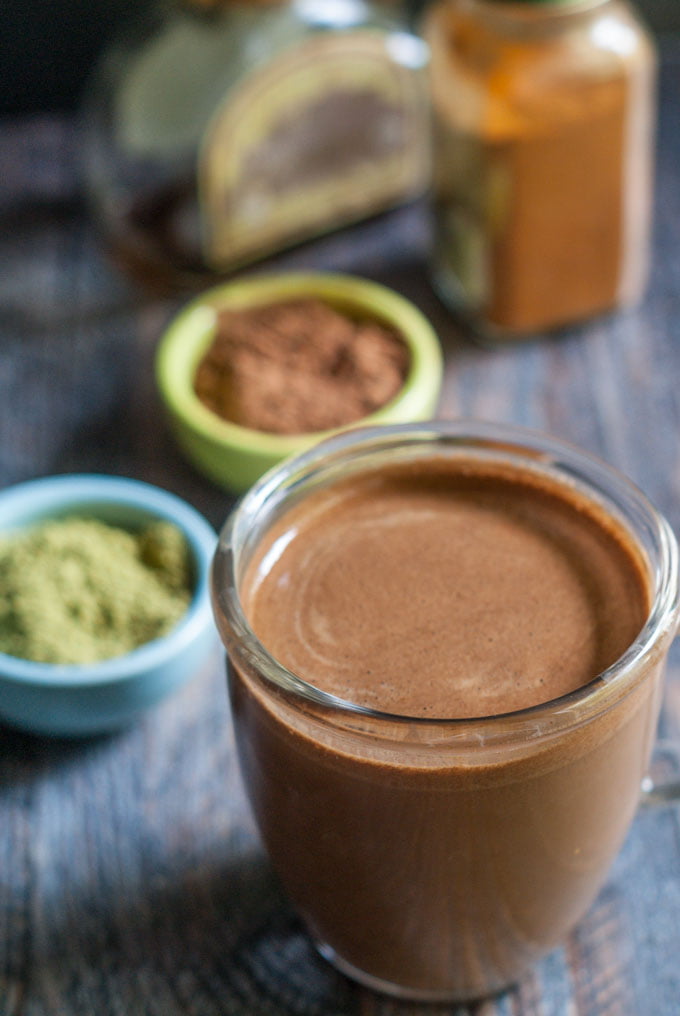 I also love the coconut oil in this drink. It makes it creamy some how, but remember you must blend it in a blender. If you just add it to the hot liquid it will make it oily. So remember the blender.
Mexican Chocolate Matcha Drink
I hope you like this Mexican chocolate matcha drink. It's sure to add some zip to your day. By the way, you can also add some protein powder or some Great Lakes gelatin (affiliate link) to make it a protein drink too. The nutritional information is for 1 serving without any sweetener. I used Sweetleaf vanilla stevia. (affiliate link)
141 cals / 14.6g fat / 4.3g carbs / 1.7g fiber / 1.5g protein = 2.6g net carbs
And if you need any more matcha recipes, check out a few of these.
---
---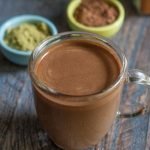 Mexican Chocolate Matcha Drink (low carb)
This Mexican chocolate matcha drink is a healthy and delicious way to start your day. Guess what's in it?
Ingredients
1/16

teaspoon

cayenne

⅛

teaspoon

cinnamon

½

teaspoon

matcha

1

Tablespoon

coconut oil

1

Tablespoon

cacao powder

can substitute cocoa powder

8

oz

boiling water

sweetener to taste
Instructions
Add all ingredients to a high speed blender and blend on high.

Pour into you mug and enjoy!

Note* if you find it hard to measure the cayenne powder, just use a sprinkle instead. I have a tiny measuring spoon that is 1/16 but some may not. In that case, just use a sprinkle.