These low carb, sugar free strawberry meringue cookies make an easy Mother's Day treat for anyone on a keto or low carb diet. Super easy to make and 5 little cookies have only 10 calories and 0.7g net carbs!
You might also like these chocolate brownie keto cookies!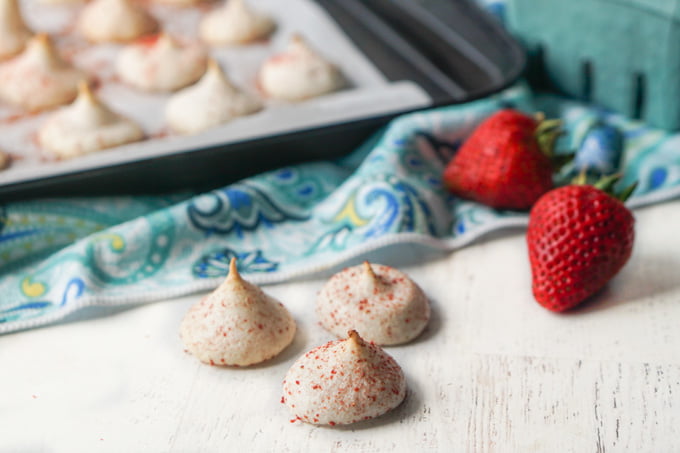 A long time ago I used to buy those tubs of meringue cookies because they fat free. Yes that was a long time ago because when it comes to cookies I would rather the fat than the sugar.
But thinking of how light and airy meringue cookies were I thought a low carb, sugar free meringue cookie would be great for spring and for Mother's Day. Today I made some with just a few ingredients and for 5 little cookies they had only 0.7g net carbs!
What Do These Meringue Cookies Taste Like?
Have you ever had a meringue cookie before? The ones that I have had were light but sturdy and a bit crunchy. These however are light and just melt in your mouth. They also are sweet and bright from the strawberry flavorings. Because we are using sweetener, it's going to be a bit different than traditional meringue cookies but they are a great little sweet, low carb snack!
Low Carb Meringue Cookies Recipe
The first thing you want to do is get your eggs out and let them come to room temperature. This is important so remember that. Add your egg whites to a mixing bowl and then add the Swerve powdered sweetener, cream of tartar, salt and the strawberry extract.
Whip until the egg whites become glossy and form medium peaks. You should be able to turn the bowl upside down and the egg whites will stay but you don't want stiff peaks. See below what mine looked like.
Next you want to pipe them on to a parchment covered cookie sheet. This recipe made 50 small cookies. As you can see below mine are not the best looking but to be honest I just wanted a sweet treat for myself. The meringue is very light and messy to work with and I was in a hurry.
Next we want to sprinkle some crushed strawberry powder over top. Again I was a little messy with mine. When I make them again I'll take my time and take better pictures.
How To Get Low Carb Strawberry Flavor!
For these meringues I used both strawberry flavoring and these freeze dried strawberries. I bought a pouch at Aldi and just ground it in my coffee grinder to make it a powder. I used the flavoring in the batter and powder on top. This seems to be the best way to keep the meringue texture and yet add flavor.
As I mentioned I bought mine at Aldi but you can get these at Trader Joes or even on Amazon. Make sure you stick with freeze dried berries for lower carbs. And the strawberry extract I use is from Frontier but you can find Watkins or McCormick in most grocery stores. Walmart usually has a large selection of Watkins.
How Long Should You Bake Them?
You start out in a 250°F oven for about 18 minutes. Then you turn it down to 200°F for about 15 minutes. Lastly turn off the oven and let these sit in the oven for about 2 hours. They should be lightly browned and dry and crisp. Let them cool completely before peeling off the parchment paper.
How Long Do Meringue Cookies Last?
Store them in an airtight container and they should last for 2 weeks or so.
Why Do You Need Cream Of Tartar For Meringue?
The cream of tartar adds acid and acts as a stabilizer for the meringue to help make the egg whites stiffer. You can substitute lemon juice if you don't have cream of tartar by using ½ teaspoon per egg white.
Well I hope you enjoy these as much as we did. I think my diabetic father in law ate most of them. The nutritional information for 5 cookies is:
10 cals / 0g fat / 0.8g carbs / 0.1g fiber / 1.5g protein = 0.7g net carbs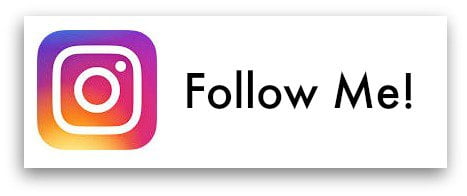 This recipe was adapted from a recipe I found on the Swerve website and these are two more great resource for more information about making meringue cookies. Check them out if you have any other questions:
Sugar Free Low Carb Strawberry Meringue Cookies
These sugar free, low carb strawberry meringue cookies make an easy Mother's Day treat for anyone on a keto or low carb diet. Super easy to make and 5 little cookies have only 10 calories and 0.7g net carbs!
Ingredients
4

egg whites, room temperature

6

tablespoons

Swerve sweetener

1

teaspoon

strawberry extract

¼

teaspoon

cream of tartar

⅛

teaspoon

salt

2

tablespoons

freeze dried strawberries, ground into a powder
Instructions
In a large mixer bowl, add the egg whites, Swerve sweetener, cream of tarter, strawberry extract and salt. Whip until the egg whites become glossy and form peeks. You don't want them too stiff but you should be able flip the bowl over without them coming out. 

Add to a piping bag or baggie and pipe onto a parchment covered cookie sheet.

Sprinkle the strawberry dust over the cookies and set into oven. Bake for about 18 minutes then turn down the oven temperature to 200°F. Bake for another 15 minutes then turn off the oven. Keep the cookies in there for 2 hours or until they are crisp and easily come off the parchment paper.

Store in an airtight container.