This year I have to fill in for another mom and bring in the craft for my son's Christmas party at school. You can read about here. Max helped me pick out the craft he thought the kids would like and this was his first choice. We had some problems though.
The construction paper was too heavy to just use gluesticks and there always seems to be little time for the kids to work on the craft. So I nixed this idea but it did turn out cute. I bought some Scotch adhesive dots
that worked great. Did you ever see them? They come on a roll and these little dots stick great. See I'm learning new things! We ended up making a Penguin card (see below) and you can find instructions to do that here.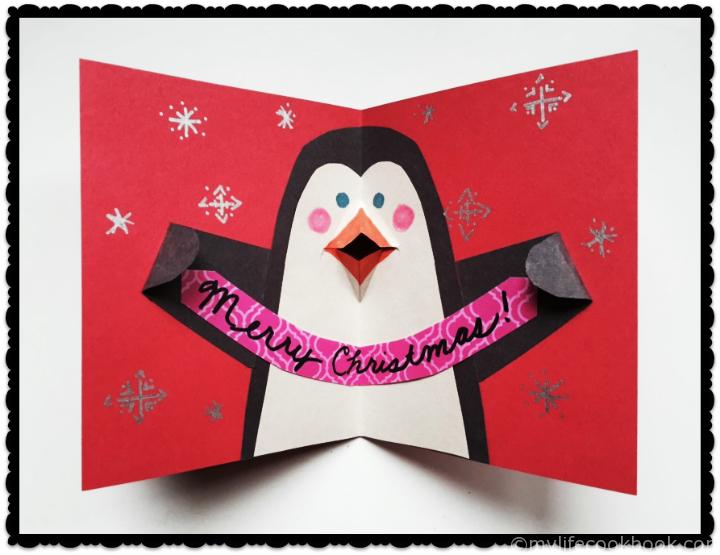 So to make the Christmas tree card I made a little pictorial below. I found the adhesive dots, metallic markers and cool scrap book paper at Target. The scrapbook paper pad had the bark paper which I thought would look great as the tree trunk. I got the stars at Michaels as well as the card stock and the rhinestone embellishments. The rhinestones were only $1 for each spool and they had adhesive on the back…very easy to use.
Christmas Tree Card Instructions:
Cut green paper into 3 pieces: small (6″x3.5″), medium (6″x5″) and large(6″x6″). Each should have the same length but vary in width. NOTE: you can use different colors of green paper or green patterned scrapbook paper. Since I was intending to do this with a large number of kids, I opted for plain green construction paper.
Start folding them up in an accordion style fold. Fold up — then back, up— then back. Make sure you fold them width-wise, not length-wise.
Next glue with white glue, glue gun or adhesive dots by folding in half to make a fan.
Glue the tree trunk on first in the middle of the card stock. Make sure to leave room for the star on top.
Glue the 3 green fans from top to bottom on the tree trunk. If you want to add presents on the bottom make sure to leave room.
Add your rhinestone embellishments in between the greens.
Now all you have to do is decorate in any way you like!
For the front I just made either a To/From tag or a Christmas present for them to fill in or decorate. Here is a pic of that.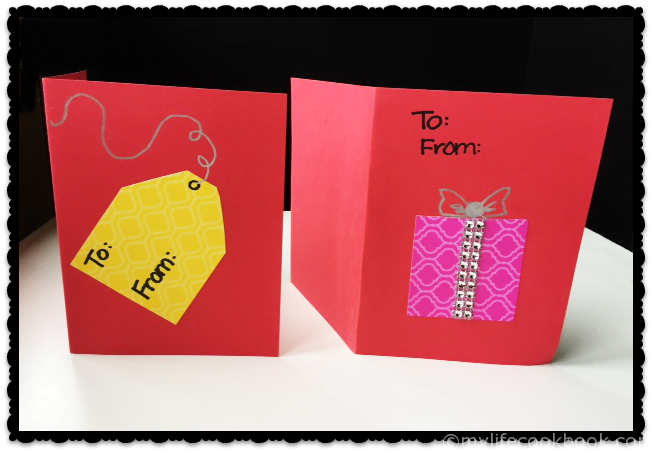 So that is how we made our Christmas Tree card. If you have any questions please just leave a comment below and I'll answer as best I can. My inspiration was from this post on Pinterest.