This mango & honey zucchini bread is a tasty twist on a classic. The sweet flavors of honey and mango are a great addition to this easy quick bread. It's a great way to use zucchini from your garden and make a healthy and tasty snack.
You might also like this low carb chocolate zucchini bread.
My son has been begging me to make zucchini bread all summer. School just started and I finally got around to making it. Here I am making all these crazy zucchini recipes all summer and not any zucchini bread for my wonderful son.
Oh well better late than never. I thought I'd give it a bit of twist. I bought some dried mangos for my hubby and thought I'd add some in the quick bread for additional flavor.
I used honey as the sweetener instead of white sugar and it added such delicious flavor. Plus my son loves honey. So here is my mango and honey zucchini bread recipe. A twist on the classic and only takes minutes to make.
Recipe ingredients I used.
All you need to make this quick bread is fresh grated zucchini, honey, dried mango, egg, oil, all purpose flour, baking powder, baking soda, salt, vegetable oil and vanilla extract.
You don't want to use fresh mango because I think that would add excess moisture to the bread. So I just both some dried mango at Aldi. It comes in thin strips that you can just chop up and add to the batter.
And instead of the mangos you can use any kind of dried fruit such as raisins, pineapple, apricots, blueberries, cherries, cranberries, etc.
Other optional add ins are different kinds of walnuts, pecans, sunflower seeds, dark chocolate chips, coconut flakes, etc.
A note about the zucchini.
You can hand grate the zucchini but I like to put it in the food processor and pulsed until it was in little pieces like it was shredded. Sometimes I use the grater blade too.
Zucchini has a high water content so thhe key is to wring out as much water from the zucchini as you can. To do this, just put it in a tea towel, gather together and wring out as much water as you can.
How to make mango and honey zucchini bread.
Preheat oven to 325°F and grease a bread loaf pan and set aside. You can use cooking spray if you what to grease the pan.
Step 1: First you must grate the zucchini either in a food processor or by hand. Place it in a tea towel and try to wring out as much excess water as you can. Then place it in a large mixing bowl.
Step 2: Add to that the egg, honey, vanilla extract and oil. Mix well to get everything incorporated.
Step 3: In a separate mixing bowl add all the dry ingredients – flour, baking powder, baking soda and salt and mix well. Then add the flour mixture to the zucchini mixture. Lastly fold in the chopped dried mango.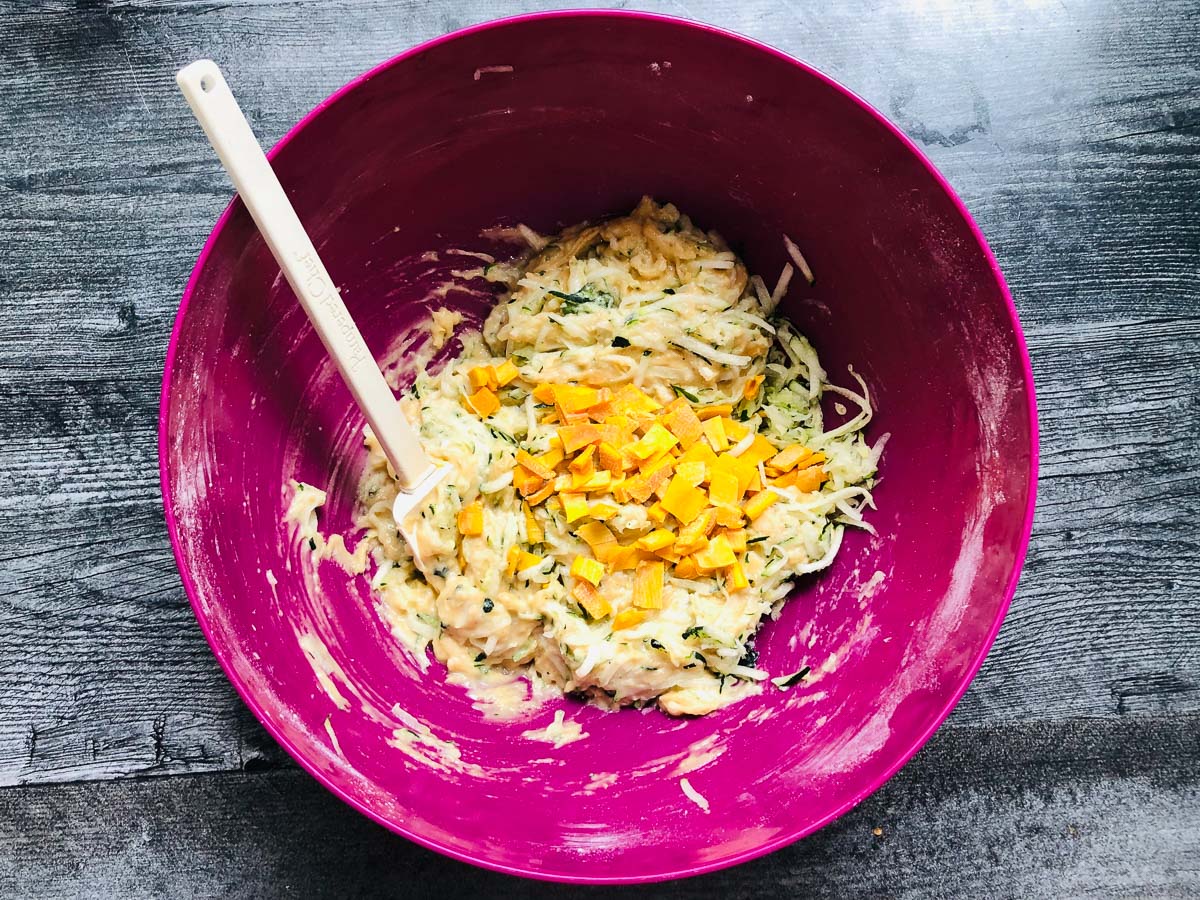 Step 4: Spoon bread batter into the prepared loaf pans. Smooth batter out on top and then place it in the preheated oven and cook for 50-60 minutes. Note baking time may vary.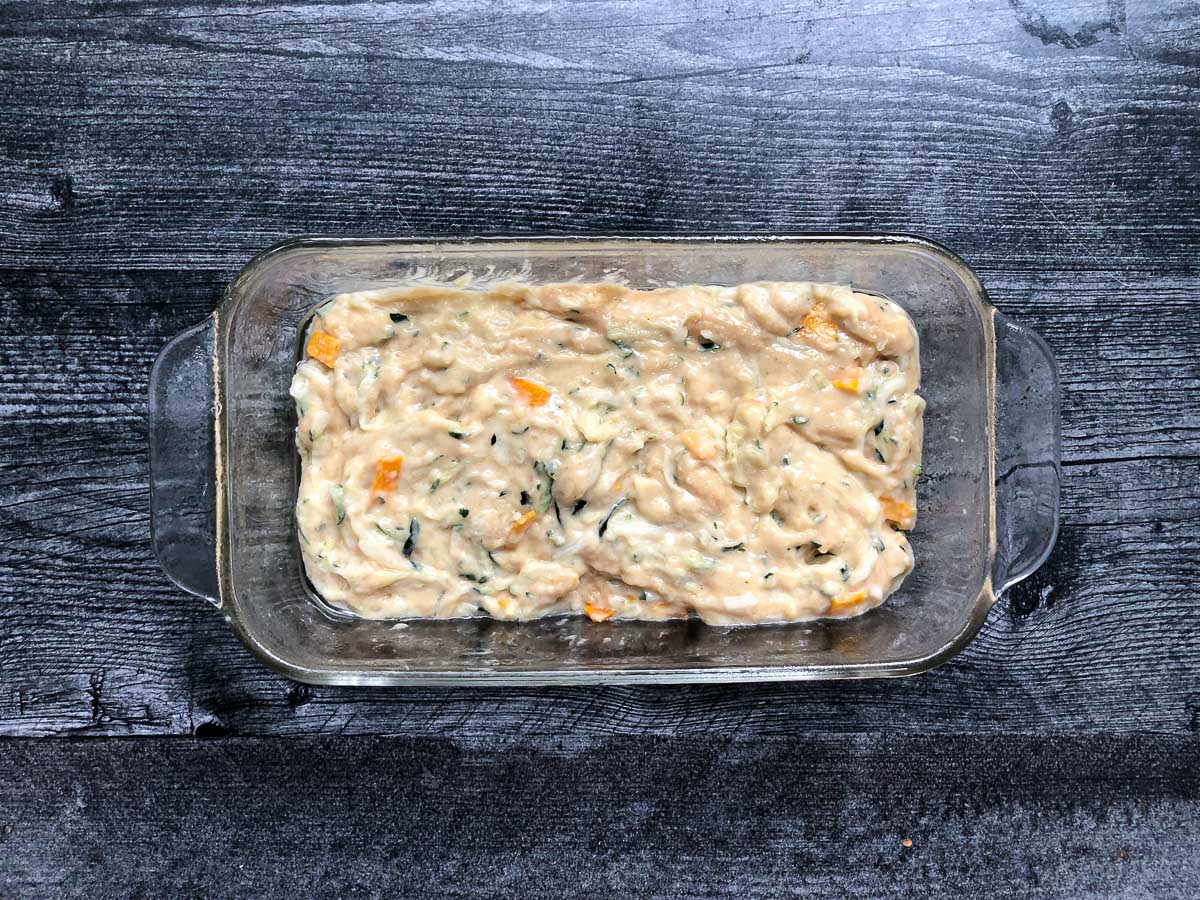 Step 5: If you can put a wooden toothpick in the center and it comes out clean it's done. Take it out and set on a cooling rack for 10-20 minutes before slicing. Below you can see what the baked bread looks like coming out of the oven.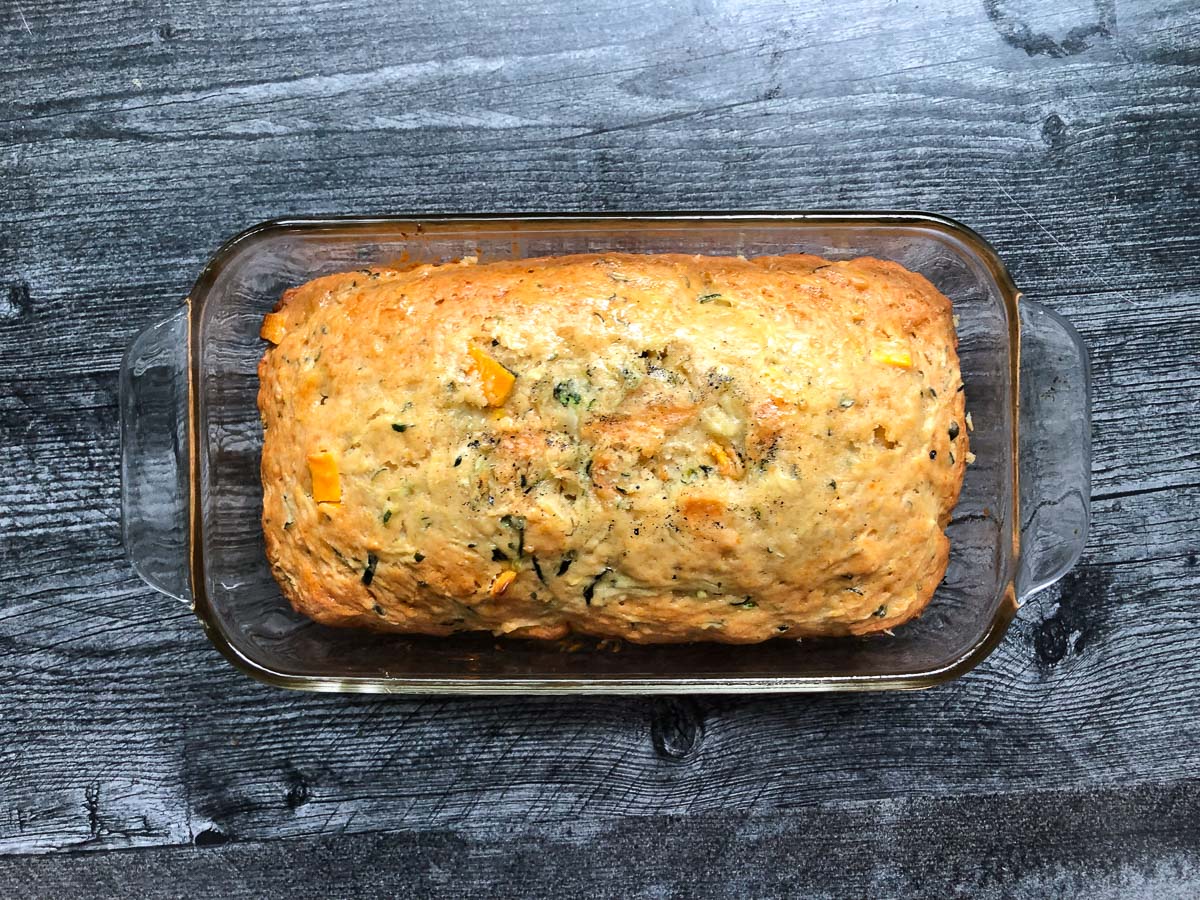 And that is all that there is too it. Store leftover slices in an airtight container or just place a piece of plastic wrap overtop the baking dish. (Please scroll down to view the printable recipe card.)
I think next time I'm going to add some ginger too. And for a gluten free quick bread try my Paleo coconut caramel quick bread or my cinnamon apple breakfast bread.
Well I hope you get a chance to make this one. It really doesn't take much time and again it's a great recipe to make with all that garden zucchini. Enjoy!
You might also like my friend Robin's honey cakes recipe!
Easy Mango and Zucchini Bread
This honey mango zucchini bread is a tasty twist on a classic. Honey and mango are a great addition to this easy quick bread. Mix, bake, eat!
Ingredients
1 ½ cups flour
½ teaspoon baking powder
¼ teaspoon baking soda
¼ teaspoon salt
1 egg
3 tablespoons oil
1 teaspoons vanilla extract
⅔ cup honey
1 ½ cups shredded zucchini
¼ cup diced dried mango
Instructions
Preheat your oven to 325°F.
Shred your zucchini and place in a tea towel and wring as much water as you can.
In a large bowl, mix your dry ingredients: flour, baking powder, baking soda and salt.
In another bowl mix your wet ingredients: egg, oil, vanilla and honey.
Add flour mixture to the wet mixture and mix well.
Then add your zucchini and mango and just mix to incorporate.
Pour into a greased bread pan and set in the oven.
Bake for 50 minutes - 1 hour or when toothpick comes out cleanly when poked through the middle of the loaf.
Let cool 15 minutes and enjoy!
Nutrition Information:
Yield:

10
Serving Size:

1
Amount Per Serving:
Calories:

199
Total Fat:

5g
Saturated Fat:

0g
Trans Fat:

0g
Unsaturated Fat:

4g
Cholesterol:

19mg
Sodium:

124mg
Carbohydrates:

37g
Fiber:

1g
Sugar:

22g
Protein:

3g
---