If you are a fan of the healthy Larabars, here is a copycat recipe for you. This no bake cookie dough Larabar recipe only uses 5 ingredients and takes just about 10 minutes to make. They are a healthy sweet treat or energy bar you can feel good about eating. And they are gluten free too!
You might also like this gluten free cinnamon pumpkin granola recipe!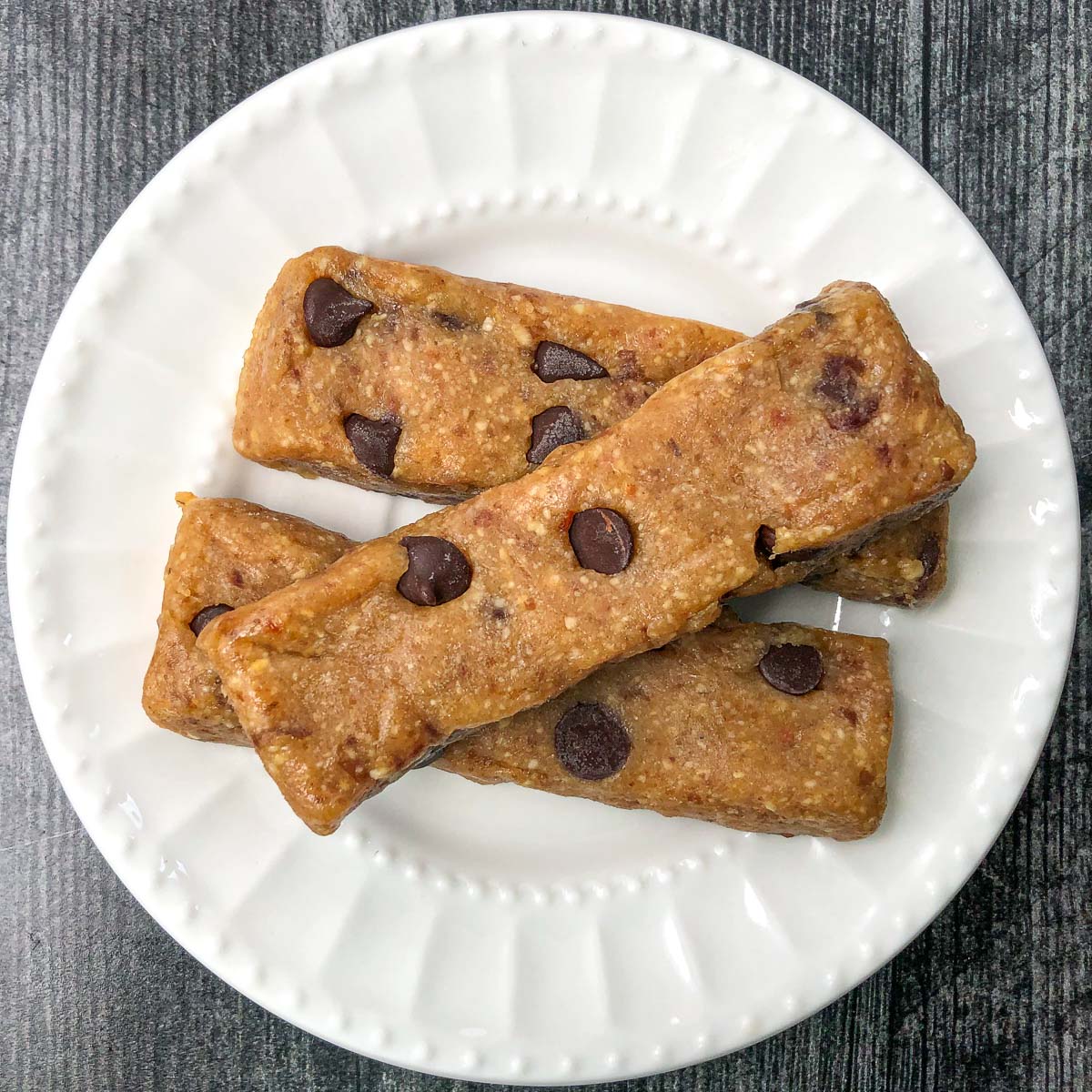 I've always been a fan of Larabars and while reading the ingredients the other day I thought "I could make these"! And so I did. This no bake cookie dough Larabar recipe just uses 5 simple ingredients to make a tasty and healthy snack that's gluten free as well.
This simple recipe can be used to make a variety of flavors but today I'm focusing on my favorite flavor – cookie dough. Below I'll give you suggestions for other Larabar flavors to try.
What are Larabars?
Larabars are a healthy product you can buy in many stores. They are genius because they use real ingredients, they taste great and have a chewy texture. If you are new to healthy eating, give one a try and you will be pleasantly surprised.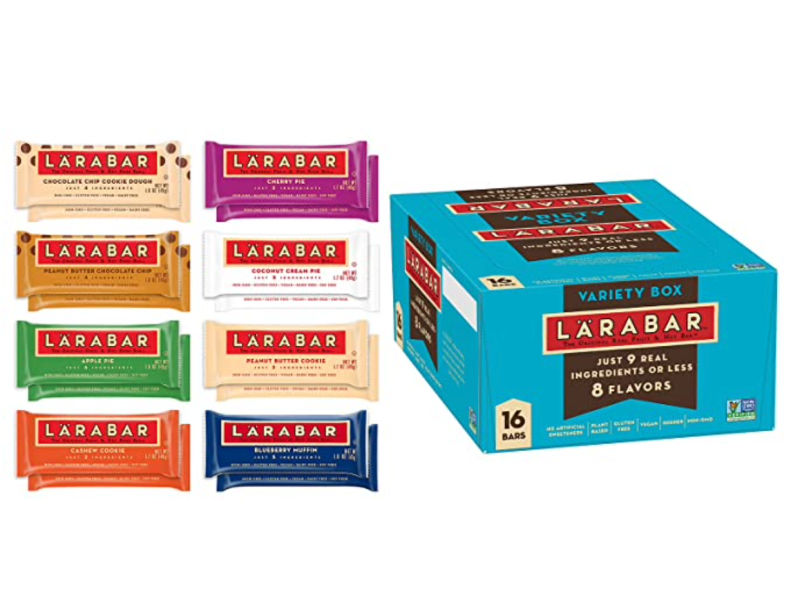 Larabars also come in a variety of flavors like apple pie, lemon bar, cherry pie, blueberry, coconut cream, cinnamon bun, carrot cake or peanut butter chocolate chip. If you check the ingredients list you can see they all contain basic ingredients like nuts, dates, fruit, coconut, etc.
If you have children these are great to pack in their lunches or to have on hand for an after school snack.
Recipe ingredients I used.
The simple ingredients I used were Medjool dates, vanilla extract, raw cashews, sea salt and Lily's milk chocolate baking chips. Lily's chocolate chips are lower carb and use less sugar but you could any kind of chocolate chips you like and even dark chocolate chips or a healthy dark chocolate bar cut into pieces,
The cashews I used were Terrasoul Mylk cashews that are raw and made for making cashew milk or cheese. Raw cashews are best for recipes like this to create a creamier, softer base.
When you buy "raw cashews" they are processed using high heat to shell them and thus gets rid of the urushiol which is a toxic oil residue.(learn more) So technically they are not raw because they can't be sold that way.
Basically you don't want roasted cashews that you can find in a can just about anywhere unless you can't find raw.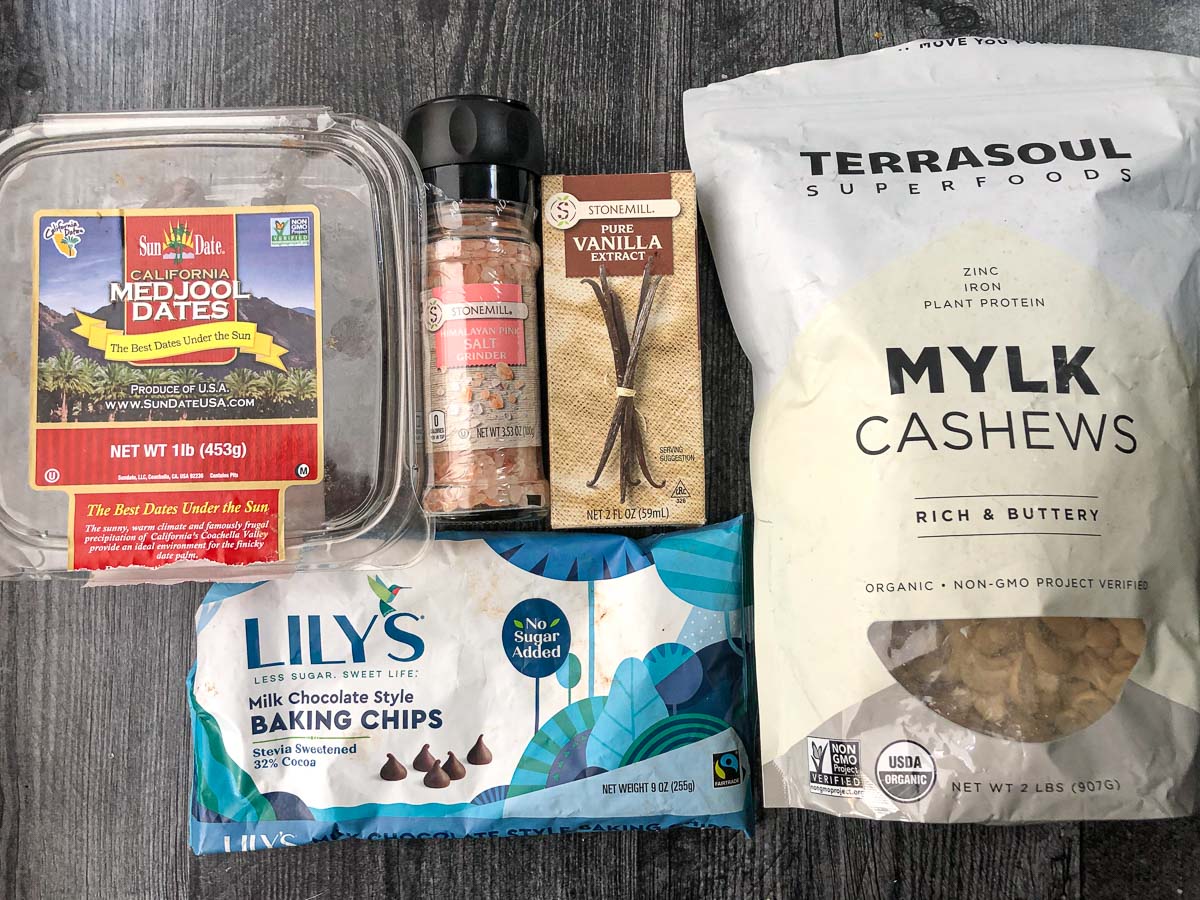 How to make this cookie dough Larabar recipe.
Step 1: Get a small bowl and add the dried dates. Pour warm water over top and let them soak for a few minutes to soften them.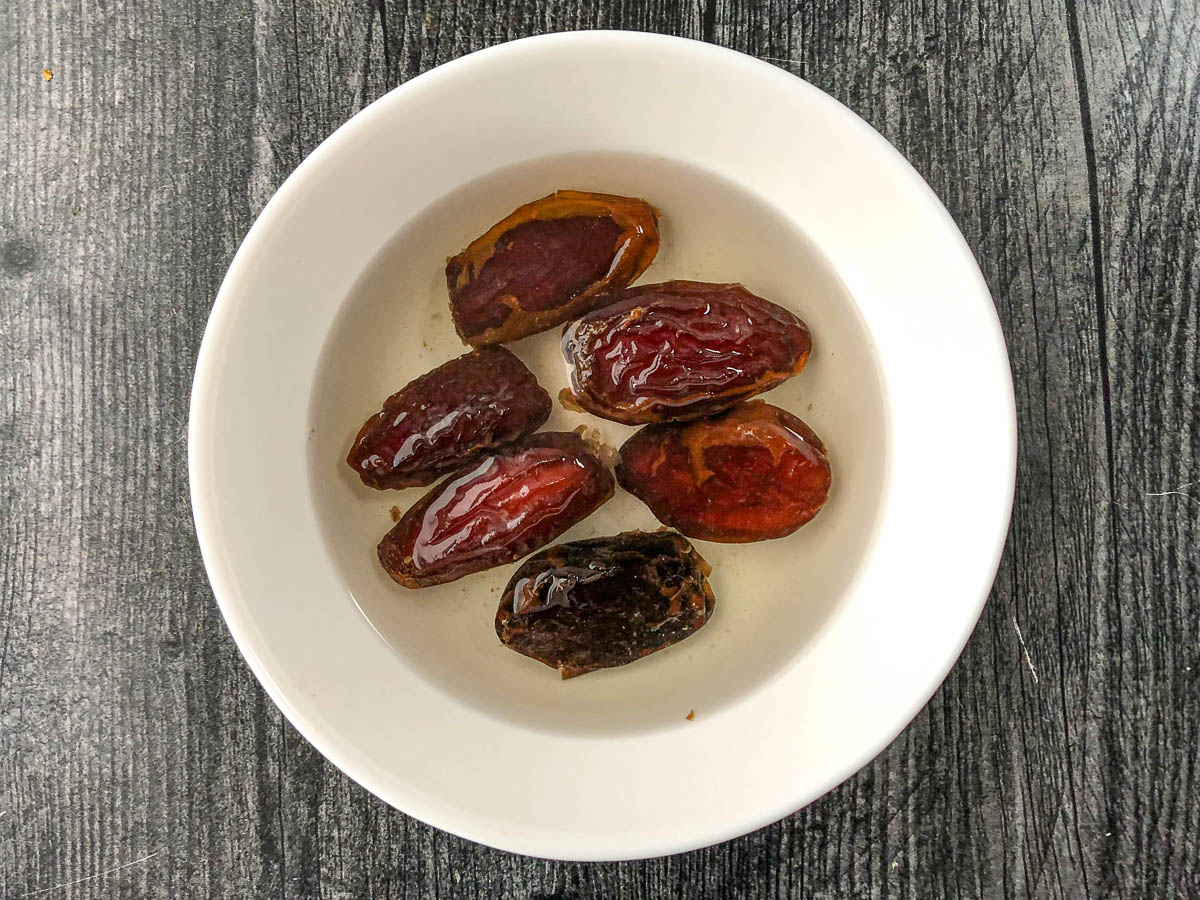 Step 2: Meanwhile place cashews in food processor and grind until the nuts become a sticky texture. If you process them too long they will turn into a nut butter. So if you look below you can see the consistency you want to get to.
Then add in the salt and vanilla extract and pulse a few times to combine.
Step 3: Drain the dates and take out the pit. Place them in the food processor with the ground cashews and pulse until well combined. Add the vanilla and sea salt if using and pulse a bit more to mix.
Step 4: Spoon the mixture into a bowl and then fold in the chocolate chips. The batter is thick so it's a bit difficult.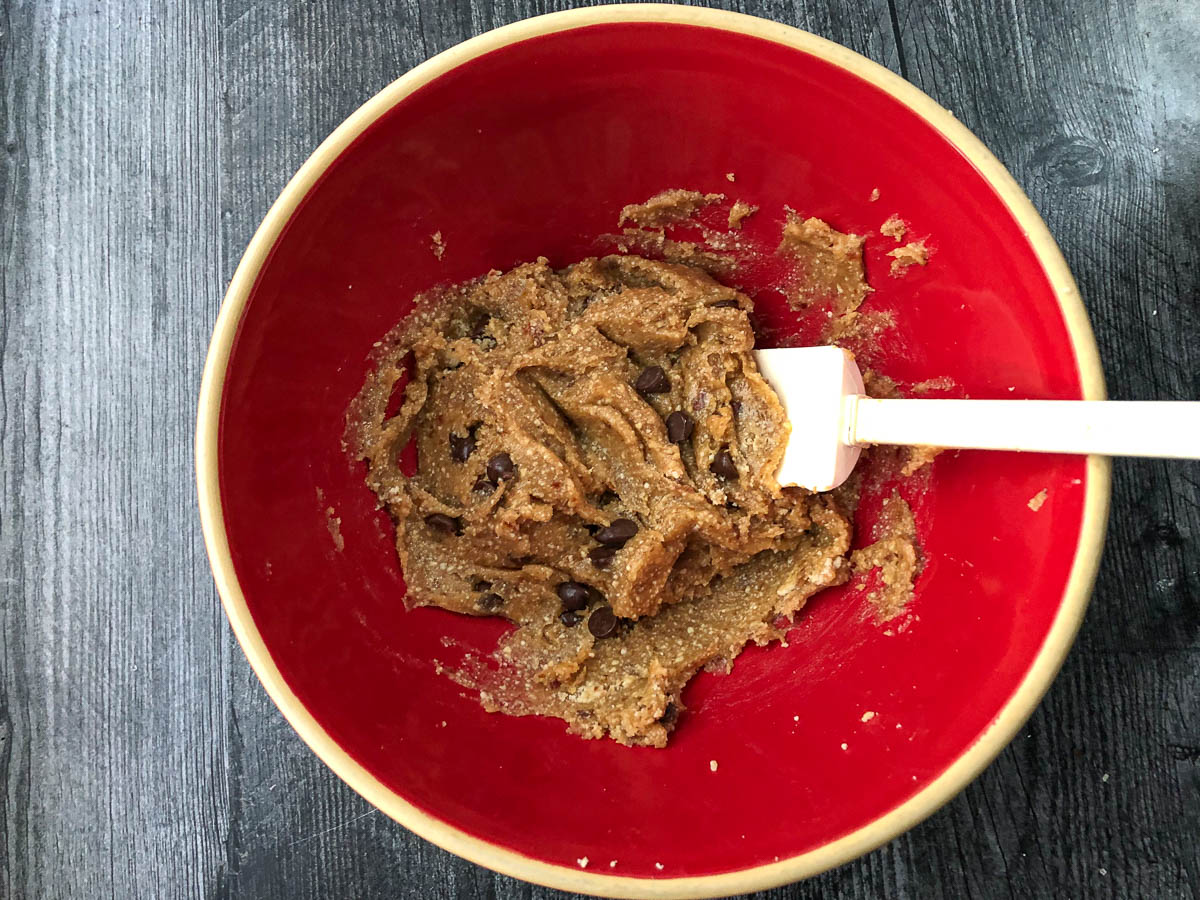 Step 5: Take the bowl of batter and spoon the mixture into a bread loaf pan or something of similar size. Take a piece of wax paper and place on top. Press down to even the mixture out. I love this mini pastry roller I got at a Pampered Chef party. It's great for things like this.
Note if you want you can use a piece of parchment paper to line the baking dish. However I found they came out very easily from the dish. But if you are worried cut a piece of parchment paper that fully covers the bottom but comes up the sides and hangs over. They you can just life the whole thing and cut into bars.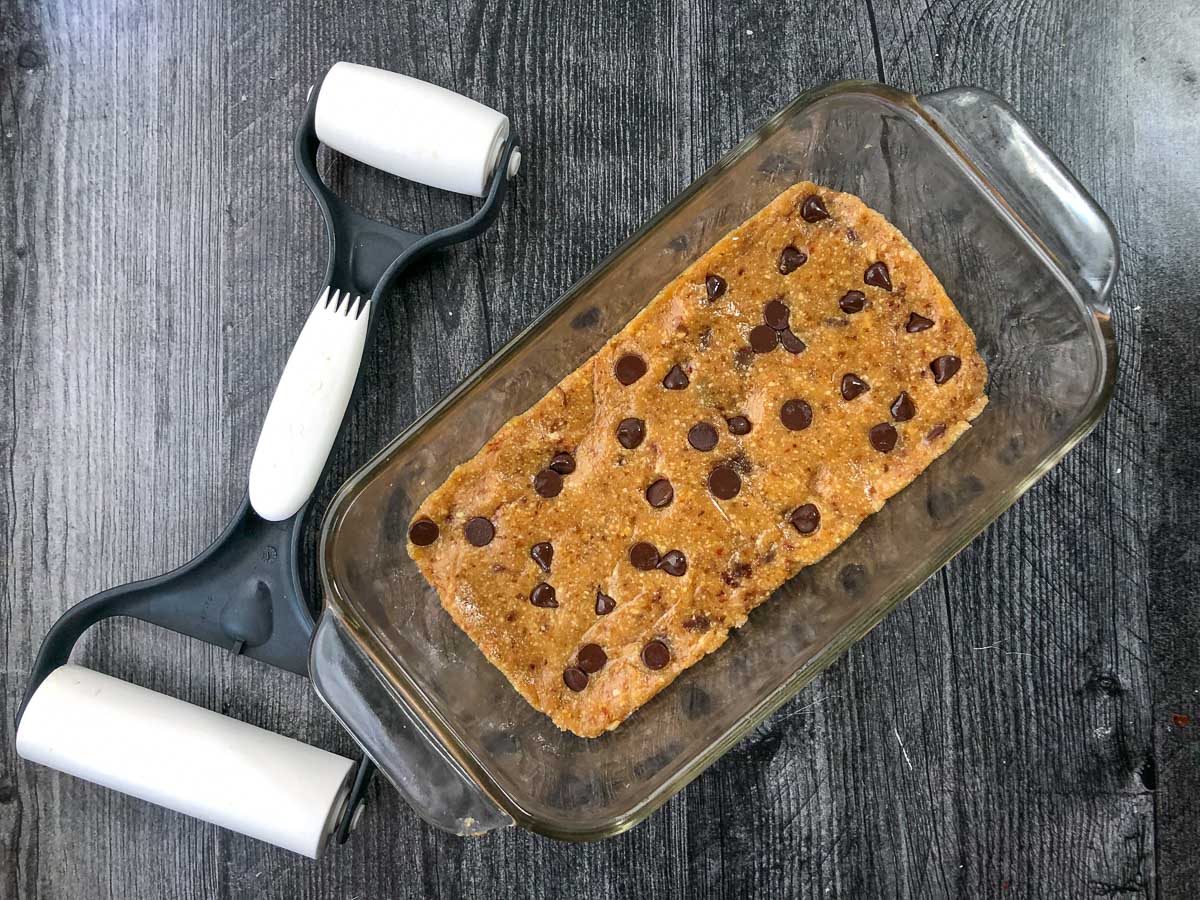 Step 6: Cover with plastic wrap and place baking dish in the freezer for 15 minutes to harden. Take out and cut into bars or squares.
Store leftovers in an airtight container or wrap each bar in parchment paper or in plastic wrap and keep in the refrigerator or freezer.
You could also just roll these into balls. I would still put them in the freezer to harden though.
Place scroll down to view the printable recipe card.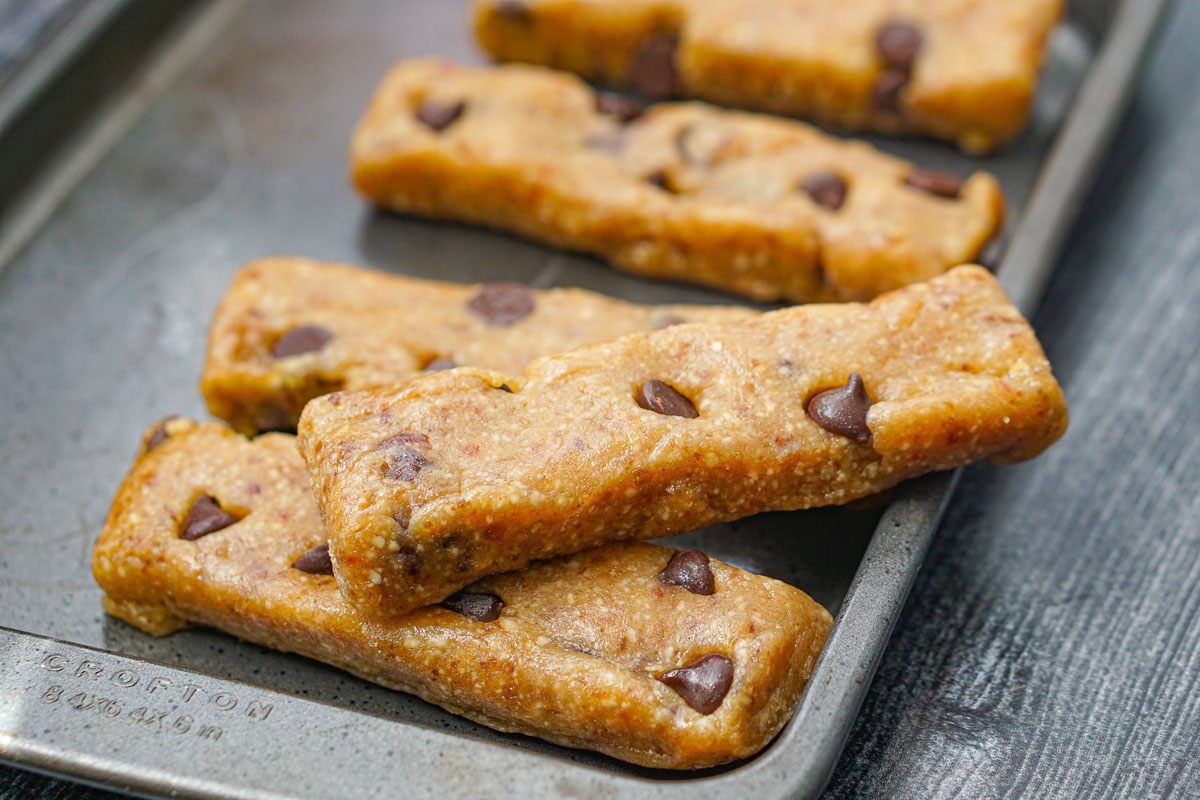 How to make different snack bar flavors.
So you can see how easy these are to make. You can create your own homemade versions of the store bought bars and vary the flavors. Just stick to using the dates and nuts as the base. In this particular recipe the creaminess of cashews and the sweetness of the dates are what make the base. Then add the different flavorings like the chocolate chips in this instance.
You can use raw almonds, peanuts, walnuts, etc along with the dates to make the base. Then add various fruits (like dried cherries, dried blueberries, dried apples, golden raisins etc.), coconut, chocolate chips, cocoa powder, flavor extracts, or whatever you want to make your favorite flavors.
More healthy cookie dough flavored recipes to try.
I am mostly a low carb blogger and I have many low carb cookie dough flavored recipes you might like.
Well these are my easy homemade Larabars for you. If you run out of the store bought version you can give this recipe a try. And if you have any good flavor combinations please leave a comment and share it with the other readers!
The nutritional information for 1 bar is 224 calories / 14.3g fat / 21.4g carbs / 3.3g fiber / 5.4g protein
Chocolate Chip Cookie Dough Larabar Recipe
Additional Time:
15 minutes
These healthy cookie dough Larbars are a great for an afternoon or afterschool snack. Using simple, wholesome ingredients and no baking required!
Ingredients
1 ½ cups cashews
6 dates, softened and pit taken out
¼ teaspoon salt
½ teaspoon vanilla extract
¼ cup chocolate chips (I used Lily's milk chocolate chips)
Instructions
Get out a small bowl and add the dates. Pour warm water over top and let them soak.
Meanwhile add the cashews to a food processor and blend cashews until the nuts are ground and it starts getting sticky. you don't want it to turn into a nut butter though.
Add the vanilla extract and salt and pulse to combine.
Next add the softened dates. Make sure to drain the water and take out the pits first.
Pulse until it's well combined then spoon into a mixing bowl.
Fold in the chocolate chips and then spoon into a 9x5 inch loaf pan. Add a piece of wax paper on top and smooth out the top so you can cut into bars.
Cover with plastic wrap and place in the freezer for 15 minutes. Then take out and cut into bars. Store leftovers in an airtight container in the freezer or refrigerator.
Notes
The nutritional information for 1 bar is 224 calories / 14.3g fat / 21.4g carbs / 3.3g fiber / 5.4g protein
Nutrition Information:
Yield:

6
Serving Size:

1
Amount Per Serving:
Calories:

224