If you are craving Italian flavors try this air fryer lasagna that you make with ravioli! It only takes 4 ingredients and you can make a small pan in no time at all. Air frying make this vegetarian dish quick and easy. The small batch of homemade lasagna is perfect for a meal for 2. With 4 servings you can also have leftovers for lunch!
You might also like this keto zucchini ravioli rolls recipe!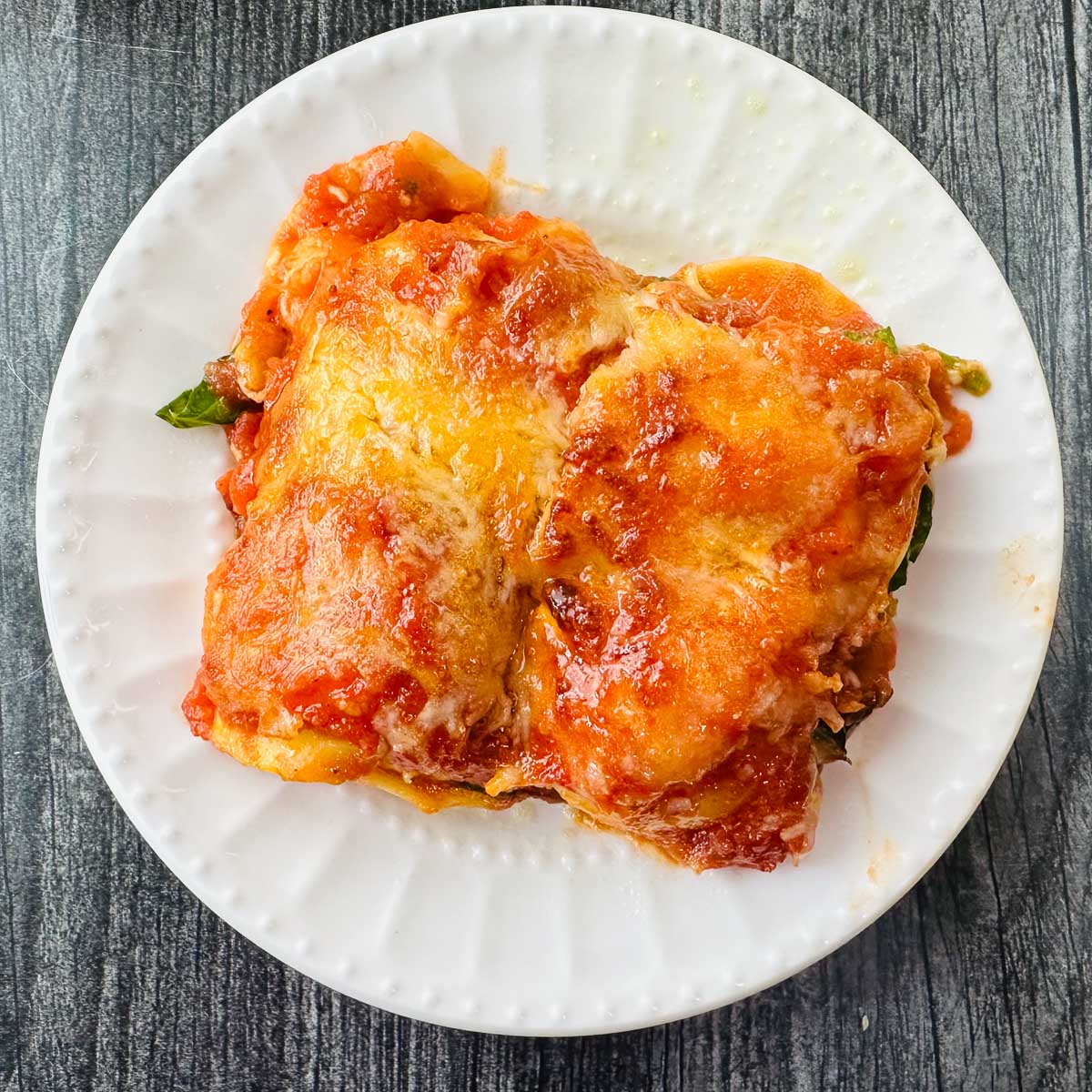 Last month I made a sheet pan lasagna using raviolis instead of cooked lasagna noodles and just loved how simple this method was. The cheese ravioli took the place of both the noodles and the ricotta mixture you use in classic lasagna. So I thought I would go the next step and make a similar dish but make it in the air fryer.
So I created this air fryer lasagna with ravioli recipe. I used cheese filled ravioli along with fresh baby spinach, jar sauce and shredded Italian cheeses to make a rich and delicious lasagna for two in no time at all.
This recipe is great for a quick but hearty dinner on busy weeknights or just when you are craving Italian food. And if you want the real deal, try my mom's traditional lasagna recipe. It's serious the best I've ever had.
Air fryer lasagna recipe summary.
You'll find the full, step-by-step recipe below in the printable recipe card if you scroll down but here's a brief summary of how when you make this easy recipe.
Using a small baking dish, add a bit of pasta sauce then raviolis, sauce, spinach, cheese, raviolis again, sauce and then top with cheese.
How long to bake the air fryer lasgana?
Bake in the air fryer at 300°F for about 13 minutes and then let rest for 5 minutes before serving.
Recipe ingredients I used.
The 4 simple ingredients I used were fresh cheese filled raviolis, Rao's homemade marinara sauce, fresh baby spinach leaves and Italian shredded cheese blend. No other seasonings are necessary. I didn't even use salt and black pepper!
Raviolis
I used fresh refrigerated ravioli for this dish but I think you can frozen ravioli if you precook them just a bit. Same for dried raviolis. Also you can use meat filled if you preferred. This brand even had Italian sausage filled which sounds good to me and I might have to try it next.
A note about the size. It's better to use small raviolis than larger ones. It's hard to cut the lasagna into 4 pieces when you have larger ones. My 1 pound bag had roughly 32 raviolis and I used 18 of them.
Spinach
Also I used fresh spinach and not frozen. If you use frozen spinach you will want to thaw it completely and wring out any excess water before adding to the dish. You could also skip the spinach altogether if it's not your thing. I just wanted to add color and nutrition to the dish.
Sauce and Cheese
As for the sauce, use your favorite brand. I love Rao's but you can use whatever kind you want. Same goes for the cheese. I used an Italian cheese blend but you can use other kinds of cheese like mozzarella cheese and provolone.
Add Ins
Lastly you can brown some ground beef, ground turkey, Italian sausage, etc if you want to add meat to this dish. Brown it and then mix it in with the sauce and use it that way. You can also add extra grated parmesan cheese or even hot pepper flakes if you want so me extra heat.
How to make cheesy ravioli lasagna in the air fryer.
Step 1: Make sure you have a small baking or casserole dish that will fit the air fryer basket. Spray it with non-stick cooking spray and the spoon a little bit of marinara sauce on the bottom of the dish.
Step 2: Next add a single layer of raviolis. You wan them to fill up the whole space but try not to overlap too much. Then top with another layer of sauce.
You want this ravioli to have sauce below and above it to help hydrate the pasta so make sure to layer it this way.
Step 3: Next add a layer of chopped fresh spinach then top it with a layer of shredded cheese. There is only one layer of spinach in this recipe.
Step 4: Next add another single layer of ravioli. Remember to try to cover the whole area but try not to overlap too much.
Step 5: Lastly add the last layer of sauce and cover with the rest of the shredded cheese. Place the baking dish in the air fryer and bake for 10-15 minutes.
Mine took 13 minutes. You wan it to be cooked through and golden brown on top. To check at at 10 minutes and determine how much longer it needs. Cooking times may vary.
Take the pan out carefully because there might not be much room to pull it out and the dish will be hot. I used pot holders and had waited a minute or two to cool down first.
Set the pan aside and let it rest for at least 5 minutes and it will set up a bit more. Store leftovers in an airtight container or cover the dish with aluminum foil. Please scroll down for the recipe card.
What to serve with this dish.
This recipe is hearty enough that you can just eat a piece of this to be satisfied. However you can add a green salad or even a green vegetable like green beans, asparagus or broccoli if you want to make it a complete meal.
You can also serve this with garlic bread or just some good crusty bread and butter. And remember this made 4 good size pieces of lasagna so the entire dish serves 2-4 people.
And that my friends is all there is to this delicious air fryer ravioli lasagna recipe. Remember only 4 ingredient and the whole thing takes less than 25 minutes to make from start to finish.
Check out my other easy and mostly low carb air fryer recipes. Enjoy!
Air Fryer Lasagna with Ravioli Recipe
This air fryer lasagna is very easy to make using ravioli and 3 other ingredients. A small pan of lasagan done in just 25 minutes!
Ingredients
1 pound cheese ravioli
1 ½ cup marinara sauce (I used Rao's)
1 ¼ cup shredded Italian blend cheese (or mozzarella)
1 cup fresh baby spinach, chopped
Instructions
First find a baking dish that will fit into the basket of your air fryer. Then spray with nonstick cooking spray.
Add a little bit of the sauce on the bottom of the baking dish then make a layer of ravioli. You will have 2 layers total so use half in each layer. Make sure to cover the whole dish and try not to overlap too much.
Next add another layer of sauce, then the chopped spinach and then a half of the cheese.
Add another layer of raviolis by using the rest of them. Then add the rest of the sauce and finish with the rest of the cheese. So the layers go - sauce->ravioli->sauce->spinach->cheese->ravioli->sauce->cheese.
Place the baking dish in the air fryer basket and bake at 300°F for 10-15 minutes. Mine was done after 13 minutes. You want the ravioli cooked through and the cheese golden brown.
When done take out the baking dish carefully and let the ravioli lasagan rest for at least 5 minutes to set up all the way.
Notes
If you want to add a meat sauce you can brown ground beef, ground turkey or Italian sausage and add it to the sauce. You can also add extra grated parmesan cheese or even hot pepper flakes if you want so me extra heat.
I used fresh pasta for this dish but I think you can frozen ravioli if you precook them just a bit. Same for dried raviolis.
Nutrition Information:
Yield:

4
Serving Size:

1
Amount Per Serving:
Calories:

378
Total Fat:

20g
Saturated Fat:

10g
Trans Fat:

0g
Unsaturated Fat:

7g
Cholesterol:

59mg
Sodium:

937mg
Carbohydrates:

31g
Fiber:

3g
Sugar:

6g
Protein:

19g