These 5 minute Christmas chocolate bars make for a fun little gift that you can make with your kids.
I don't know why but I was in the mood to make a chocolate mural. I got the idea one day when recalled a landscape I made out of dried leaves and flowers a long time ago. It was pretty cool. I used the leaves to make hills and trees. Maybe next summer I make one of those for the blog. I remember how much fun I had making them and so now I'm doing something similar but with chocolate and pretzels! These Christmas chocolate bars only take 5 minutes to make and I think kids would have a lot of fun making them. And they make a cute little gift to give over the holidays.
Christmas Chocolate Bars In A Nutshell
melt chocolate in microwave for 1 minute
spread chocolate over wax paper to the size you want the bar
decorate with pretzels to make the tree limbs and sprinkles to decorate the tree
use coconut flakes to act as snow
work quickly and when done, place into the refrigerator to harden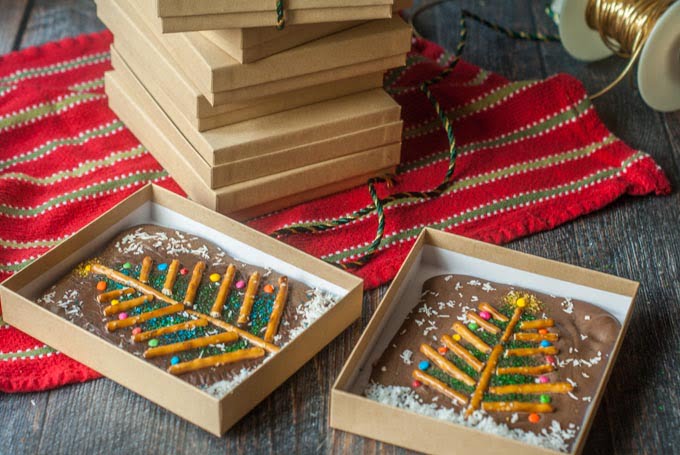 This literally takes only 5 minutes but it's best to get everything ready to go. I bought these boxes on Amazon so I could use these bars as gifts. I traced the bottoms on a piece of wax paper. That was my guide for how big the bars would be. Then I set out the wax paper squares on a cookie sheet and placed my pretzels, sprinkles and coconut in front of me. I broke my pretzels to the right lengths and assembled the tree on the table next to me. So when I started placing them on the chocolate I could do it quickly.
5 Minute Christmas Chocolate Bars
Now for the chocolate. I used chocolate almond bark that I got at Aldi in the baking section. It looks similar to this and comes in 2 oz blocks that you can melt in the microwave. So for each bar, I melted 2 oz in a small dish. It only takes about 1 minute in the microwave. Mix it real good to get out all the lumps. Then spread it out on the wax paper and start decorating. You have to work pretty fast or the chocolate will harden. After you have the trees done, do the sprinkles and then the snow.
I had so much fun making these and thought I'd share them with you. If you like this idea, another fun Christmas gift to make would be these chocolate covered pretzels and peanut butter pretzel toffee. Both are easy and delicious. Enjoy and have fun!
5 Minute Christmas Chocolate Bars
These 5 minute Christmas chocolate bars make a fun little gift that you can make with your kids.

Ingredients
2

oz

melting chocolate

pretzel sticks

sprinkles

⅛

cup

coconut flakes
Instructions
Add melting chocolate to bowl and microwave for 1 minute. Take out and mix for about 20 seconds. If not quite melted, put back in the microwave for 15 second intervals, mixing in between.

Arrange pretzel sticks to form a Christmas tree.

Decorate with sprinkles and flaked coconut for the snow.

Set in the refrigerator to harden and set the sprinkles.
This post may contain affiliate links. For more information please visit our policies page.