This nourishing beef stew is full of health boosting ingredients. In the Instant Pot or slow cooker, it's easy to make this tasty, hearty stew. 
I love stew. I remember making it when I first starting working. I'd put everything in the slow cooker and when I got home from work I could smell the goodness as I walked in the door. It was easy and healthy and honestly I just loved it. While this recipe is very similar to my slow cooker Paleo stew post , today I used a few different ingredients for their health boosting properties. I also wanted to use my Instant Pot and show you how easy it is to make this Paleo stew using really good ingredients. But mostly it was to play with my Instant Pot. 😉 Here's a little video on how I made this stew in the Instant Pot.
Have you heard of the Instant Pot? It's a slow cooker, pressure cooker, rice cooker, yogurt maker and you can even make a cheesecake in it! I haven't attempted that yet but soon. It's really cool and they even have Facebook groups dedicated to recipes for it. Anyway I really, really like the pressure cooker aspect of it. It's so great to make meat that melts in your mouth and to do it quickly. I also like that when it's done, it stays warm until you are ready to eat so I can make this at lunch and it will be fine for dinner. 
Nourishing Beef Stew in the Instant Pot
The Ingredients
As I mentioned above, I wanted to make this stew as healthy as I could with ingredients I had at home, so this is why I used the following ingredients:
Bone broth: Bone broth is simply a broth you make from slow cooking bones, spices and water for a period of time to get all the goodness from the bones. It helps with your skin, joints and gut. Your digestion is a huge part of maintaining your health and the collagen in bone broth is one of the easiest and tastiest ways to heal it. I wrote a post on how to make chicken bone broth here and have a beef recipe coming soon. However, if you don't have time to make it, Kettle & Fire makes a great one that uses organic ingredients and bones from grass fed cows. That's what I used today.  Learn more about them here.  For first time orders you can use the code MYLIFE15 to receive 15% off. 
Pumpkin: I've written a few times about the health benefits of pumpkin. It's full of fiber, high in beta-carotene for your immunity and eye sight, a good source of vitamin C for your immunity and more. Read more about it here. 
Tomatoes:  Tomatoes are full of antioxidants, are linked to heart health, have high amounts of lycopene to support bone health and has some anti-cancer benefits. Read more here.
Cinnamon:  Cinnamon has antioxidant, anti-inflammatory, immunity-boosting properties and more.  Read more here.
Cayenne:  Cayenne is a good source of vitamin A, vitamin E, vitamin C, B6, vitamin K and manganese. It stimulates the circulatory system and boosts the immune system. Read more here.
Garlic: Garlic contains vitamin C, B6, manganese and helps with the common cold. It also helps with blood pressure and cholesterol.  Read more here.
Seasonal Vegetables:  Seasonal vegetables taste better because they have been fully ripen which also means more sun exposure. This results in high levels of antioxidants. Read more here.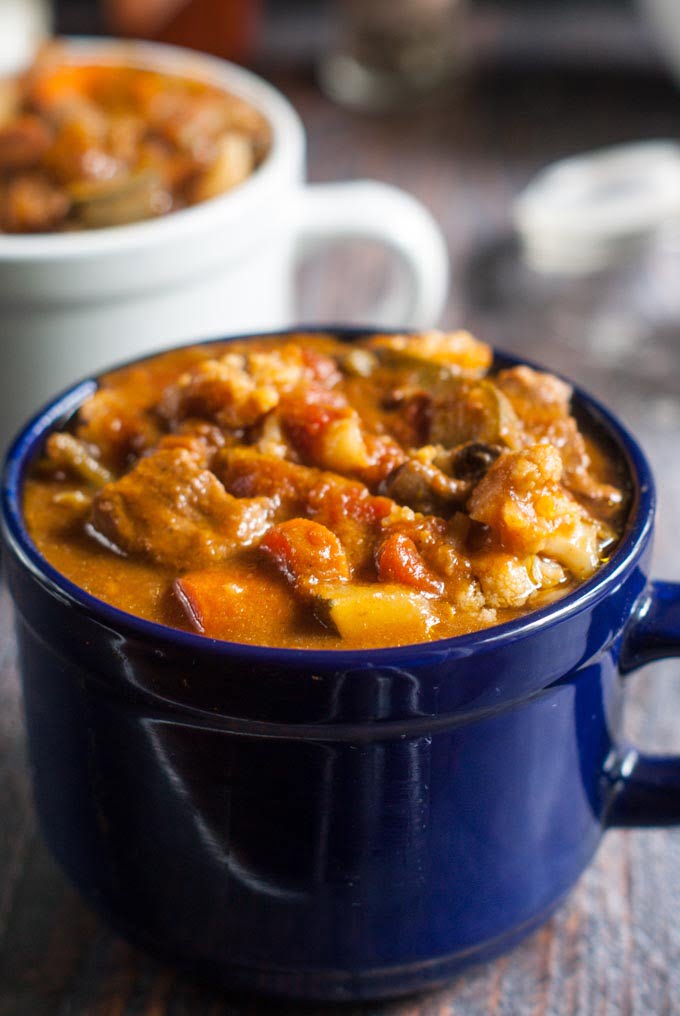 Well I hope you like this nourishing beef stew that I made in the Instant Pot. Of course it can easily be made in a slow cooker too. To make it like I did in this recipe you could brown the meat first and then add everything to the crockpot. Or you could  just put everything in the slow cooker, mix well and cook it on your longest setting to assure your meat with be soft and fall apart. Enjoy!
Nourishing Beef Stew
This nourishing beef stew is full of health boosting ingredients. It's easy in the Instant Pot or slow cooker to make this tasty, hearty, Paleo stew.
Author:
Denise Wright (MyLifeCookbook.com)
Ingredients
1 Tablespoon of oil
1 lb beef cut in cubes (grass fed if possible)
½ teaspoon salt
½ teaspoon pepper
¼ teaspoon cinnamon
½ onion, chopped
1 cup pumpkin puree
2 cups beef broth (bone broth if possible)
1 15.5oz can of diced tomatoes
4 cups vegetables, chopped (I used carrots, turnips, parsnips, mushrooms, zucchini, cauliflower)
2 Tablespoons of tomato paste
½ teaspoon salt
½ teaspoon Italian seasoning
1 teaspoon garlic, crushed
¼ teaspoon cayenne
½ teaspoon garlic powder
Instructions
Push the saute button on the Intant Pot.
Add the oil then the meat, salt, pepper and cinnamon.
Brown the meat for a minute or two and then add the onions.
When meat is brown, add stock and tomatoes.
Put the lid on the pot and lock into place. Make sure the vent is on closed.
Push the manual button for 15 minutes.
When the timer goes off, do a quick release by turning it to vent.
Open the pot and add the pumpkin, tomato paste, salt, Italian seasoning, garlic, cayenne and garlic powder.
Mix well, then add the vegetables and mix again.
Place lid on pot and push vent to closed.
Press manual button for 20 minutes.
When time goes off use the quick release or do a natural release if you are not ready to eat.
Serve as is or over rice.
Note* This post may contain affiliate links. For more information please visit our policies page.