This low carb shrimp and spaghetti squash dish uses a delicious spinach walnut pesto which is an easy and affordable substitute for traditional pesto. You don't need to wait for summer basil from your garden because you can make this pesto without pine nuts and basil. Use it in this dish as well as vegetables, pasta, chicken and fish. Each serving has just 6.6g net carbs!
You might also like this spaghetti squash with goat cheese & walnuts recipe.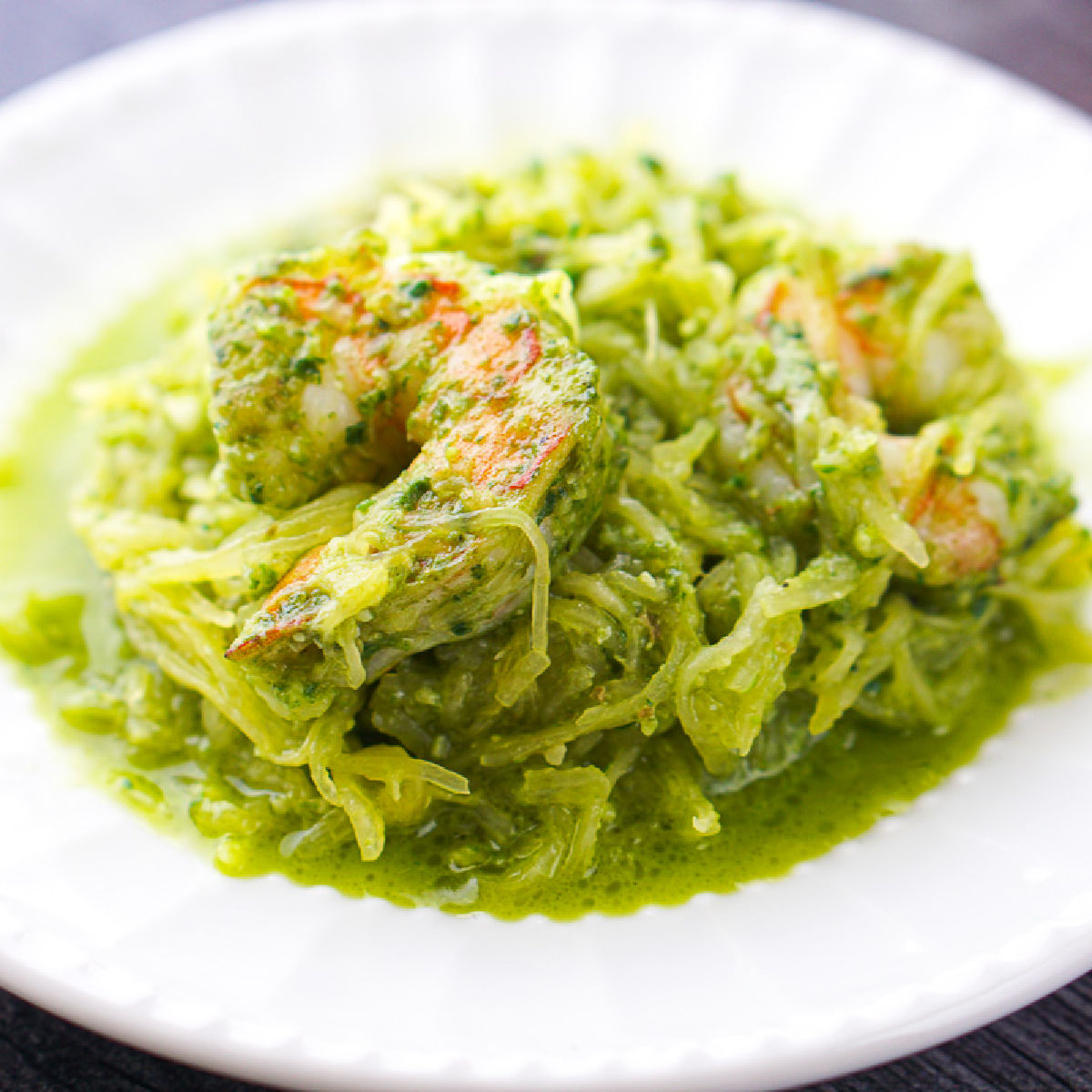 I love pesto and always have since I was younger. I love the flavor combination of garlic, herbs and cheese! However I rarely have a lot of fresh basil on hand unless it's in the summer when I grow it.
So in the winter, I make this spinach walnut pesto that doesn't use basil or pine nuts which is used in classic pesto sauce. It's much more affordable and easier to make any time of year. It goes great with dishes like this low carb shrimp and spaghetti squash pasta dish.
I almost always have fresh baby spinach and walnuts around. So I can make this this low carb condiment or sauce in minutes. This homemade spinach walnut pesto goes great with veggie noodles, chicken or fish for a low carb meal.
Recipe ingredients I used.
So the only ingredients in this homemade pesto without basil are fresh spinach, fresh garlic clove, toasted walnuts, olive oil and grated Parmesan or Romano cheese.
NOTE: If you want to use basil but don't have enough you can make a mixture of spinach and basil for this recipe. It's very versatile. However you should not use frozen spinach in this recipe.
While I like toasted walnuts, you could try to use other kinds of nuts but walnuts have a much milder taste and would work best as a substitute for pine nuts.
This easy basil free pesto is such an easy and delicious condiment. And if you are fan of vegetable noodles this is the perfect sauce to go with zoodles, spaghetti squash or any other kind of vegetable noodle. (FYI this handheld tool makes veggie noodles easy.)
Of course it also would be great with any type of pasta as well as vegetables, chicken or fish.
I have a post on how to cook spaghetti squash in the Instant Pot, microwave or oven. It also talks about how many carbs in spaghetti squash and it's nutrition. So check that out if you are interested.
How to make spaghetti squash with spinach walnut pesto.
Step 1: Cook your spaghetti squash any way you like and gather 2 cups of it for this dish.
Step 2: Toast the walnuts in a dry pan for a few minutes until fragrant. Take out and set aside to cool.
Step 3: Add the walnuts and garlic first to the food processor and pulse until finely minced. Then add the spinach and parmesan cheese. Pulse until the spinach is completely minced as well. Then add the olive oil and pulse until well combined and becomes a smooth paste consistency.
Note you could also use a high speed blender instead of the food processor but I just find them more difficult to clean.
Step 4: In a large skillet, add the shrimp and a tablespoon or two of the spinach pesto sauce. Saute for a few minute until the shrimp starts to turn pink.
Step 5: Add the cooked spaghetti squash and as much of the pesto sauce you want. Mix the veggie noodles well and let cook for 3-5 minutes until the shrimp is cooked through and that's it!
Store leftover pesto shrimp spaghetti squash in an airtight container and it will keep for a few days in the refrigerator. (Please scroll down to view the printable recipe card.)
I had a little left over pesto and used it throughout the week. I know some people freeze it but I haven't because it's just so easy to throw together. It's great on steamed broccoli and cauliflower for a low carb lunch.
Other ways to use this spinach walnut pesto.
I have a few keto recipes that use pesto so you can use this sauce on tilapia, with turnip noodles or make it into a keto creamy pesto with zucchini noodles.
Other ways to use homemade pesto sauce are:
Use on a low carb pizza crust like a white pizza
Try it to flavor salad dressing. Just add a tablespoon to any dressing to add extra flavor.
Top cooked chicken, salmon or vegetables with it.
Use it as a spread on these low carb Crispbreads with a slice of turkey and thin slices of sweet bell peppers. You can also use it as a spread for sandwiches and wraps.
Make a dip with mashed avocado or mix with sour cream, cream cheese, mayo etc.
Mix into chicken salad, potato salad, pasta salad, etc.
Here are a few more creative ways to use pesto.
So this shrimp and spaghetti squash with pesto is another easy and quick low carb dinner for you.
If you are fan of pesto, you have to try this. You can use different greens such as arugula. Or add a bit of sun dried tomatoes, hot pepper flakes, lemon zest, etc to change it up. Enjoy!
The nutritional information for 1 serving is 374 calories / 34.9g fat / 8.8g carbs / 2.2g fiber / 9.1g protein = 6.6g net carbs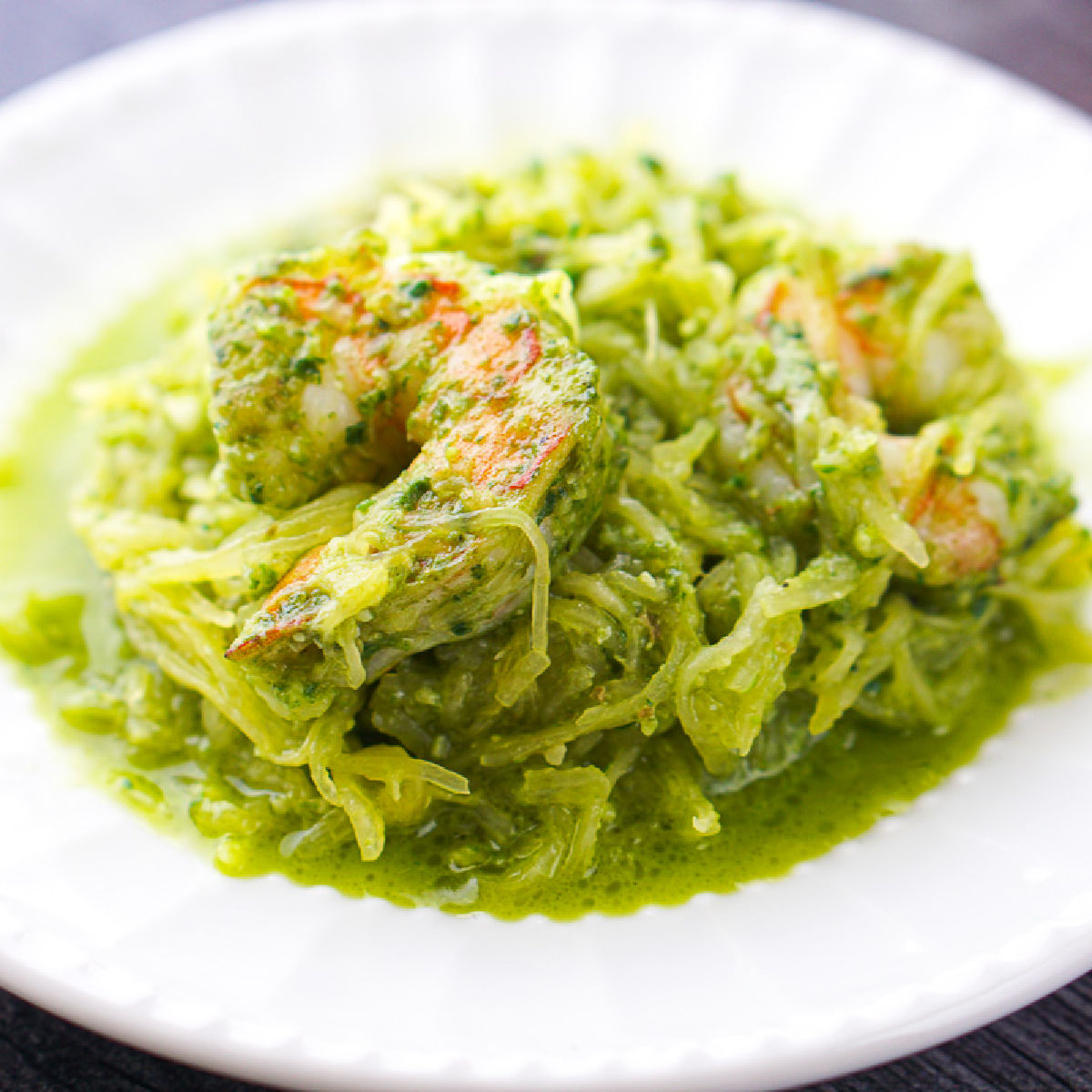 Low Carb Spaghetti Squash with Spinach Walnut Pesto Sauce
Spinach walnut pesto sauce is easy to make and can be made year round. Here we've used it with spaghetti squash and shrimp for a low carb dinner but can also be used with vegetables, pasta, chicken and fish.
Ingredients
1 cups fresh baby spinach, loosely packed
2 tablespoons walnuts
⅓ cup of olive oil
1 cloves of garlic
¼ teaspoon salt
¼ teaspoon black pepper
¼ cup Parmesan or Romano cheese, fresh preferably
6 oz cooked shrimp
2 cups spaghetti squash cooked
Instructions
Add your walnut to a dry skillet and toast for a few minutes on medium heat until fragrant. Let cool.
Add your spinach, garlic, salt, pepper, walnuts and cheese to a food processor and blend well.
Slowly add your olive oil as the food processor is working.
Scoop your pesto out into a container.
In a large pan, add your shrimp and spaghetti squash and a few tablespoons of your pesto.
Mix well and sauté for a few minutes so everything is heated through and incorporated.
Serve immediately. Garnish with fresh grated cheese if desired.
If there is extra pesto store it in an airtight container in the refrigerator. You can use on vegetables, pasta, rice, chicken, fish or sandwiches.
Notes
The nutritional information for 1 serving is 374 calories / 34.9g fat / 8.8g carbs / 2.2g fiber / 9.1g protein = 6.6g net carbs.
Nutrition Information:
Yield:

1
Serving Size:

1
Amount Per Serving:
Calories:

374
Unsaturated Fat:

0g