This sous vide round steak recipe used an inexpensive eye round roast sliced to make a perfectly cooked steak. Perfect for a weeknight meal and it's naturally a very low carb dinner too! This post is sponsored by the Certified Angus Beef ® brand in conjunction with a social media campaign through Sunday Supper LLC. All opinions are my own.
You might also like this sous vide filet mignon dinner.
This is the second time I've made sous vide round steak from tougher or less expensive cuts of beef. The thing about a sous vide immersion circulator is that it cooks anything at a steady temperature so ensure it is perfectly cooked.
So for this steak recipe I cut a large roast into steaks, sous vide them for about an hour and then pan seared them with some rosemary and butter. Delicious! Such a nice way to have a very low carb dinner at a reasonable price!
What is sous vide cooking?
Sous vide mean under vacuum. It's a cooking method in which you place your food in a vacuum sealed pouch and cook in a regulated temperature water bath.
It's usually at a lower water temperature and cooked for longer times. However the food is cooked very evenly and therefore it's retains it's moisture and not overcooked.
It's perfect for steaks but you can cook any kind of meat, vegetables and more!
What Type Of Beef To Sous Vide?
My first experimentation with sous vide was with filet mignon steaks which came out great! But lately I've been using a tougher cut of meat which of course are less expensive.
Today I used a boneless round roast. This is typically a tougher and rather lean piece of beef. You can also do this with any kind of beef roast you find on sale.
I found a Certified Angus Beef® roast on sale which I snatched up because I new it would be a quality piece of beef.
How to sous vide round steak.
Step 1: First thing you do is cut the roast into steaks. I got 6 nice sized steaks from the eye of round roast (see pic below) that I bought.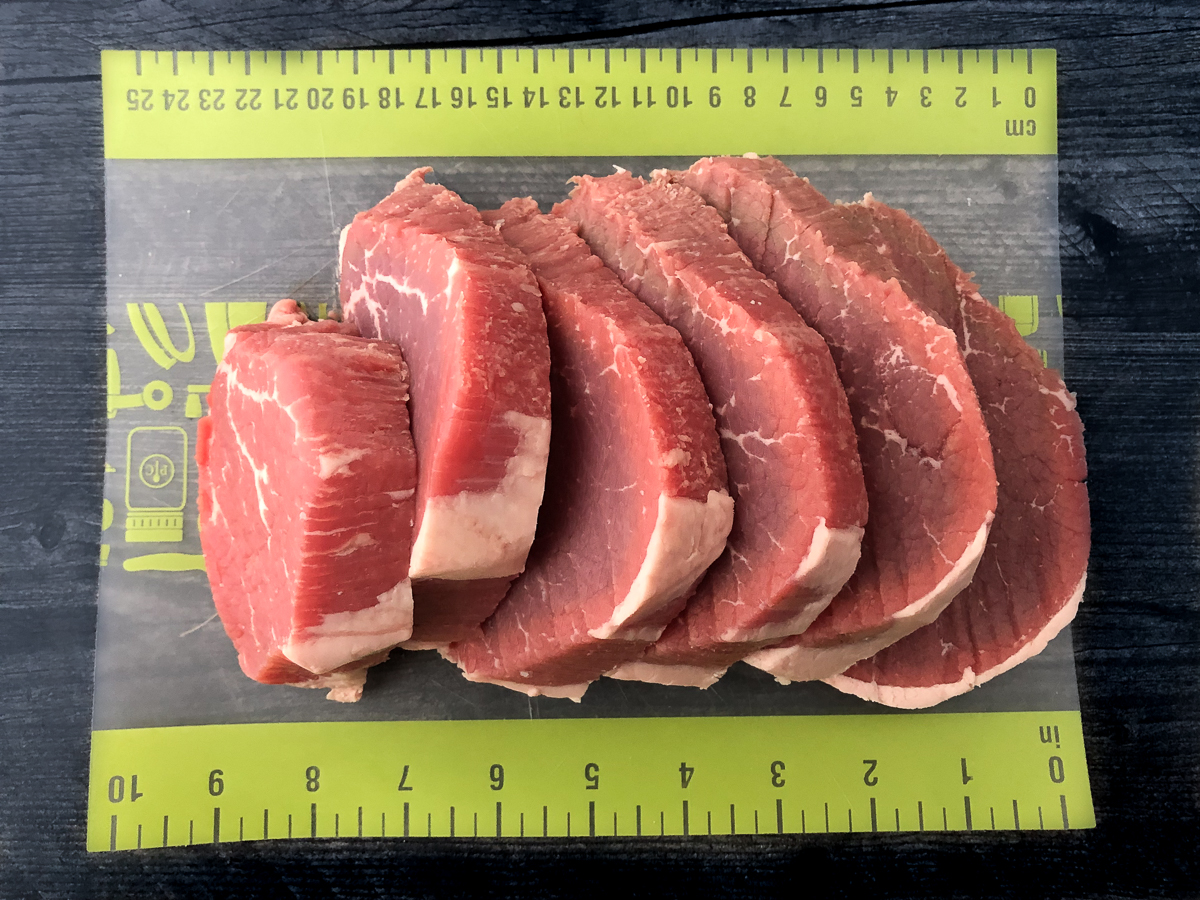 Step 2: Today I made this balsamic marinade and poured a little into the bags with the meat before I vacuum sealed them. However you can also just rub some olive oil and crushed fresh garlic on each steak slice and season with salt and pepper.
Step 3: Place them in plastic vacuum bags and suck all the air out. Once when my handheld vacuum sealer was not charged, I just used the hose function on my vacuum cleaner! Worked like a charm.
Step 4: Set your sous vide immersion device in a container with water to and heat up until the water temperature is 130°F. I used an Instant Pot circulator so it works great with my pot from my Instant Pot.
Step 5: Place the steaks in the warm water bath and cook for 1 hour. Cooking temperature and time may vary so consult the device instructions to see how long to cook for your desired doneness and the thickness of your steaks. Mine were roughly an inch and I wanted medium rare steak.
Step 6: When done, take out the baggies. Take out the steaks and dab dry. Let them rest for about 15 minutes.
Step 7: Now you can sear the meat for more flavor. Heat up a cast iron skillet or other skillet to medium high heat. Melt some butter and throw in rosemary sprigs for basting if you wish. Place the meat in the hot skillet and sear them for about 1-2 minutes on each side then let sit for a few minutes before cutting into them. (Please scroll down view and print the recipe card.)
My sous vide immersion circulator and accessories I used.
This is the sous vide immersion circulator I bought it at Target. It's made by Instant Pot and I like to use the container of my Instant Pot as the water bath. 
I also found this very handy and inexpensive handheld vacuum sealer and reusable Foodsaver cooking bags. You can use them to vacuum seal just about anything and freeze them and they are great for meal prep.
Or you can also use them for these sous vide recipes. These are the Foodsaver bags I got. I just wash them out and reuse them
Try these tasty keto sauces on your steaks.
I have lots of keto sauces recipes for beef, chicken and fish. Below are three of my favorite sauces that are super easy to whip up and would go great with these lean steaks. I also have a great horseradish sauce you can try.
If you have leftover steak, they are great on a salad. I made a big garden salad and just add slices of steak on top with my keto blue cheese dressing and it was delicious!
---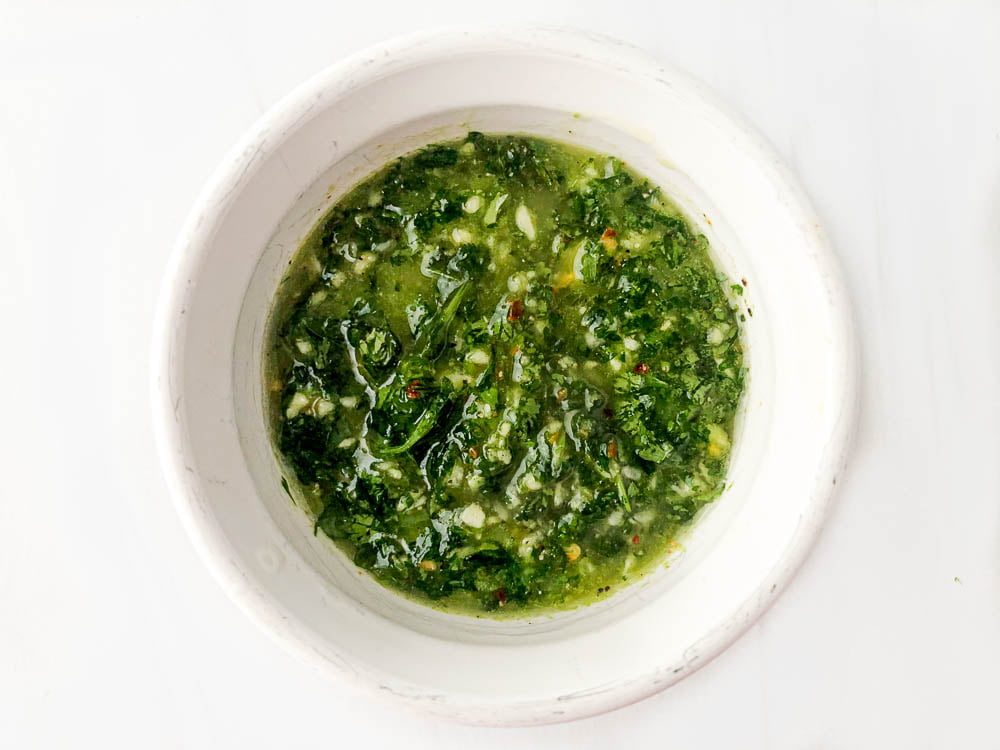 I hope you give this sous vide round steak a try. This method of cooking is very easy to do you are guaranteed to cook food perfectly. Also you can use inexpensive cuts of meat.
I'm just starting out but really enjoy it. I made a tasty sous vide chicken breast with herb sauce. Next up I'm going to try a chuck roast or fish!
For a great side dish for this, check out my friend Maya's baked asparagus.
Sous Vide Round Steak
Cook Time:
1 hour
5 minutes
Inactive Time:
15 minutes
Total Time:
1 hour
25 minutes
These sous vide round steaks where cut from an inexpensive beef roast to make a perfectly cooked piece of beef. No more overcooked meat! This is great for a weeknight meal that is a naturally low carb dinner too!
Ingredients
2.5 lb round roast cut into steaks
2 tablespoons olive oil
salt & pepper to taste
3 tablespoons butter
fresh thyme or rosemary sprigs (optional)
Instructions
Fill up a pot of water and this will be your water bath. I used the pot from my Instant Pot.
Get your immersion circulator going by attaching it to your cold water bath. Set the temp and time to 130°F and for 1 hour.
Meanwhile rub your steaks with olive oil and salt and pepper on both sides. Add them to a vacuum bag and seal tightly.
When your bath water is ready, lower the bags of steak in and let it cook for 1 hour. When the time goes off, take the bags out and place the steaks on a plate to cool.

Note cooking time may vary so consult the manufacturer's booklet to see how long to cook for your desired level of doneness and the thickness of your steaks. Mine were roughly an inch and I wanted them to be medium rare.

Let them rest for 15 minutes or so. Once they are cool, dab the moisture off and get your pan ready to sear.
Add 2-3 tablespoons of melted butter to a cast iron skillet and turn the heat up to medium high. When ready, sear the steaks for a minute or two on each side. Baste with melted butter. You can also add some fresh sprigs of thyme or rosemary for more flavor but it's optional
Take them out to rest, then serve.
Nutrition Information:
Yield:

6
Serving Size:

1
Amount Per Serving:
Calories:

302
Total Fat:

24g
Saturated Fat:

10g
Trans Fat:

0g
Unsaturated Fat:

12g
Cholesterol:

89mg
Sodium:

134mg
Carbohydrates:

0g
Fiber:

0g
Sugar:

0g
Protein:

20g
By the way you might want to check this Certified Angus Beef® Kitchen Facebook group to learn some great beef tips and recipes. It really helped me to make my first prime rib! For more information about Certified Angus Beef ® brandfollow them on their Social Media Platforms: Facebook | Pinterest | Instagram | YouTube | Twitter