This smoked salmon bagel sandwich has it all. Lemons, smoked salmon, red onions, avocados all on an everything bagel.
I first learned of the joys of smoked salmon when visiting friends in Latvia. They took us to a huge market inside a blimp hanger which had every kind of fresh food imaginable. I'm talking pig ears and homemade sauerkraut. It was awesome! They bought a big piece of salmon and sugar cured it in the refrigerator over night. The next day that had some homemade brown bread in which they slathered fresh butter and pieces of their cured salmon. They topped it with thinly sliced onions and some black pepper. It was unbelievable and a totally new experience for me. Since then my husband I eat this almost monthly though we've changed it up a bit over the years.  So today I share with you one of my all time favorites ….a smoked salmon bagel sandwich.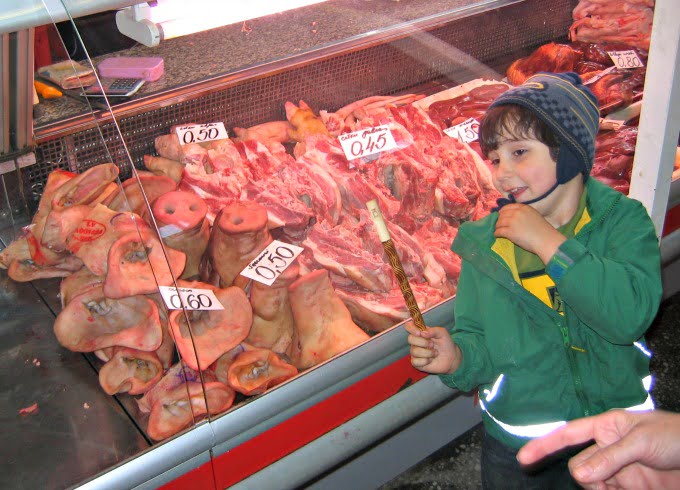 Max was only 3 at the time and you can see the nice assortment of pig ears and snouts. I don't think he knew what he was standing next to. As for the sandwich, the changes we made over the years was the use of everything bagels and avocado. We also use smoked salmon since it's readily available at Costco and sometimes Aldi.
This isn't much of a recipe post but more of a sharing of a delicious combination of tastes. Many people eat smoked salmon with cream cheese and while I love it that way too, I find this is a delicious way to eat smoked salmon in the summer. So you have the salty everything bagel topped with smooth, melt in your mouth smoked salmon. Add to that creamy avocado and the bite of a red onion. Lastly add some bright and tangy lemons and spicy black pepper. Perfection!
Smoked Salmon Bagel Sandwich
My husband isn't as obsessed with avocados as much as I am so he uses butter instead. Sometimes he even uses French bread slices and eats this as a open faced sandwich. Recently we started brining and hot smoking our own salmon. It has a different consistency than the cold smoked salmon but it's just as good to me. If you are interested in trying that, check out the post on how to make it here.
So that is my Latvia inspired smoked salmon sandwich. Maybe it's the wonderful memories of a great time in my life, or perhaps my love of discovering new foods, but this really is one of my favorite dishes. I hope you give it a try. How do you eat your smoked salmon?
Check out some other great salmon recipes!
---
---
Smoked Salmon Bagel Sandwich
This smoked salmon bagel sandwich has it all. Lemons, smoked salmon, red onions, avocados all on an everything bagel.
Ingredients
4

oz

smoked salmon

1

everything bagel

toasted

1-2

slices

red onion

1

half avocado

sliced

1/2

lemon

cracked black pepper to taste
Instructions
Slice your bagel in half.

Start your sandwich with the sliced avocado. You can also mashed the avocado and use it like a spread.

Then place your smoked salmon on top of the avocado.

Follow with the red onion and then squeeze some of the lemon on top.

End with a few grinds of black pepper.

Top with other half of bagel and enjoy all the goodness!