This smoked salmon bagel sandwich will be your new favorite low carb lunch. Keto everything bagels topped with melt in your mouth smoked salmon and creamy avocado are balanced with the bite of red onion and lemon juice. The combination of flavors come together for a fabulous low carb meal with only 3.4g net carbs!
You might also like this turkey apricot cheddar sandwich post.
I first learned of the joys of smoked salmon when visiting friends in Latvia. They served it to us on brown bread slathered in butter and topped with thinly sliced onions, fresh lemon and fresh black pepper. It was unbelievable and a totally new experience for me.
Since then my family eats this almost monthly though we've changed it up a bit over the years. My hubby version is similar to except he uses an everything bagel and capers for extra flavor. Being on a low carb diet, I eat mine with keto bagels to make my delicious smoked salmon bagel sandwich.
This sandwich has layers of flavor and uses tasty ingredients. The salmon just melts in your mouth and with the creamy avocado it goes so well with the bite of purple onion and tangy lemon. The keto everything bagel pulls it altogether for only 3.4g net carbs and takes only minutes!
Where I first learned of smoked salmon.
Our Latvian friends took us to a huge market inside a blimp hanger which had every kind of fresh food imaginable. I'm talking pig ears and homemade sauerkraut. It was awesome!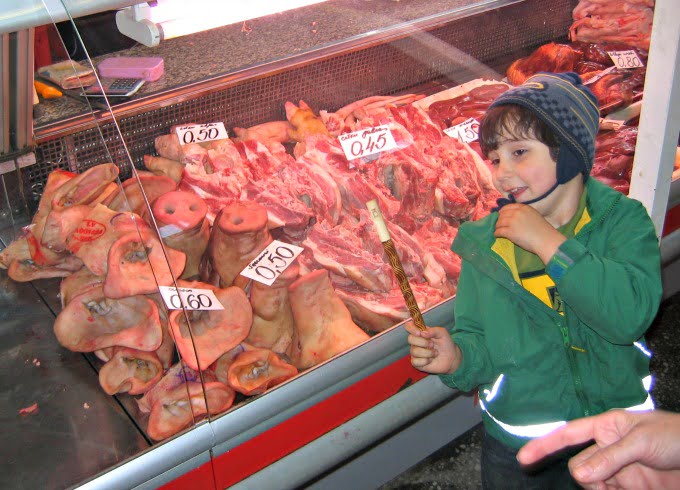 Max was only 3 at the time and you can see the nice assortment of pig ears and snouts. I don't think he knew what he was standing next to.
That day at the market they bought a big piece of salmon and sugar cured it in the refrigerator over night.
Recently we started brining and hot smoking our own salmon. It has a different consistency than the cold smoked salmon but it's just as good to me. If you are interested in trying that, check out the post on how to smoke salmon here.
My keto everything bagel recipe and options to try.
I have a great keto everything bagel recipe that I use for my sandwiches and you can see one below. These bagels use yeast and while they are not gluten free, they are low carb and really good.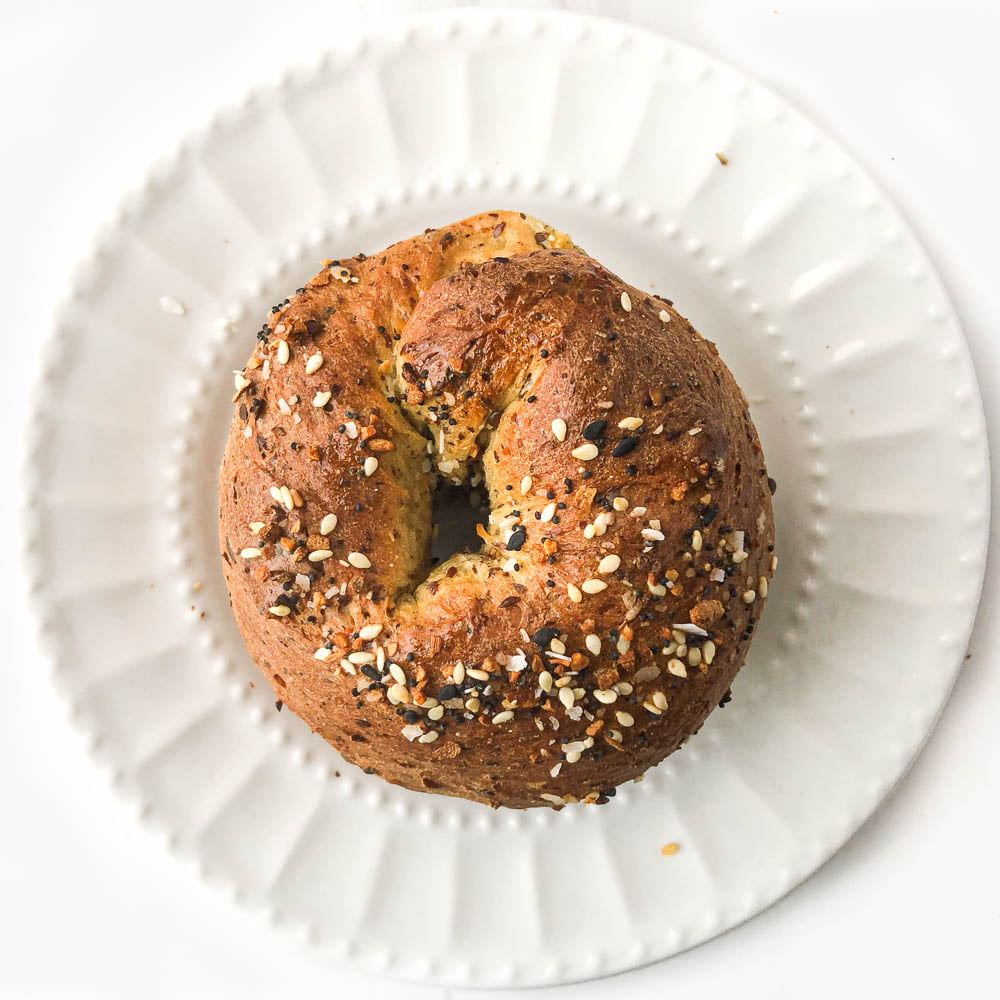 However I've used an Aldi keto plain bagel and think they are good too. You can just add some everything spice which they sell as well and sprinkle it on top. Amazon has some keto bagels but I have not tried them.
Another thing I do sometimes is eat this with my low carb crispbread which is really easy to make. I highly recommend this one if you don't want to make or can't find keto bagels.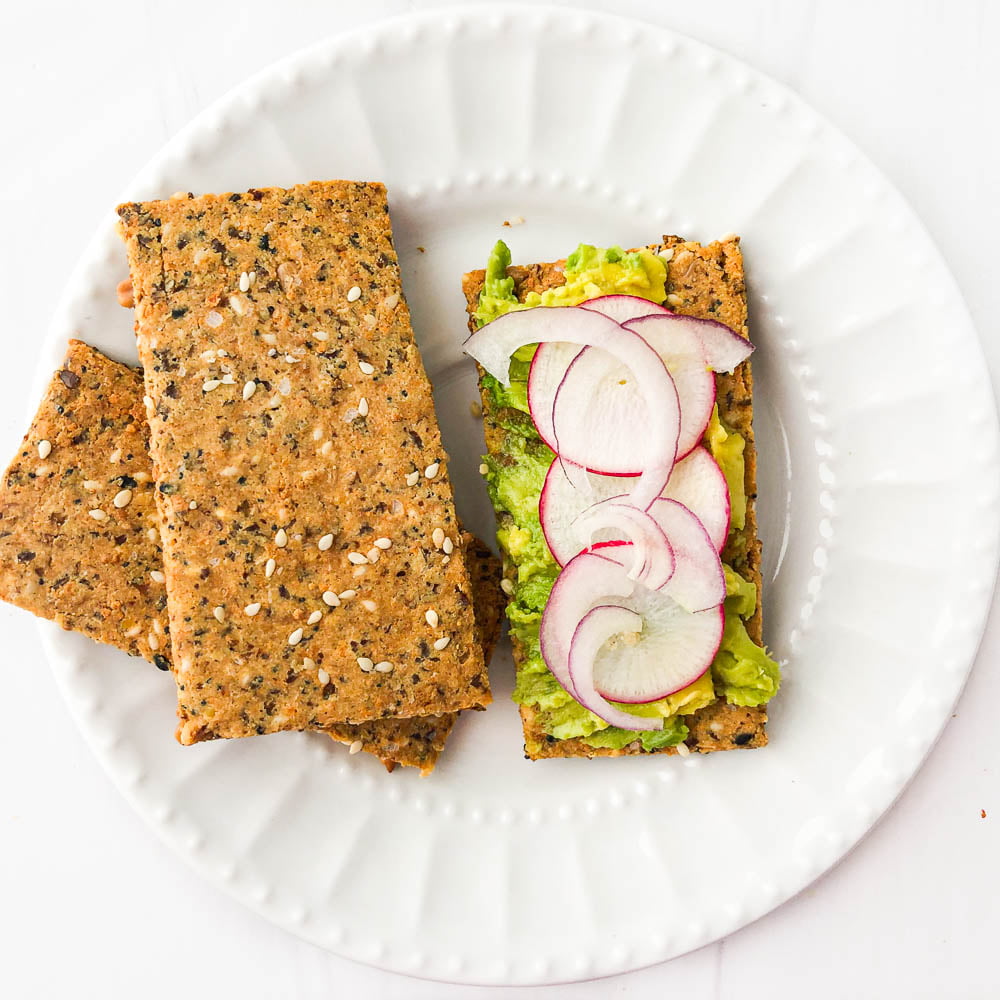 And if you don't care about carbs you can just use regular old everything spice bagels that you can get anywhere.
How to make a smoked salmon bagel sandwich.
The ingredients to make this tasty sandwich is smoked salmon, fresh avocado, red onions, fresh lemons, fresh cracked black pepper and an everything bagel. If you like capers you can try those too.
I use everything bagels because they are my favorite bagel flavor but sesame bagels would work well too.
This isn't much of a recipe post but more of a sharing of a delicious combination of tastes
Place your everything bagel in the toaster and toast.
Slice the both the red onions and avocado into thin slices. Then cut up the lemon into wedges.
Assemble your bagel sandwich with the avocado first, smoked salmon next and then top with onion slices. Grab your lemon wedges and add a squeeze of lemon juice on top and then add fresh cracked pepper (optional).
You could also make an open faced sandwich by taking the two bagel halves and double the ingredients. I do that sometimes too. Please scroll down to view and print the recipe card.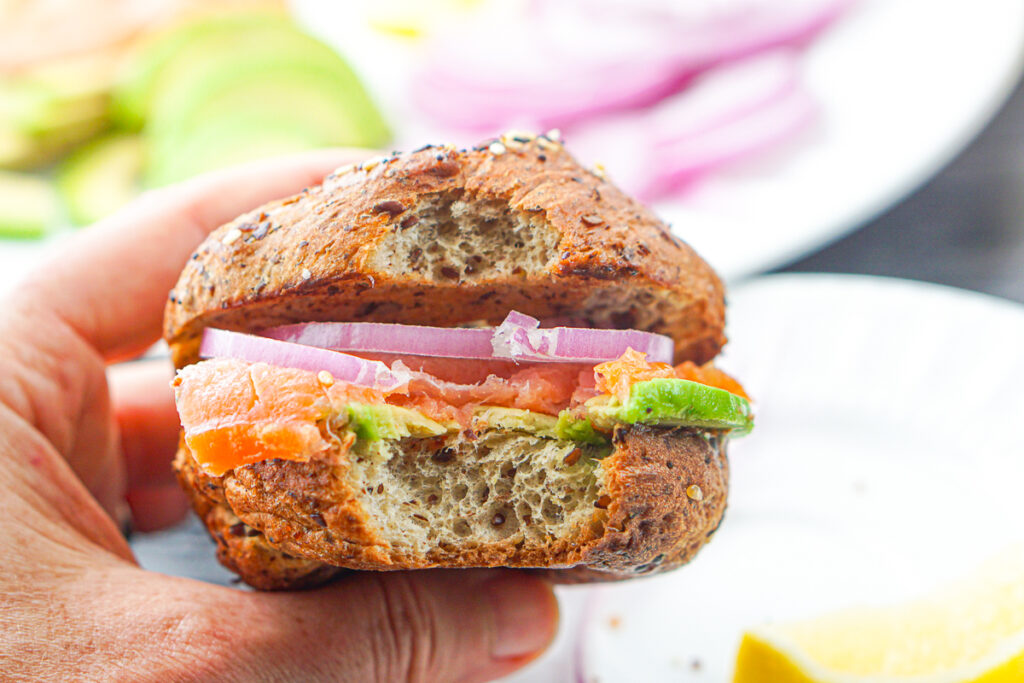 So that is my Latvia inspired smoked salmon bagel sandwich. Maybe it's the wonderful memories of a great time in my life, or perhaps my love of discovering new foods, but this really is one of my favorite dishes.
I hope you give it a try.
The nutritional information for 1 delicious bagel sandwich is 211 calories / 10.9g fat / 10.3g carbs / 6.9g fiber / 23.1g protein = 3.4g net carbs.
---
Smoked Salmon Bagel Sandwich
This smoked salmon bagel recipe has it all. Lemons, smoked salmon, red onions, avocados all on an everything bagel.
Ingredients
2 oz smoked salmon
1 keto everything bagel, toasted
1 slice red onion
2 slices avocado
wedge of lemon
cracked black pepper (optional)
Instructions
Slice your bagel in half and toast in the toaster.
Start your sandwich with the sliced avocado. You can also mashed the avocado and use it like a spread.
Then place your smoked salmon on top of the avocado.
Follow with the red onion and then squeeze some of the lemon on top.
End with a few grinds of black pepper.
Nutrition Information:
Yield:

1
Serving Size:

1
Amount Per Serving:
Calories:

211
Unsaturated Fat:

0g