If you are missing those tasty, crunchy bits of bread on your salad, try these seasoned garlic keto croutons! You only need 4 ingredients to make these low carb croutons that are full of flavor. Only 0.3g net carb per serving.
I love salads but I don't really care for croutons. That was until I ate my sister's delicious garlic bread croutons that she puts in her cesar salads. She uses real bread and lots of butter and garlic. So that's what inspired these seasoned garlic keto croutons.
These low carb croutons are made from halloumi cheese. Not only do they get lots of flavor from the garlic and seasonings, but the cheese itself has a great texture for salads. While they are not crunchy, they are chewy and salty and a great substitute for bread croutons.
I have been having a love affair with halloumi cheese. It's salty goodness tastes delicious when fried because it doesn't really melt too much but still gets that great browned look and flavor. Recently I made halloumi fries by cutting the cheese up into fries and pan frying them with a za'atar spice. Delicious! If you like this recipe, go back and try that one.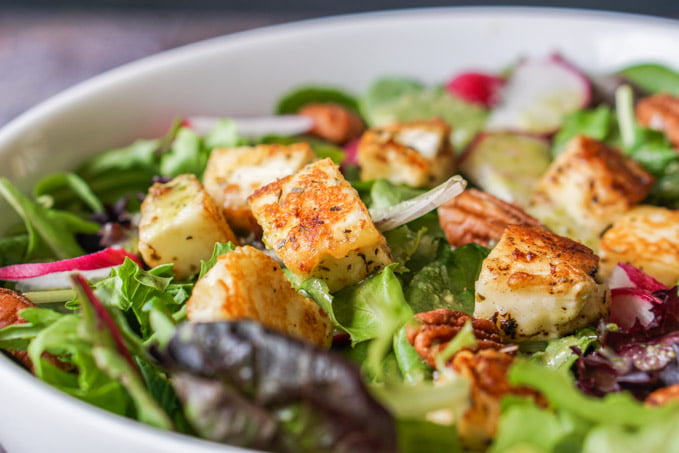 Keto Croutons Recipe
This recipe is super easy. All you need to do is cut the halloumi cheese into cubes. Then you get a saute pan hot and add a bit of butter, garlic and Italian seasonings. When the butter is melted, place the cheese in the pan and let them brown. Then flip the cheese over and brown the other side. That is all there is to it. Toss them on a garden salad and enjoy!
Now you would want to eat these "croutons" immediately but they also make a tasty snack. I had extras that I just put in the refrigerator and grabbed a few for quick snack. But for the crouton taste, they are best right out of the pan. I hope you enjoy this easy, low carb recipe. The nutritional information for 1 serving is:
247 cals / 20.9g fat / 0.3g carbs / 0g fiber / 14.1g protein = 0.3g net carbs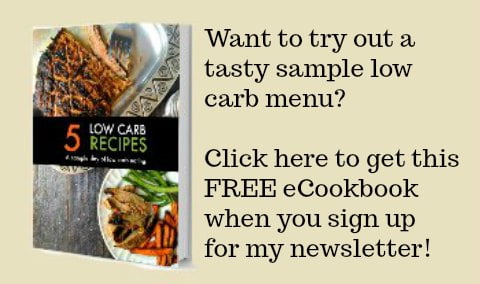 Seasoned Garlic Keto Croutons
If you are missing those tasty, crunchy bits of bread on your salad, try these seasoned garlic keto croutons! It only takes 4 ingredients and these low carb croutons are full of flavor.
Ingredients
8

oz

halloumi cheese, cut into bite sized pieces

1

tablespoon

butter

1

clove

garlic, crushed

¼

teaspoon

Italian seasonings
Instructions
Cut cheese into bit sized pieces.

Add butter to a saute pan and when it's melted, add in the garlic and seasoning. Mix well.

Place the cheese in piece by piece. Let cook for a minute or two and then flip to the other side.

When browned on both sides, take out and use as croutons on your salad.