If you need more high protein low carb breakfast ideas, try these make ahead omelets in a jar or cup. They are filled with tasty breakfast sausage, peppers, spinach and cheese. Just mix, bake and store in the refrigerator for a healthy breakfast on the go all week. Each omelet cup has only 3.1g net carbs and 16.3g protein.
You might also like these 5 easy keto omelets post!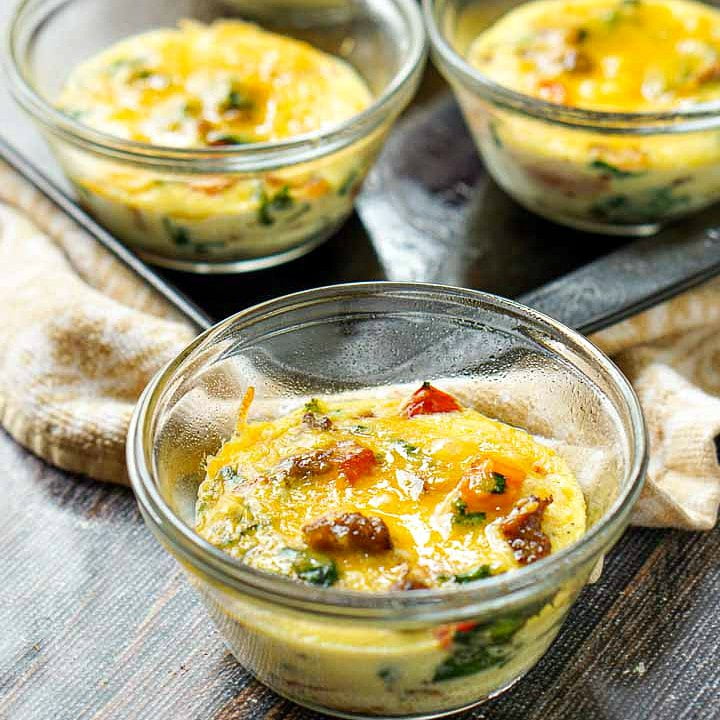 Today I am updating a very old recipe. Originally I made these sausage, spinach & pepper omelets in small mason jars and baked them in the oven. I've since found that people are nervous about baking things in mason jars so I've revised the recipe to be lower in carbs and I used tempered custard cups which work great.
The idea is that these are make ahead omelets in a glass cup that you can bake in the oven and have ready for a healthy low carb breakfast on the go! They are very tasty and a good way to stay on your low carb diet.
I'm including the information about the mason jars for anyone that might come back here for that recipe but I recommend using the custard cups instead.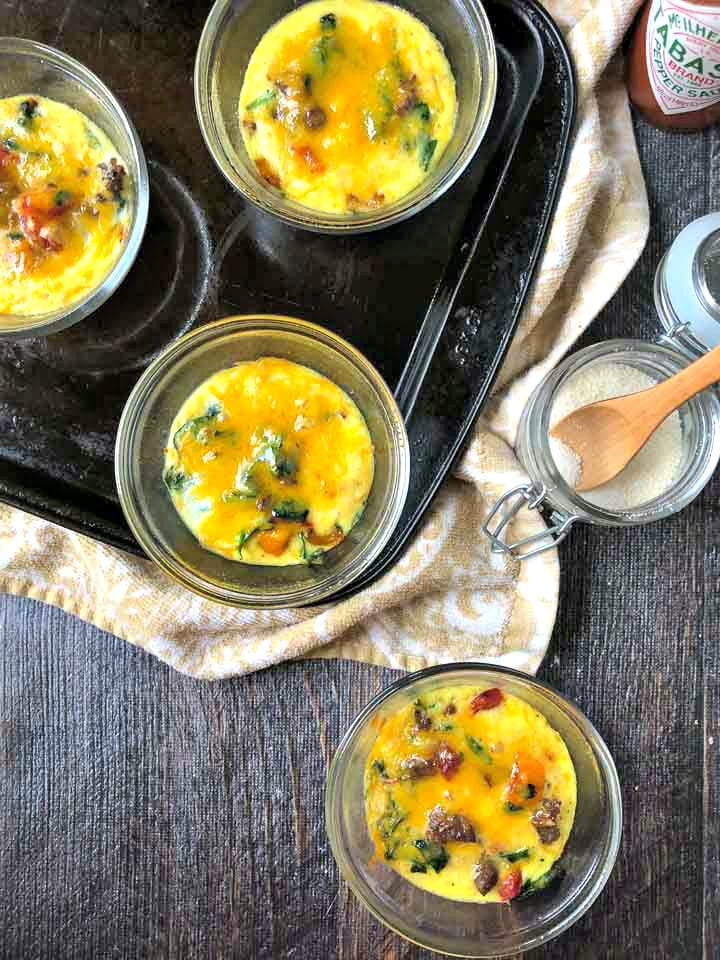 Ingredients For These Make Ahead Omelets
I picked the following ingredients for flavor, color and low carbs. I used breakfast sausage, peppers, spinach, cheddar, heavy cream and eggs. If you are just doing this for meal prep and don't care about carbs pick your own favorite omelet fillings.
Since I'm updating this recipe, I used cream instead of yogurt for low carbs but you can stick with the yogurt if you wish. I also doubled the spinach for more bulk and nutrition.
Let's Make Some Omelets In A Cup!
Start by browning the sausage and peppers in a non stick skillet. Once the sausage is browned and the peppers soft, turn off the heat and slowly mix in the spinach until it's starting to wilt. See the picture below to see how it should look.
Add the cups to a cookie sheet and spoon some of the sausage mixture into each cup. I only had 4 custard cups so I used 2 ramekins(6oz) in addition to the cups. Next whisk the eggs, cream and half of the cheese. Pour over the sausage mixture and top with the remaining cheese.
Bake them in the oven for 15 minutes. Don't worry if they are not completely cooked because when you reheat them they will cook a little more. They should be mostly cooked though. If they are just a little loose in the middle that is ok.
Let them cool before you add the lids and then store them in the refrigerator. To eat them later in the week, just take off the lid and cook for 30 second intervals until heated through. They should really take no more than 30-60 seconds to reheat.
Mason Jars, Custard Cups Or Ramekins?
Below are the custard cups that I recently bought and really like for this recipe. I like that they have lids, they are made of tempered glass (oven proof) and they are a good size for meal prep.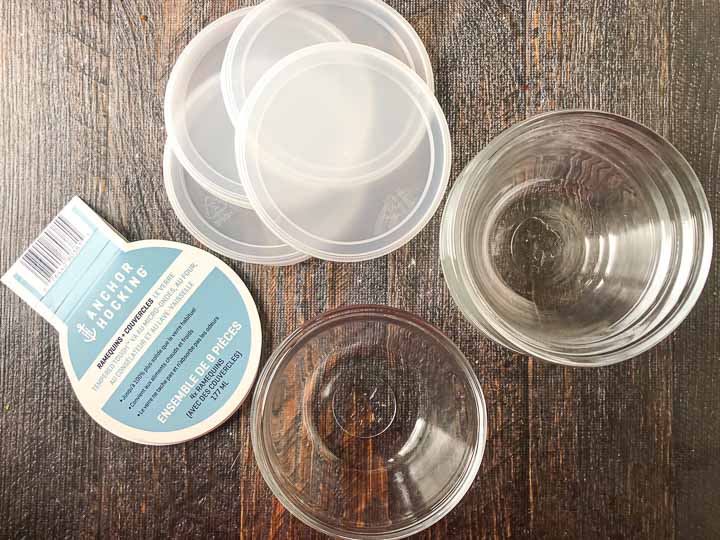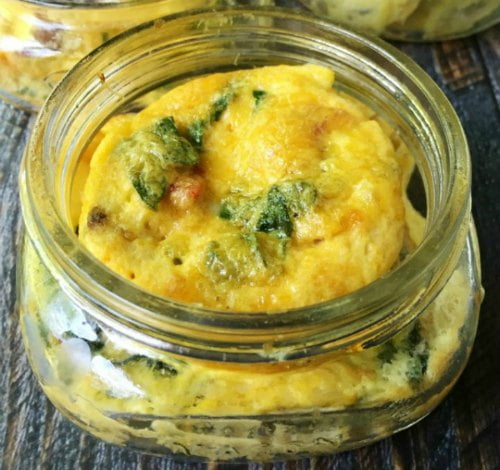 My old recipe used 8oz jars and there was some discussion as to whether you can use mason jars in the oven. I had no problems but I didn't want you all to have any issues so I switched this recipe to use the custard cups.
Another option is to use ramekins which are made for the oven. Some even have lids. Here is what the ramekin looks like below. I used 6oz ramekins.
So if you are looking for more low carb breakfast ideas try these make ahead omelets. They really are tasty, healthy and very easy to make ahead for breakfast all week. They are also high in protein and just overall very tasty.
The nutritional information for the 1 omelet cup is:
297 cals / 24.1g fat / 3.8g carbs / 0.7g fiber / 16.3g protein = 3.1g carbs net carbs

Old comments regarding the omelets in mason jars
Disclaimer: One reader pointed out that you should not put mason jars in the oven. I was unaware of this when writing the post. And while I had no trouble I understand that the type of glass that mason jars are made of can not withstand large temperature fluctuations which may cause it to break. Here is an article I found that says you can bake in jars if you use a water bath. I have not tried it but I wanted you all to be aware of the risks.
Notes from Readers:
Colleen P: "I made 30 jars for breakfast at our retreat and each one was eaten up. I got many complements on the uniqueness of this idea. I used eggs, cheese, spinach and sausage. I will use this recipe again. I did 12 at a time and it took much longer, about 30 mins each, but was able to keep them warm by simply putting a towel over the done ones. Also, I used water instead of milk or yogurt. I have always found water makes eggs fluffier. "
Another reader pointed out that these are ½ pints. If you are using larger jars, you will have to use more of the mixture and it may take longer to cook.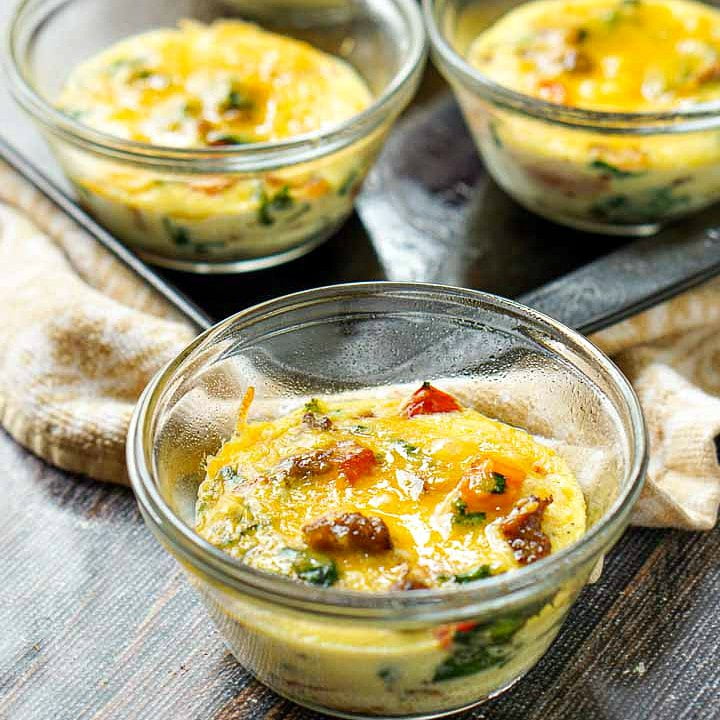 Make Ahead Omelet in a Jar or Cup with Sausage, Peppers & Spinach
This omelette in a jar recipe is perfect for a high protein and low carb breakfast on the go. Make ahead and eat all week.
Ingredients
1 cup chopped sweet peppers
1 cup cheddar
2 cups spinach, chopped
7 eggs
½ cup heavy cream
4 oz breakfast sausage, uncooked
Instructions
Preheat oven to 350F.
In a skillet,add sausage and peppers and cook until the peppers are soft and the sausage is brown.
Add your spinach and turn off the heat. Mix the spinach around until it's wilted.
In a bowl, whisk your eggs and cream. When they are mixed well, add half of the cheese.
Spray six custard cups or ramekins with cooking spray.
Add the susage mixture to each of the cups. Then pour in the egg mixture.
Top each of the jars with the remaining cheese.
Place the cups on a cookie sheet and bake for 15 minutes. If the middles are a little loose that is ok becuase you will be reheating these and they will cook some more. But they should be mostly done.
Let cool and then add your lid and store in the refrigerator or eat.
To reheat, place in th microwave for 30 seconds or until warmed through.
Notes
Recommended Products
As an Amazon Associate and member of other affiliate programs, I earn from qualifying purchases.
Nutrition Information:
Yield:

5
Serving Size:

1 Servings
Amount Per Serving:
Calories:

297