This low carb sausage & egg muffin sandwich uses grain free muffins for a delicious breakfast on the go. Each sausage & egg muffin sandwich has only 1.8g net carbs!
You might also like these savory low carb breakfast cookies.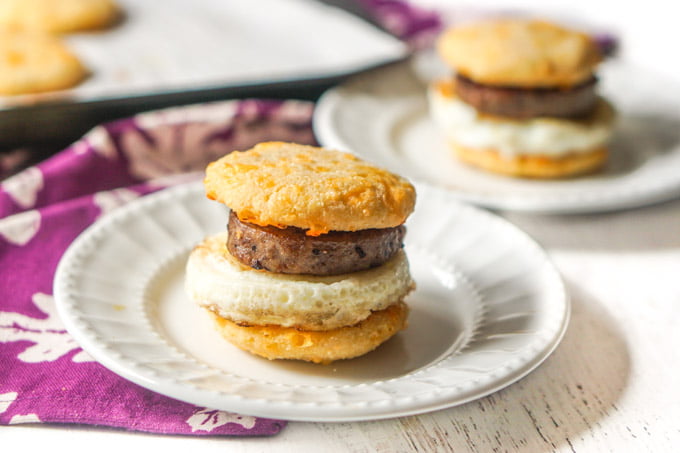 McDonald's sausage & egg mcmuffins are my guilty pleasure. I used to be safe from their greasy breakfast food lure because I am never that hungry during breakfast hours. But now McDonalds serves breakfast all day <sigh>.
So that was the impetus of me making this low carb sausage & egg muffin sandwich. While it's not as greasy and chewy as a Mickie Dee's, it did satisfy my craving and had only 1.8g net carbs for the whole thing!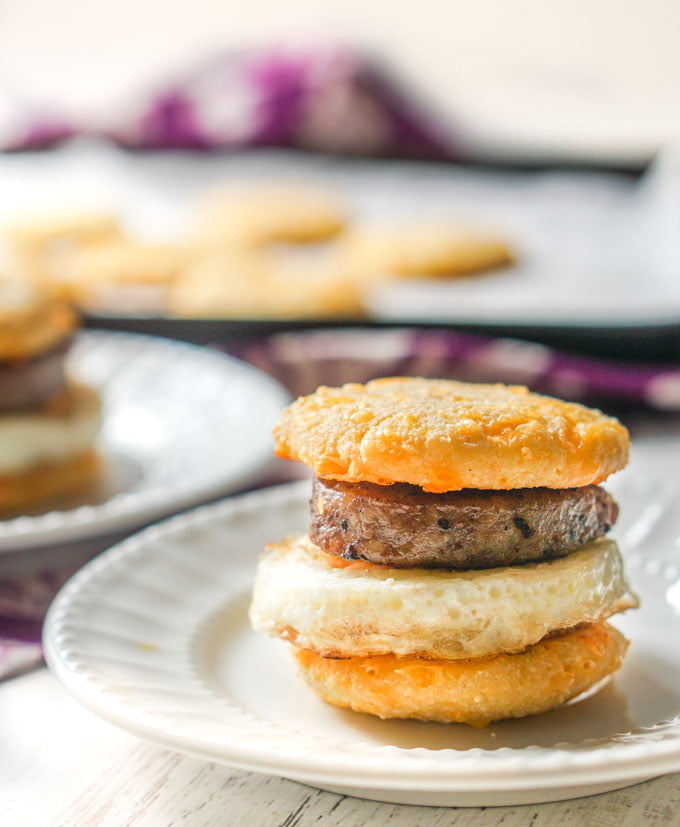 Luckily I hang out at a great blog Traveling Low Carb. Lynn Terry is very helpful to those doing a low carb diet and she has many tips and food logs to help you out. I also belong to her Facebook group 90 Day Low Carb Challenge. These people will truly inspire you if you see how much weight they lose.
Anyway, I got the muffin recipe from Lynn Terry. I think it was perfect to make my favorite sausage egg breakfast sandwich
Low Carb Sausage & Egg Muffin Recipe
To make the muffins, all you need to do is mix together almond flour, cheddar cheese, Parmesan cheese, eggs and butter. This will make a dough that you can then form into muffins as pictured above.
Below you can see what they look like coming out fo the oven. They taste more like a biscuit then an English muffin but it works!
To get the egg in that circular form, I used the lid of a mason jar. Just spray it with cooking spray and crack your egg in the middle. You will get a little overhang but overall it works in a pinch.
I bought the already formed Bob Evans sausage patties and made the eggs using mason jar lids in my skillet.
I also just use 1 muffin per sandwich. Doesn't make it very easy to eat with your hands but I felt that was all I need to get my sandwich to taste the way I like it.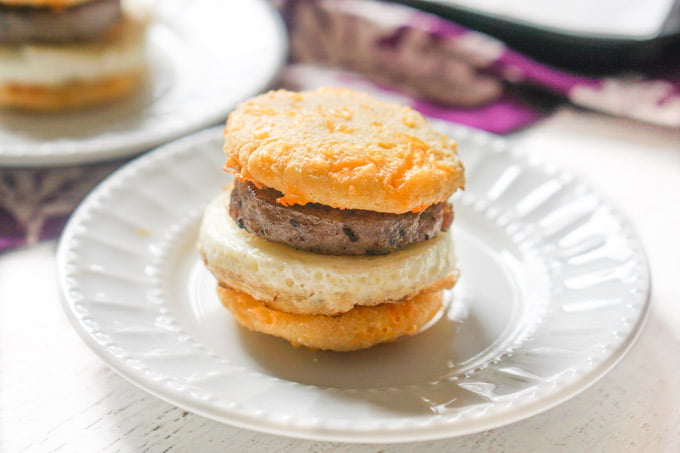 So here is my carbs counts for this tasty breakfast sandwich. I hope you like them as much as I do and hopefully it will keep me away from McDonald's all day breakfasts.
1 muffin
87 cals / 7.1g fat /1.5g carbs / 0.8g fiber / 4.1g protein = 0.7g net carbs
Egg & Sausage Sandwich (2muffins)
412 cals / 34g fat / 3.3g carbs / 1.5g fiber / 22g protein = 1.8g net carbs
Adapted from Lynn Terry's recipe here.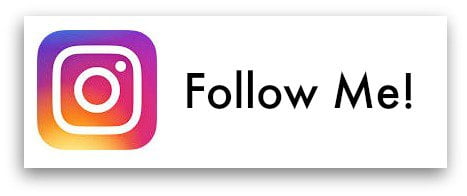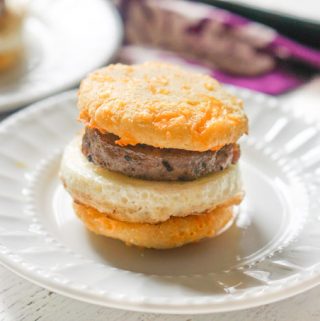 Sausage & Egg Muffin (low carb, grain free)
These low carb sausage & egg muffins use grain free muffins for a delicious breakfast on the go.
Ingredients
½

cup

cheddar cheese

shredded

½

cup

grated parmesan cheese

2

eggs

1

cup

almond flour

2

tablespoons

melted butter
To make a sandwich
7

sausage small patties (I used Bob Evans)

7

fried eggs
Instructions
Preheat oven to 350 degrees.

Mix all ingredients except sausage and eggs and chill for 20 minutes.

Line a cookie sheet with parchment paper.

Divide dough and make muffins about the size of the sausage patties.

Assemble your sandwiches with two muffins, 1 sausage and 1 fried egg.

Eat immediately or store in the refrigerator or freeze.

Recipe yields 14 muffins and if you use 2 muffins per sandwich, 7 sandwiches. I think 1 muffin is enough for my tastes so you can get more sandwiches out of this recipe if you feel the same.