A delicious and colorful salad highlighting fall's best root vegetables, blue cheese and almonds.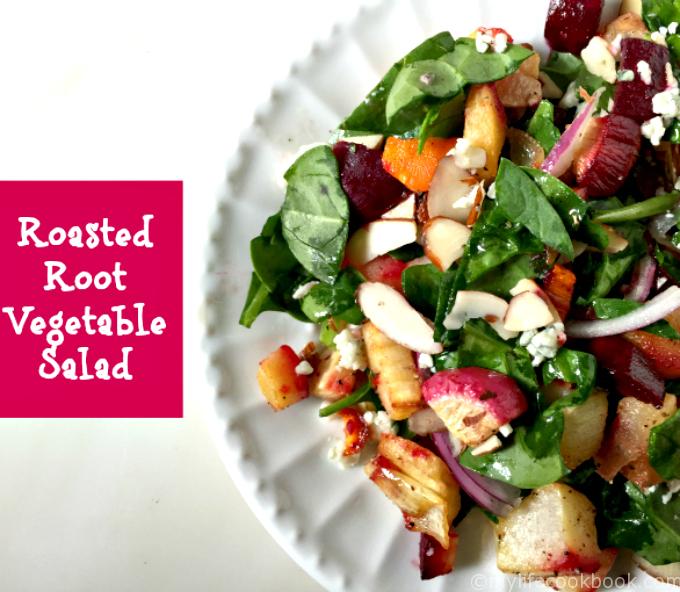 One thing I love to do this time of year is roasting root vegetables. They come in so many beautiful colors and varieties and the roasting gives them such good flavor. However, sometimes at the beginning of fall (when it's in the 70's here in PA), I'm just not in the mood for a heavy meal and that is why I made this Roasted Root Vegetable Salad. This would a great salad for a party or when you have friends over and want something a little different.
Below you can see the beautiful vegetables that I used. I love the earthy sweet taste of beets and especially love their bright purple pink color. I also used a few parsnips and carrots for some variety in taste and color. The turnips tastes a bit like potatoes to me and roasting just gives it more depth of flavor. And lastly we have some lovely pink radishes that are sometimes hot and spicy. To roast all these beauties I just peeled and chopped them and tossed with olive oil, garlic, thyme, salt and pepper.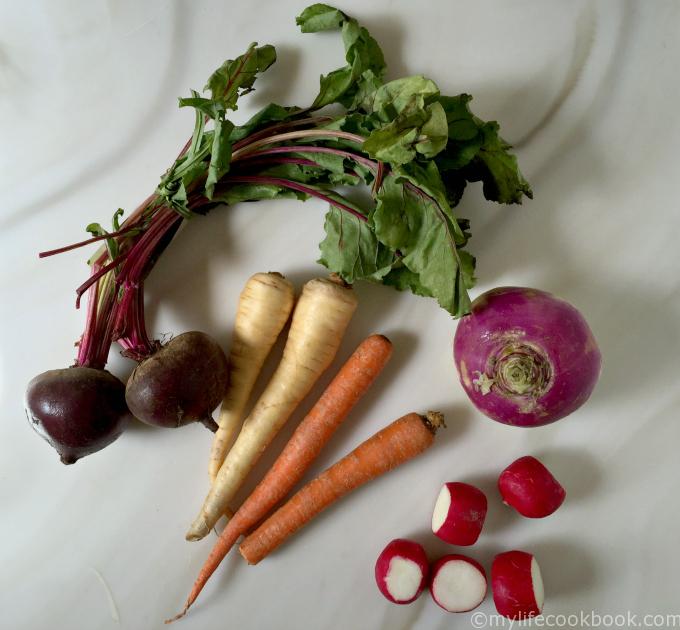 Pop them in the oven and roast for 45 minutes or until they are soft and browned a bit. Below you can see what they look like raw. The beets bleed a bit but it doesn't change the taste. If the bleeding bothers you, toss them separately and add to the sheet of vegetables right before putting them into the oven.

In the meantime prepare your dressing and get your salad ready. When the veggies are cooked and cooled a bit, add them to your spinach that has already been tossed with dressing. Mix the veggies in and top with blue cheese and sliced almonds. Voila, the perfect salad for fall.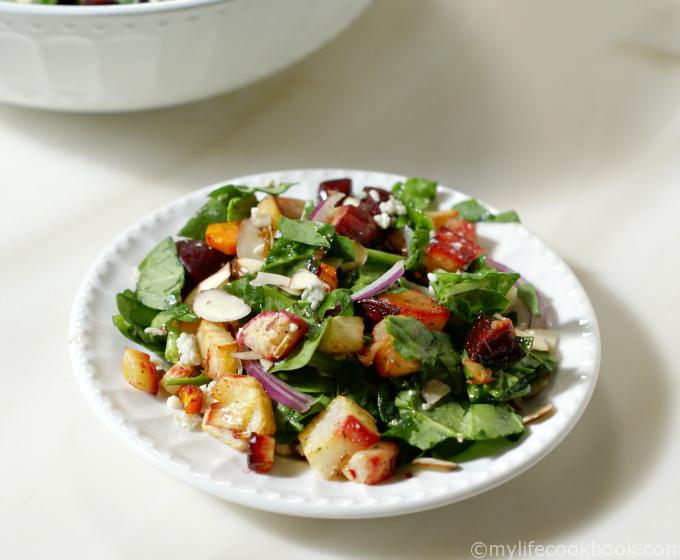 I hope you enjoy this fresh and tasty fall salad with roasted root vegetables. It's a nice change of pace and a great dish to use some of the season's finest vegetables.
Roasted Root Vegetable Salad
A delicious, colorful and healthy salad highlighting Fall's best root vegetables, blue cheese and almonds.
Ingredients
Roasted Vegetables

2 ½

cups

of chopped root veggies

I used radishes, carrots, turnips, parsnips and beets

¼

onion chopped

½

teaspoon

crushed garlic

¼

teaspoon

thyme

2

Tablespoons

olive oil

¼

teaspoon

salt

⅛

teaspoon

pepper

Dressing

1 ½

Tablespoons

white balsamic vinegar

2

Tablespoons

olive oil

¼

teaspoon

dried mustard

¼

teaspoon

salt

¼

teaspoon

oregano

¼

teaspoon

basil

Salad

4

cups

chopped baby spinach

2

Tablespoons

blue cheese

2

Tablespoons

almonds

sliced or slivered

2

cups

roasted veggies
Instructions
Preheat oven to 400 degrees.

Spray a large cookie sheet with cooking oil.

Add your veggies, garlic, thyme, olive oil, salt and pepper and mix well with your hands.

Cook for 40-45 minutes until the vegetables are tender and starting to brown.

In the meantime mix all the salad dressing ingredients together in a bowl and set aside.

Next prepare your spinach in a big bowl. Toss with dressing (use as much as or as little as you like).

When vegetables are done and cooled a little ad to your salad and toss again.

Top with blue cheese and almond slices.

Enjoy.