These red palm oil roasted winter vegetables are a healthy and tasty side dish you can easy whip up any day of the week. The red palm oil is a superfood and coupled with seasonal vegetables makes for a healthy dish.
You might also like these roasted parmesan delicata fries.
I like to try new and different health foods. A long time ago I had heard something about red palm oil and decided to buy it. However It sat in my cupboard for quite a while until I decided to give it a try. I needed a side dish one night so I made these red palm oil roasted winter vegetables. The color and taste of this oil gave the vegetables a rich and buttery flavor. My hubby loved them and since then I have been using it for my roasted vegetables.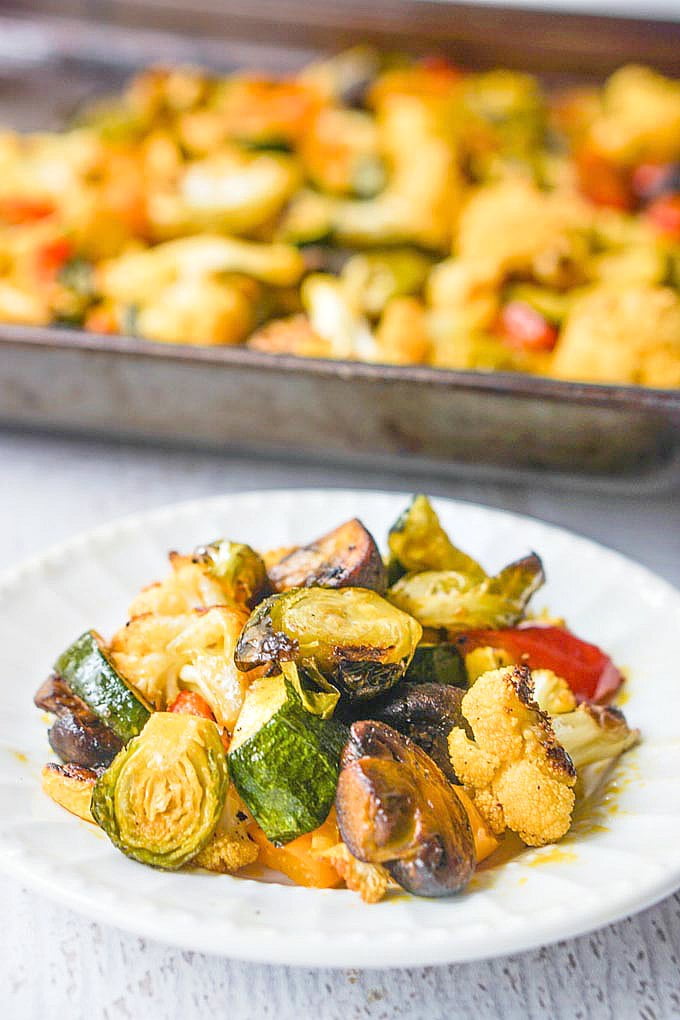 What is red palm oil?
Red palm oil comes from the fruit of the oil palm tree and should not be confused with palm kernel oil. The fruit is where it gets it's lovely red color that holds all the beneficial antioxidants like beta-carotene and lycopene. It's considered a superfood by some and might even help fight heart disease and Alzheimers. It also is high in rare tocotrienols and tocopherols which are part of the Vitamin E family.
You want to buy the virgin red palm oil which had a dark red color, not refined palm oil which is white in color. The red color is where all the beneficial antioxidants are.
There is some controversy about production of palm oil and it's environmental impacts. So you want to make sure you get the highest quality oil and find producers that prioritize sustainability and positive environmental practices such as Nutiva which you can see below. To learn more about red palm oil check out Dr. Axe's article here.
What does red palm oil taste & look like?
Red palm oil has a buttery texture and flavor and a vibrant red orange color. The red is what holds the high levels of vitamin A and E. It's a delicious culinary oil for sautéing vegetables and it also has a high smoke point of 350 degree F. It's solid at cooler temps and does not require refrigeration. Note** It can stain so be careful when using. Just wash cooking implements quickly with soap and water.
red palm oil roasted winter vegetables recipe
This recipe is super simple. You chop your vegetables, mix with red palm oil and roast in the oven until done. The vegetables I used were mushrooms, peppers, cauliflower, Brussels sprouts and zucchini. As you can see above the red palm oil gives it a nice rich color and flavor. That's all there is to it.
I would not say that this is necessarily low carb because it has 6.8g net carbs for a side dish. However it is not too bad and if I used just low carb vegetables then it would be lower. It is a healthy side dish in my opinion though.
I hope you give this red palm oil a try sometime. You can find it here on my Amazon page, along with all my other favorite low carb cooking ingredients. The nutritional information for 1 serving is:
154 cals / 11.2g fat / 11.4g carbs / 4.6g fiber / 4.1g protein = 6.8g net carbs
Red Palm Oil Roasted Winter Vegetables
These red palm oil roasted winter vegetables are a healthy and tasty side dish you can easy whip up any day of the week. The red palm oil is a superfood and coupled with seasonly vegetables makes for a healthy dish.

Ingredients
6

cups

vegetables (see what I used below)

3

tablespoons

Nutiva red palm oil

salt & pepper to taste
Instructions
Preheat oven to 400 degrees F.

Chop your vegetables and toss with the red palm oil. I used 1 cup peppers, 1 cup Brussels, 2 cups cauliflower, 1 cup mushrooms and 1 cup zucchini

Place on a cookie sheet and sprinkle with salt and pepper.

Bake for 30 minutes or they have a nice brown color but are not burned. Serve immediately.