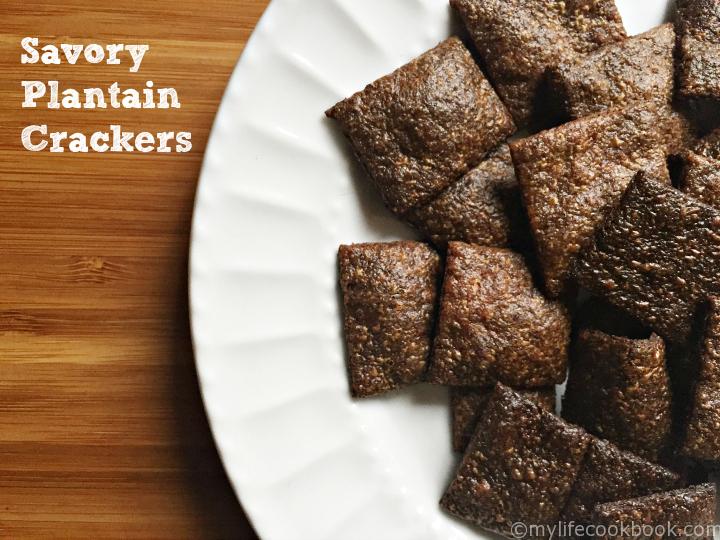 I am on a plantain kick. Have you noticed that I get on kicks? Recently it was the veggie noodle kick and now it's the plantain cracker kick. I've made various plantain cracker/cookies the last couple days and today I made a savory cracker that I just had to share. I'm into plantains because they are:
a safe starch by Paleo or Primal definitions
very versatile in the ways you can prepare them
rich in potassium, beta carotene, vitamin B6, vitamin C, and dietary fiber.
That doesn't mean you should over do them if you are trying to lose weight but a few plantains a week won't hurt you and actually be good for you. I've been making them because I'm trying to cut down on sweets and nuts. So when I'm craving a cookie, I munch on one of my Sweet Molasses Plantain Crackers and when I want a savory, salty snack I munch on these crackers. Plantains are great because you can use them for both savory and sweet dishes!
Why Plantains?
I pretty much follow a paleo/low carb diet and that means I don't eat many starches. I eat potatoes and rice occasionally and I eat sweet potatoes because of their nutrient value. However I'm not a huge sweet potato fan. I never had a plantain until I came across a recipe for plantain crackers and decided to give them a try and now I'm hooked.
I also remember reading a few good articles about resistant starches and how they are really good for your gut health. The resistant starch in the plantains is very high. With resistant starches, you don't digest the carbs in them but your gut flora does. The resistant starch in plantains is dependent on eating them raw or cooked at a very low temperature so you would have to take that into consideration if you were looking for those benefits. I won't go into that now but if you are interested here is a great article about resistant starch from Mark Sisson and one from Chris Kresser.
Plantains are part of the banana family and usually larger. You can buy them green, yellow or black depending how ripe they are. Unlike a banana, when plantains are black, they are not too ripe or spoiled. Just a note here…you wouldn't want to eat plantains raw like you do a banana. If you want the resistant starch benefit, you would add it to a smoothie or dehydrate them into chips. They just don't taste good raw in my opinion.
Green plantains are a little like potatoes and work best in savory dishes like this cracker recipe. You can also use it in soups, curries etc. Yellow plantains are good for both savory and sweet dishes. I've been buying my plantains from Bottom Dollar (a discount food chain here in Pittsburgh) and all they seem to have are yellow ones. Black plantains are simply very ripe plantains and should be used in sweet dishes. So even if they feel mushy and look black, when you peel them they will be perfectly ripe. I just used my first black plantain in my Sweet Molasses Plantain Crackers and they were delicious. I was going to throw it away but when I peeled it, it was perfect inside.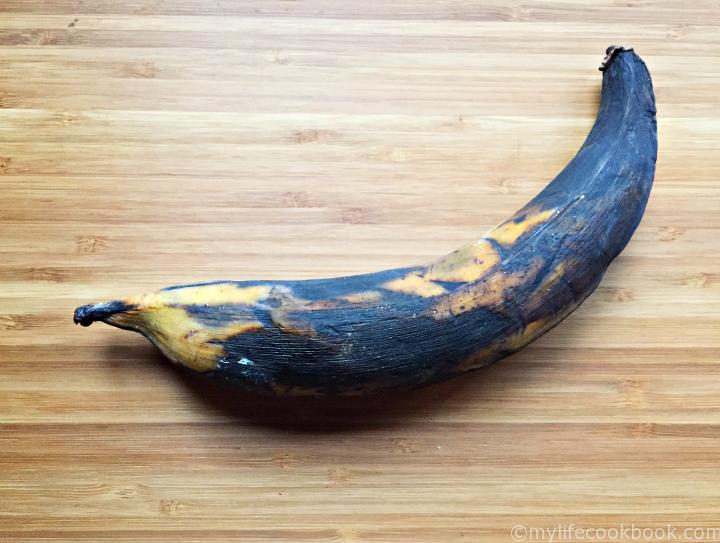 The Recipe
This recipe is super easy. All that you need is 1 plantain, coconut oil (melted) and some spices. I used garlic powder, onion powder, sea salt and pepper. You blend it on high in a blender or food processor and want a hummus like texture as shown below. You can add a little water or almond milk if it's too thick. I think hummus is the best comparison as far as consistency goes.
Next you want to spread it out in an even layer on a silpat or on parchment paper (that is on a cookie sheet of course). Bake in a preheated oven set to 300 degrees F.
After 10 minutes take out your crackers and score them so you can easily break them apart when they are done. I did this batch in a hurry so don't mind my less than straight lines.
Pop them back in the oven for 30-40 minutes. This part is a little tricky because you want them crispy but not burnt and it tends to brown quicker where the mixture is spread thinner (the outer rim). I usually let mine go for 30-40 minutes, break off the outer ones that are done and then turn off the oven and let them crisp for up to 30 minutes more. I check on them every 10 minutes to make sure they aren't burning and to take out the ones that are done.
The Finished Product
As you can see they get quite dark. However they taste great and you can use different flavor combinations. My husband really liked these and that is saying a lot. He knows I make all kinds of crazy stuff and honestly doesn't always like them, but he gave me the thumbs up on this one. He's a chip eater so maybe I get him to start eating these instead…that is if I decide to share them. 😉
NOTE:
Last night I made another version that turned out delicious. I used: 1 green plantain, 1t crushed garlic, ½ t oregano, ¼ cup parmesan cheese, ½ t basil, ½ t salt and 2 T coconut oil. Just follow the directions the same as below for an Italian tasting cracker. I think I might try this one as a pizza crust. I'll keep you posted!
Recipe: Savory Plantain Crackers
Ingredients
1

plantain

preferably green but can be yellow

3

Tablespoons

coconut oil or olive oil

½

teaspoon

garlic powder

½

teaspoon

onion powder

½

teaspoon

salt

¼

teaspoon

cayenne pepper

water or almond milk

optional...used for thinning if mixture is too thick
Instructions
Preheat oven to 300 degrees F.

Chop up the plantain and put into a high speed blender or food processor.

Add spices and melted coconut oil.

Process until nice and smooth (the consistency of hummus).

Add water or almond milk 1 T at a time if it's too thick. You need to spread this mixture.

Spread into a thin layer on a parchment lined cookie sheet.

Bake for 10 minutes.

Take out of oven and score with a pizza cutter or knife.

Put back in oven and cook for 30-40 minutes. Make sure they don't burn. They will get dark in color but depending on thickness, they could burn.

Break of the outer crackers if they are done.

Turn off oven and keep crackers in the oven to continue to cook for up to 30 minutes, checking at 10 minute intervals and breaking off the crackers that are done.

Let them cool and then enjoy!