This mediterranean plantain flatbread is a delicious and simple Paleo dish that you will make over and over. It's also gluten free!
I was so excite this worked out. When I made my Savory Plantain Crackers one day it hit me that they would make a good pizza crust. This Mediterranean plantain flatbread actually came out more like a flatbread then a pizza crust but it was delicious! Sauted mushrooms, spinach and sun dried tomatoes go perfectly with the feta cheese and pine nuts. This would make a delicious gluten free appetizer or lunch!
I used the same basic recipe as the crackers (which you can find here or below) but just added an egg. It made two crusts as pictured above. All I did was spread the mixture on a silicon mat like this placed on a cookie sheet and baked it for 10 minutes. If you don't have a silicone mat you can use parchment paper. 
While the flatbreads were baking in the oven, I sautéed the mushrooms and garlic in the olive oil until the mushrooms started to brown. Next I added the spinach, pine nuts and sun dried tomatoes. Make sure to only sauté this a bit until the spinach starts to wilt. Once both the flatbread and the filling was finished, I spread the mixture on top and then added some crumbled feta cheese.
Mediterranean Plantain Flatbread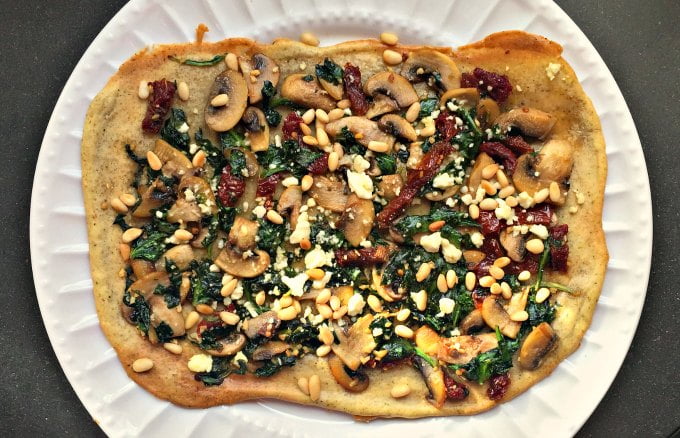 Popped those back in the oven for 10 more minutes and it was done. Here is the finished product. This was really tasty and I hope you enjoy it as much as I do.
Recipe: Mediterranean Plantain Flatbread
This mediterranean plantain flatbread is a delicious and simple Paleo dish that you will make over and over. It's also gluten free! This recipe will make 2 flatbreads.
Author:
Denise Wright (MyLifeCookbook.com)
Ingredients
1 plantain
1 egg
½ teaspoon basil
¼ cup parmesan cheese
½ teaspoon oregano
½ teaspoon salt
1 teaspoon garlic
2 Tablespoons coconut oil
2 Tablespoons olive oil
8 sliced mushrooms
2 cups loosely packed spinach, chopped
8 sundried tomatoes chipped
2 Tablespoons pine nuts
2 Tablespoons feta cheese
salt and pepper to taste
Instructions
Preheat oven to 350 degrees.
In a high speed blender or food processor, add plantain, egg, garlic,parmesan cheese, basil, oregano, salt and coconut oil.
Process until smooth in consistency.
Spread the mixture into two circles or ovals or rectangles on your silpat or parchment covered cookie sheet. Make sure to spread evenly for each.
Cook for 10 minutes and take out of the oven.
In the mean time, add olive and mushrooms to a pan. Saute over medium heat until mushrooms start to brown. Add garlic, spinach, sundries tomatoes, pine nuts and salt and pepper to taste.
Saute for only a minute so spinach wilts a bit.
Add this mixture onto the two flatbreads.
Sprinkle feta cheese on top and place in oven for another 10 minutes.
Enjoy!
This post may contain affiliate links. For more information please visit our policies page.
---
More plantain and cracker recipes!
---
SaveSaveSaveSave
SaveSave