This easy cashew cream cheese recipe is great for those who have a problem with dairy products or for those that just like to try something different. This base recipe is ready for you to change it up to be savory or sweet. So you can use this dip or spread and 1 tablespoon has only 2.8g net carbs!
You might also like these low carb homemade hazelnut butter!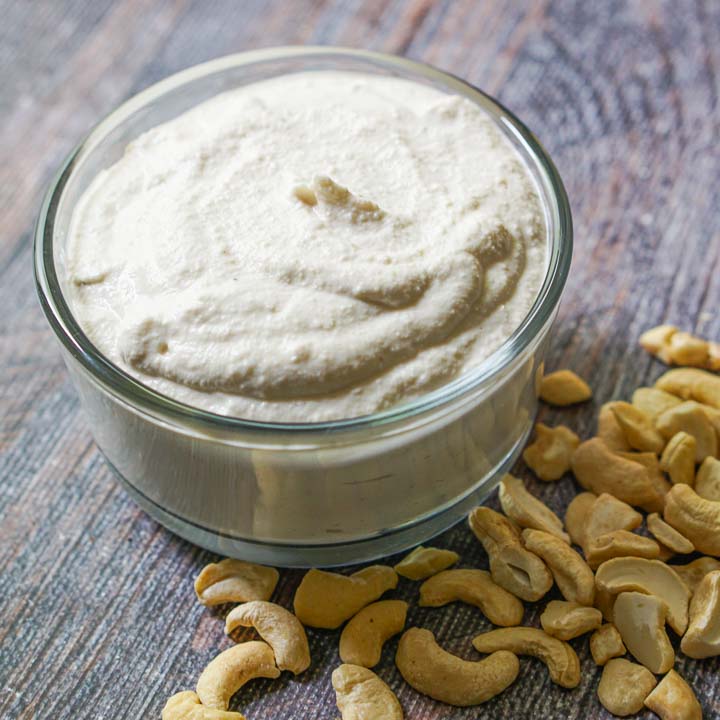 This is recipe is one of the first of my blog. I just recently decided to redo it and share it again with you today. This low carb cashew cream cheese spread is really simple but you can add herbs and spices to make it either savory or sweet. You can also use it as a dip or a spread.
Today I'm going to show you how to make the base spread and give you a few ideas of how to change it up. It's great because it's easy, dairy free, low carb and tasty! Also 1 tablespoon has only 2.8g net carbs.
Ingredients To Make Cashew Cream Cheese
To make this cashew cream cheese you only need raw cashews, water and lemon juice. I bought my cashews from Nuts.com. That's a really cool website to check out if you like healthy ingredients.
I bought the raw cashew pieces because they were a bit cheaper than the whole pieces and I was going to grind them up anyway. If you are buying them at the store, just remember you want raw not roasted cashews.
Let's Make This Cashew Cheese!
You want to start this as early as possible because you are going to soak your cashews for 4-6 hours. Just cover them with water and set aside.
Below you can see how they swelled a bit. After the 4-6 hours are up you want to rinse and drain the water. Then place them in a high speed blend along with the lemon juice, a little bit of water and salt.
I really love my Vitamix for recipes like these. It's a bit expensive but I have used it just about everyday for the last 5 years. It's a good quality product.
Below is what it looks like and you can see how nice and creamy it becomes. That's all there is to it. This is the cashew cream cheese base.
Ideas For Changing Up This Cashew Spread
I've made this savory and sweet. I have another post for a sweet cinnamon toast spread coming up soon that was so easy and delicious. My son and I loved it and he hates nuts.
Other flavoring ideas are:
For a savory cashew dip, add your favorite spice blend. I made one with garlic and Za'atar spices for a Middle Easter flavor.
Try sun dried tomatoes, Italian spice mix and garlic for an Italian spread.
For a Greek dip, try adding a few kalamata olives and oregano to the blender.
For sweet flavors, try spices such as cinnamon, nutmeg, allspice or a pumpkin spice blend along with some vanilla stevia.
Brown sugar will give it a bit of cookie dough flavor with some chocolate chips.
Or try some cocoa powder and stevia for a chocolate dip.
Again use your imagination and play around.
What To Dip In This Spread
For the sweet cashew cream cheese, you can dip in fruit pieces like berries or apple slices. For the savory try cut up vegetables or crisp breads or homemade crackers.
While this was a very old recipe I had a lot of fun making it again. I remember it really surprising me that cashews could taste so different when made into a spread. I hope you give this one a try just for the fun of it.
The nutritional information for 1 tablespoon of the cashew spread is:
49 cals / 3.8g fat / 3.1g carbs / 0.3g fiber / 1.6g protein = 2.8g net carbs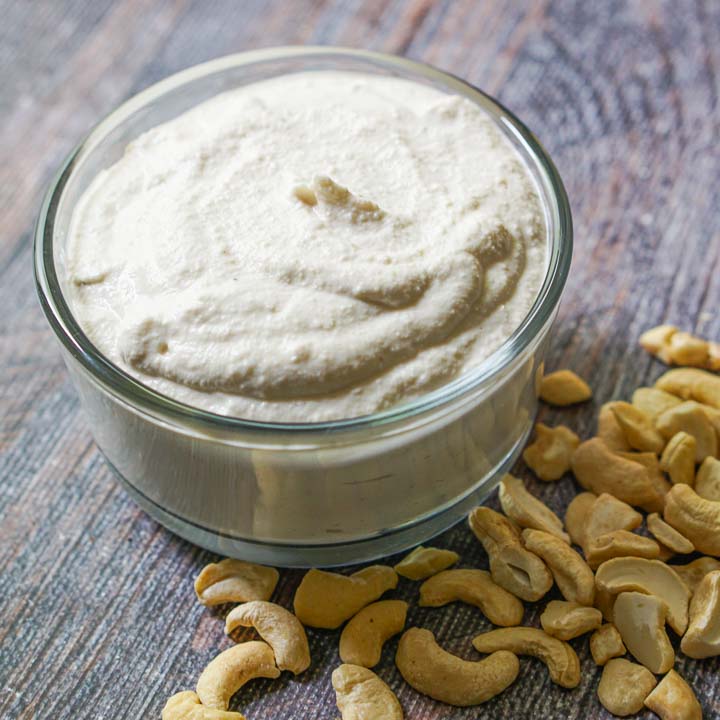 Easy Low Carb Cashew Cheese
A basic cashew cheese that you can add other items to make it savory or sweet.
Ingredients
1 cup raw cashews
⅓ cup water
2 teaspoons lemon juice
pinch sea salt
Instructions
Soak the cashews by covering with water and set on counter for 4-6 hours.
Rinse thoroughly and place in Vitamix or blender.
Add water, lemon juice and salt and blend til smooth.
Will keep in the fridge for 4-5 days.
Notes
The nutritional information for 1 tablespoon of the cashew spread is:

49 cals / 3.8g fat / 3.1g carbs / 0.3g fiber / 1.6g protein = 2.8g net carbs
Recommended Products
As an Amazon Associate and member of other affiliate programs, I earn from qualifying purchases.
Nutrition Information:
Yield:

1 cup
Serving Size:

1 tablespoon
Amount Per Serving:
Calories:

49
Unsaturated Fat:

0g