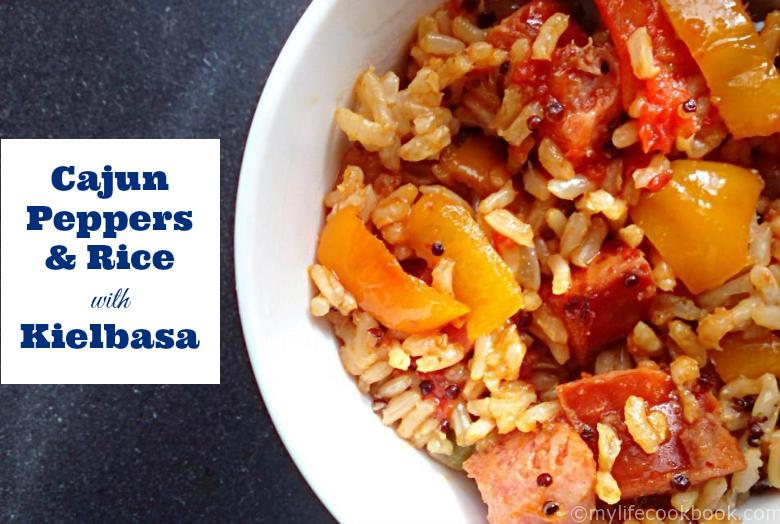 I lliterally threw this together in 15 minutes because just as I was going to make a rather large supper for my family, I found out it would just be me and my hubby. So I quickly switched gears and looked in my fridge and pantry to see what I had on hand: kielbasa, fresh tomatoes from the garden, bell peppers, onions, cajun spice and brown rice with quinoa. Surprisingly it turned out quite delicious!
First I cut up the kielbasa and browned it in a larger skillet. I took it out of the pan and added the onion and sautéed until they softened and then added the peppers, tomatoes and spices. When that all cooked down I add the cooked rice and kielbasa and let it simmer for a few minutes so the flavors would meld. If you want it a little more spicy just add some Tobasco or more cajun spice. Also you can add just about any veggies you have on hand but I think it's important to have the onions, peppers and tomatoes as a base.
So the next time you are in a bind and need a quick and delicious one pot dinner in under 30 minutes try this delicious dish!

Recipe: Cajun peppers & rice with kielbasa
Author:
Denise Wright (MyLifeCookbook.com)
Ingredients
1 lb kielbasa or smoked sausage
½ green pepper, diced
½ red, yellow or orange pepper, diced
½ large onion, diced
2 large tomatoes,. diced
2 cups cooked rice (I used brown rice with quinoa)
1 Tablespoon cajun spice
Hot sauce to taste
Instructions
Cut the kielbasa in bite sized pieces and brown in a skillet.
Put the kielbasa in a bowl for later and add your onions to the skillet.
Cook the onions until they are soft.
Add peppers, tomatoes and cajun spice and sauté until the peppers are cooked.
Add back the kielbasa and cooked rice.
Cook for about 5 minutes until the flavors meld.
Add more cajun spice or hot sauce if you like it more spicy.
Please note you can use white rice, brown rice or quinoa. Also shrimp and/or chicken would be a nice addition.