These healthy sweet pepper snacks are perfect for when you need a snack on the go. Plus they are filling enough for lunch and only take minutes to make!
Today I have a really short and quick healthy snack idea for you. Since I rarely eat bread I came up with this little combo. While it's a great snack to eat in the summer, there is no reason you can't eat it in the winter. You can use anything you like in the peppers. Above I used a combination of ham, turkey, provolone, avocados and bacon and stuff them in a raw sweet pepper. I make a bunch to have on hand for my husband who loves to munch on a couple at night.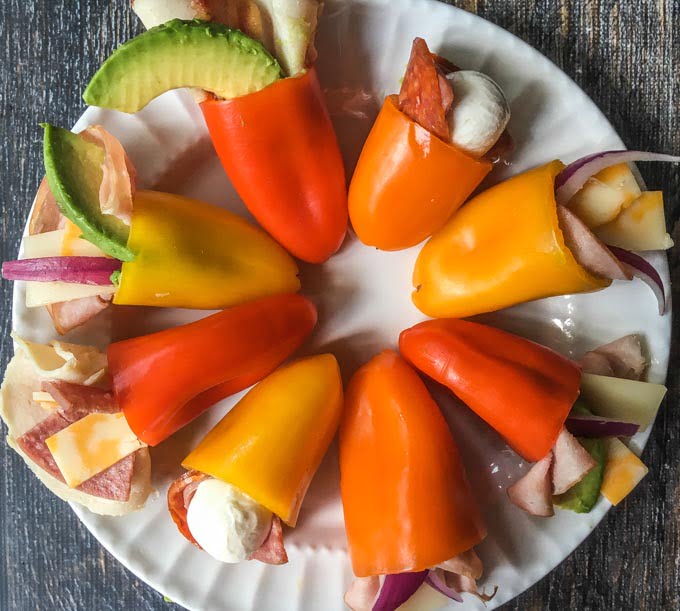 We are big fans of peppers in this house. I have numerous pepper recipes on this blog both cooked and raw. Another great low carb snack are this antipasto raw peppers. They are great for picnics or a low carb lunch.
Some Combinations To Try:
Italian: prosciutto ham, salami, provolone,
Greek: sliced olives, feta, salami
Californian: avocado, turkey, red onion
Reuben: roast beef, swiss cheese, low carb Thousand Island
Cobb: roasted chicken, avocado, bacon, blue cheese
BLT: bacon, lettuce and tomato
And if you are wondering what this crazy pepper holder is, I bought it for my hubby to make grilled jalapeños and thought it was perfect to display all they different combinations. If you like cheese stuffed jalapeños, I highly recommend getting one of these for your grill. Makes a great Father's Day present.
Healthy Sweet Pepper Snacks
Well that's all I have for you today! I hope you give these little pepper snacks and try and if you have any good combinations for me to try, drop me a comment and let me know. I love to hear from you!
This post may contain affiliate links. For more information please visit our policies page.