When I thought about writing this post, I was going to suggest you make this for Mother's Day or even for a teacher's gift. But to be honest I made these for myself. I recently bought some tea from my friend Debbie and the scent was wonderful. It's a Steeped tea called Lemon Ginger Tea-Tox and the ingredients are ginger, lemongrass, and rose blossoms. So it got me to thinking that this would be a lovely bath salts combination. I take baths often with epsom salts and baking soda as it is very relaxing and I figure it's good for you too. The epsom salts provide some added magnesium and the baking soda is alkalizing.
In my post about a Detox Bath, I used a bath salts recipe of 1 cup epsom salts to ½ cup baking soda. To that I added 10 drops of essential oils.  In this recipe the same proportions of epsom salts and baking soda are used and for the essential oils I use lemongrass and ginger along with some dried rose petals.
I bought the epsom salts and baking soda at The Dollar Store for only a $1 each. I had the glass jars from a discount craft store and my sister bought the rose petals from Mountain Rose Herbs and gave them to me.  By the way if you are into aromatherapy or like to make your own teas, spice blends or body products you can find just about everything you can imagine at Mountain Rose Herbs. I was really impressed with their selection and quality.
Back to our recipe, I just mixed the espsom salts and baking soda together and then added the essential oils and mixed well. Then I added the rose petals and mixed again. That's all there is to it. You might want to double or triple the batch depending on the size of your container. (Please note that a reader commented that there are instances of people experiencing exploding bath salts. I just wanted to make everyone aware of that possibility though it has never happened to me. Perhaps if you make smaller batches there will be less chances of this happening or eliminating the baking soda altogether. As I have mentioned, this has never happened to me but I didn't want anything like this happen to you.)
---
Note: I am an affiliate of Mountain Rose Herbs. If you decide to make a purchase through my link, I will be paid a small commission for it. This doesn't cost you anything additional. These commissions help with the costs of this blog, so thank you! I really like this company and am very happy to promote their products.
---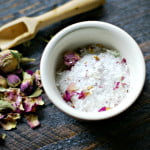 Lemongrass, Ginger and Rose Bath Salts
This is very simple to make and is a lovely gift for Mother's Day, Teacher's Appreciation or just enjoy it yourself (that's what I did).
Ingredients
1

cup

epsom salts

½

cup

baking soda

optional, see note below

5-7

drops each of lemongrass essential oil and ginger essential oil

¼

cup

rose petals

dried
Instructions
Mix the epsom salts and baking soda (if using, see note) together.

Add your essential oils and mix well.

Lastly add the rose petals. Crush if they are too big.

Store in a glass jar.

Add a handful to your next bath, relax and enjoy!

*note* A reader in the comments pointed out that there are people experiencing exploding jars because of the reaction of baking soda and essential oils. I have not had that problem but since it's a possibility please omit the baking soda or add it separately to your bath.