These easy keto creamy tomato pork chops are a delicious and quick dinner option. You only need 4 ingredients and 15 minutes to have a low carb dinner on the table. The creamy tomato sauce is perfect for use on zucchini noodles too! One serving of this keto dinner only has 0.8g net carbs so have 2!
You might also like this low carb pork chops Romano recipe!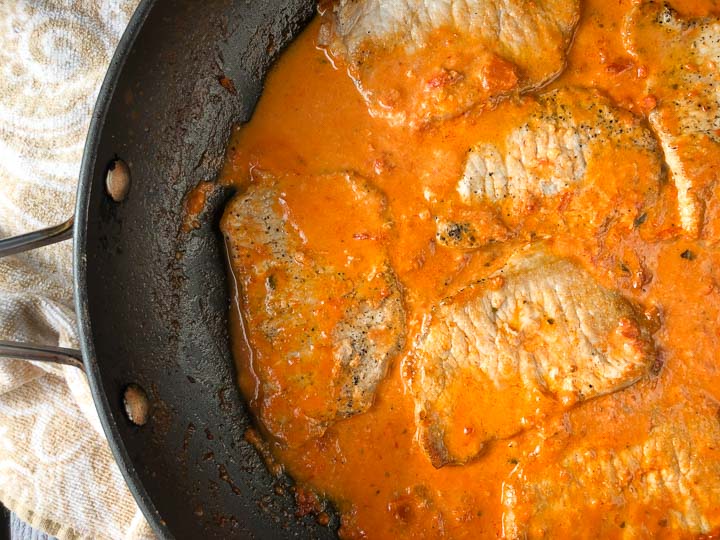 I have been buying these thin cut pork chops from Aldi and you get like 10-12 in a pack. So I was trying to think of other things I could make with them and came up with this keto creamy tomato pork chops recipe.
It only took me about 15 minutes to make and I only used 4 ingredients. Not only was it delicious, it only 0.8g net carb per pork chop so we had 2 each. Plus the sauce is very simple but tasty so I'm sure you can find many things that will go with it.
The 4 Ingredients I Used For This Dish
As you may know I really like shopping at Aldi because the prices are good and it's so close to my house. So the 4 ingredients I used were boneless pork chops, heavy cream, parmesan cheese and their marinara sauce.
A note about the sauce. I have been looking for a good low carb pasta sauce. I have to say this is my favorite; Aldi Specialty Selects Marinara. It only has 4g net carbs in a half cup and it tastes good! I made this with another low carb sauce and it was too sour. My husband (and me) really liked this dish with Aldi's sauce.
Step 1: Brown The Pork Chops
First sprinkle some salt and pepper on the pork chops before browning them.
These thinpork chops only take a few minutes on each side to brown. You could even skip this step but it gives the pork chops color and a little more taste and only takes a few minutes.
Step 2: Make The Creamy Tomato Sauce
This creamy tomato sauce is low carb and yummy. You could use this sauce with chicken, shrimp or on veggie noodles.
All you do is add the marinara, cream and parmesan cheese to the skillet that you browned the pork chops it. Take out the pork chops first then add the sauce ingredients and whisk. Let it come to a simmer.
Step 3: Putting It Altogether
Now all you have to do is put the pork chops back in the sauce and cover for 3 minutes. Then take off the lid and let the liquid boil down a little and that's it!
Recipe Tips & Notes
I used very thin pork chops, if yours are thicker it make take longer to cook. Adjust accordingly.
The tomato sauce I used was a Specialty Selects Marinara sauce that I get from Aldi. It only has 4g net carbs per ½ cup. You can use your favorite tomato sauce but check the carbs. Many brands are very high. I tried this with a different brand and really didn't like it as much.
If you wanted you can mix in some zucchini noodles to soak up some of the sauce and to be a side dish. I served these pork chops with some spinach which you could also just add to the pan.
Other Thin Pork Chop Recipes To Try.
As I mentioned before these thin pork chops I buy at Aldi come with 10-12 chops so if you are looking for other recipes to use these with, try this keto pork chop romano recipe or these fried pork chop strips. Both use the thin pork chops and are low carb too!
I really liked this dish. Even though it's not that fancy it was easy, keto and my family liked it. That's all it takes for me some days. I have already made this twice in the past 2 weeks so I think it's going in the dinner rotation. I hope you like it too. The nutritional information for 1 pork chop is:
102 cals / 5.6g fat / 1g carbs / 0.2g fiber / 12.4g protein = 0.8g net carbs
Easy Keto Creamy Tomato Pork Chops
These easy keto creamy tomato pork chops only need 4 ingredinets and 15 inutes to put dinner on the table. Each pork chop only has 0.8g net carbs so have 2!
Ingredients
8 thin pork chops, boneless
salt & pepper
½ cup low carb marinara sauce (I used Specialty Selects Marinara from Aldi)
¼ cup heavy cream
2 tablespoons grated parmesan cheese.
Instructions
Spray a large skillet with cooking spray. Sprinkle salt and pepper over the pork chops and heat up the pan.
Brown the pork chops on both sides for about 2-3 minutes.
Take the pork chops out and add in the marinara, cream and parmesan cheese. Whisk to combine then add back the pork chops.
Cover and cook for 3 minutes on medium heat.
Take off the lid and let cook down for another 2-3 minutes and then serve.
Notes
1 serving is: 102 cals / 5.6g fat / 1g carbs / 0.2g fiber / 12.4g protein = 0.8g net carbs
Recommended Products
As an Amazon Associate and member of other affiliate programs, I earn from qualifying purchases.
Nutrition Information:
Yield:

1
Serving Size:

1
Amount Per Serving:
Calories:

102
Net Carbohydrates:

0.8g