hIf you do an annual cookie swap for the holidays, bring some of these delicious keto Christmas cookies. Your friends won't even know that they are low carb, sugar free and gluten free cookies!
You might also like this post about low carb holiday dinner ideas!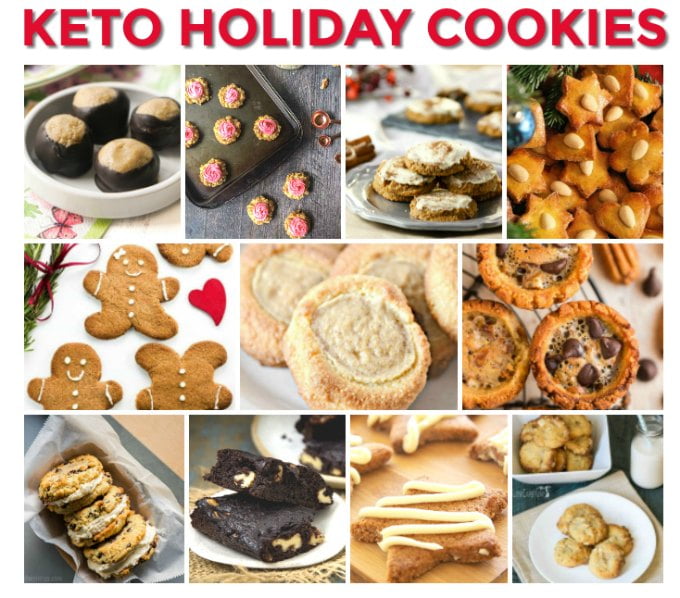 Believe it or not I'm rather new to the whole cookie swap that people do around the holidays. But a few years ago my friend Melanie started one and it's alot of fun. She has contests for the best cookie, the most unusual cookie, etc and she gives us prizes! I like that I leave with lots of different cookies for the holidays.
Unfortunately, I try to stay away from the sugar and carbs so this year I'm gathering some of my low carb blogging friends best keto Christmas cookies and sharing them with you. They look so good that I'm sure no one will know they are low carb and sugar free. So if you are watching your carbs, let's take a look at these delicious keto cookie recipes!
Low Carb Baking Staples In My Pantry
Low carb baking isn't very difficult and I should know because I'm not much of a baker. However there are some tricks to it as well as some good keto ingredients you should have your pantry. Below are my must-haves for making keto desserts.
Lily's mini chocolate chips
Almond flour, coconut flour, powdered peanut butter
Swerve confectioners sweetener, Swerve brown sugar, Lakanto golden
cacao butter, coconut oil, ghee
unsweetened bakers chocolate, Divine rouge cocoa powder, Guittard's rouge cocoa power
nuts such as pecan, walnuts, almonds and hazelnuts
unsweetened coconut flakes and shredded coconut
flavor extracts
Isopure Zero Carb protein powders (for protein bites, gelatin, etc.)
Great Lakes unflavored gelatin (red container)
You can find most of these in my Amazon storefront if you are interested but your local grocery store probably sells al ot of these.
Now Let's Check Out These 11 Low Carb Cookie Recipes!
Here are some delicious cookie swap worthy recipes to try this holiday. And check out my friend Kasey's keto egg nog to go with them!
Keto Christmas Cookies
If you have a cookie swap or just want to make some a few batches for the holidays, check out these 11 delicously easy keto Christmas cookies. There is something for everyone and won't make it hard to endulge yet stay on our keto or low carb diet.
Well I hope you enjoyed this list of keto Christmas cookies. Which one was your favorite? They all look good to me so maybe I can convince my friends to do a keto cookie swap?! Enjoy!