This keto air fryer ribeye steak is the perfect low carb dinner that is really easy to make. With garlic buttered mushrooms you can make this keto steak dinner in just 20 minutes in the air fryer. Steak smothered in garlic buttered mushrooms – YUM!
You might also like this keto creamy poblano sauce for steaks!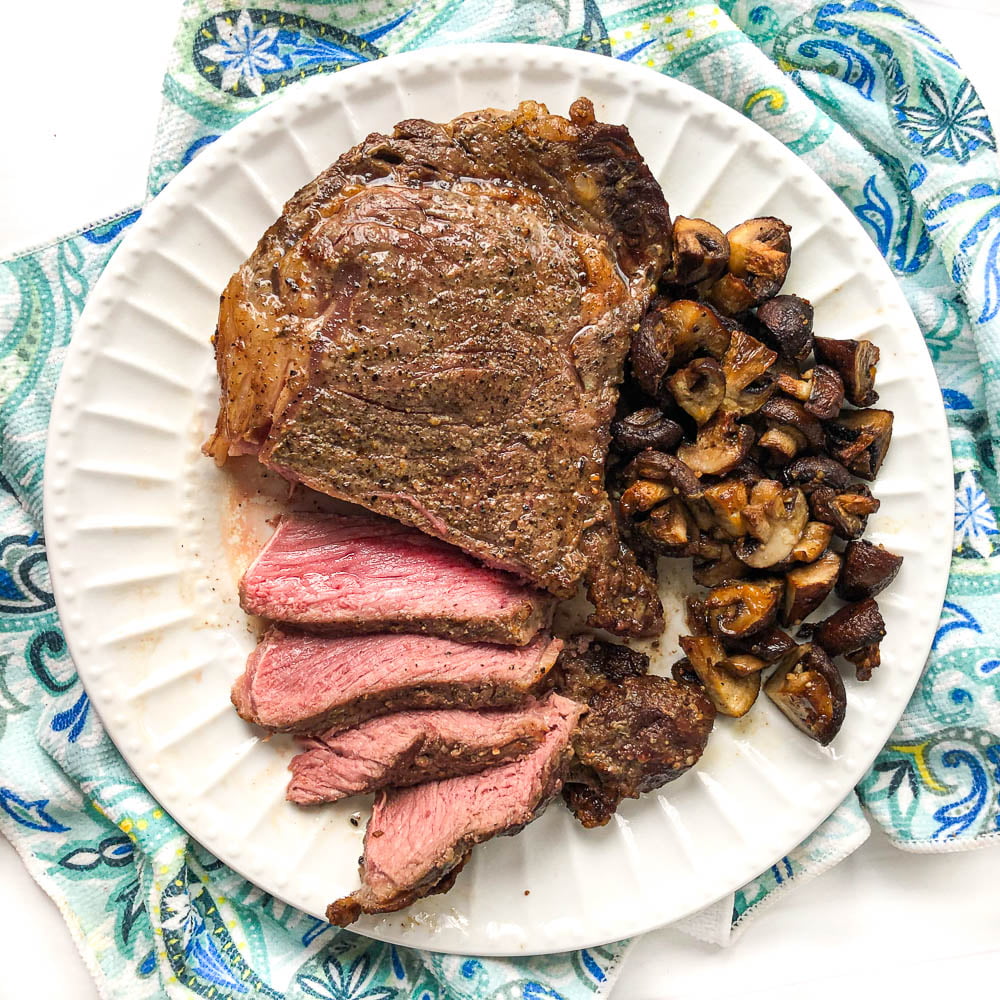 I was really craving steak the other day and thought I would do another air fryer experiment. And of course I had to have buttery, garlic mushrooms as that is my family's absolute favorite side dish to eat with steaks.
So I made this keto air fryer ribeye steak along with the mushrooms and it was soooo good. This large steak can feed 2-4 people and it was so easy! So if you are in the mood for a steak dinner, I'll show you how to make it in the air fryer.
How to make the best buttery mushrooms for steaks.
Normally I make what my husband calls Bluebird mushrooms which is based on a local restaurant that had the best mushrooms for their steak dinners.
So to do this, I usually slice mushrooms in half and saute them with plenty of butter until they are a browned and delicious. That is all.
Today I just mixed the mushrooms with garlic butter and spooned over the steak and they worked great in the air fryer. So I was able to do both at the same time and that was a big help.
Ingredients I used.
I only used a large ribeye steak, garlic, mushrooms, salt & pepper and butter. I made just a 1.43 lb ribeye steak for the 3 of us and a pint of mushrooms. Next time I would add another pint of mushrooms because we really like them!
Let's make steak in the air fryer!
Place butter in the microwave and cook for 30 seconds to melt. Then add in crushed garlic.
Cut the mushrooms into quarters and mix with the butter and garlic.
Meanwhile add a liberal amount of salt and pepper on both sides of the steak.
Spray the basket of the air fryer and place the steak in it. Pour the mushrooms and butter sauce over the steak.
Cook at 400°F for 10 minutes and then flip and cook for 5 minutes more.
By the way my sister made these salt and pepper grinders for Christmas gifts and I just love it and use it all the time. Check out her blog for other create ideas!
The steak I had was 1 inch thick and about 1 ½ lbs. I wanted a rare steak so I cooked it for 15 minutes and it was perfect.
If your steak is thicker, larger or you just like it more done, you should cook it for a few minutes longer. And cook it for less time if it is thinner. Here is a degree of doneness chart to help you out.
Recipe Frequently Asked Questions
How long does it take to cook steaks in the air fryer?
For a 1 inch thick steak, you will need to cook a ribeye steak for a total of 15 – 17 minutes in a 400°F air fryer. If your steak is thinner it will take a few minutes less and if your thicker, a few minutes more.
Can I cook frozen steaks in the air fryer?
Yes you can. For this recipe you would cook it for about 5 minutes more or until the internal temperature is 130°F.
What type of marinade or seasoning should I use?
If you have a favorite steak marinade of course you can marinate your steak before air frying. You can also you use your favorite seasoning or rub. However a simple salt and pepper seasoning makes for a delicious steak and is much easier. Just make sure to use a liberal amount of each on both sides.
What temperature should I cook my steak to?
That depends how you like it. For a rare steak cook until the internal temperature is 120°F – 125°F. For medium it should be 140°F and for well done it should be 160°F. Here is a good steak temperature chart to help you.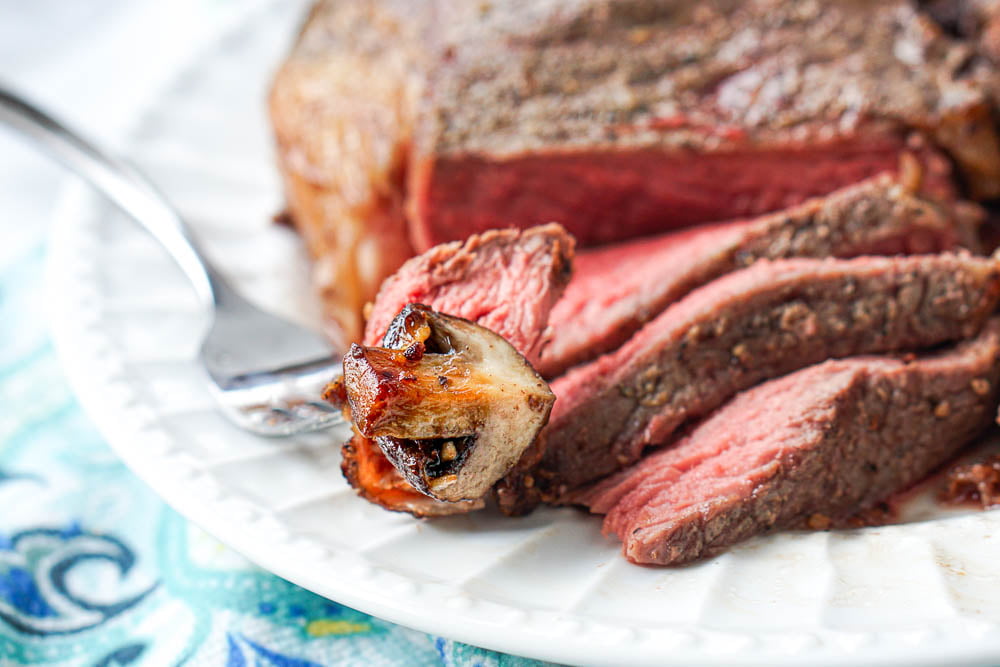 I hope you give this keto ribeye steak recipe a try. We loved it so much and it was really easy to make so I will try it again … but with more mushrooms!
Keto recipes to serve with this recipe.
A few keto side dish recipes I would serve with steak are these 15 minutes lemon and garlic turnip noodles, parmesan asparagus or these Mediterranean Brussel sprouts. This spinach cauliflower rice pilaf would also be delicious and easy.
The nutrition information for 1 serving is:
406 cals / 21.7g fat / 2.5g carbs / 0.7g fiber / 51.2g protein
(Note I used a big 1.5 lb steak so this recipe made 4 (6oz) servings of meat but if you want to eat bigger portions, adjust accordingly.)
And if you have a Traeger grill, check out my friend Taryn's Traeger steak post for another delicious way to cook steak.
Keto Air Fryer Ribeye Steak
Cooking a steak in the air fryer is so easy and tasty. Try this ribeye steak with mushrooms and garlic butter for an easy keto dinner.
Ingredients
1 ½ lb ribeye steak (about 1 inch thick)
8 oz baby portobello mushrooms, quartered
2 tablespoons of butter
2 cloves of garlic crushed
salt and pepper
Instructions
Steaks cook best when they sit out and come to room temperature before cooking.
Place the butter in the microwave for about 30 seconds to melt it and then mix in the crushed garlic.
Mealwhile liberally sprinkle salt and pepper on both sides of the steak and spray the air basket with cooking spray.
Place the steak in the air fryer basket. Mix the butter and garlic with the mushrooms and then spoon on top of the steak to get some garlic butter on the steak. Them push the mushrooms to the sides.
Cook at 400°F for 10 minutes then flip the steak for 5 more minutes. Let it sit 5 minutes before slicing. This will produce a rare steak, if you have a smaller or thinner steak you might want to cook it for a few less minutes or if it's larger, a few more minutes.
Notes
Note that this was a big steak that weighed 24 oz so I felt this recipe would create 4 (6 oz) servings of steak. If you want a large portion adjust the nutritional information accordingly.
Because the mushroom shrink quite a bit I think next time I would double the mushrooms but that is because we really love them. That is up to you.
For a frozen steak you would cook it for about 5 minutes more or until the internal temperature is 130°F.

For a rare steak cook until the internal temperature is 120°F – 125°F. For medium it should be 140°F and for well done it should be 160°F.
The nutrition information for 1 serving is:
406 cals / 21.7g fat / 2.5g carbs / 0.7g fiber / 51.2g protein

Nutrition Information:
Yield:

4
Serving Size:

1
Amount Per Serving:
Calories:

406