If you are looking for a super easy sweet treat, try these keto 5 ingredient chocolate chip cookies. These cookies are gluten free, healthy and most importantly delicious! This recipe only takes 15 minutes to make some yummy healthy chocolate chip cookies. [Updated 10/20]
You might also like the best keto chocolate chip cookies recipe!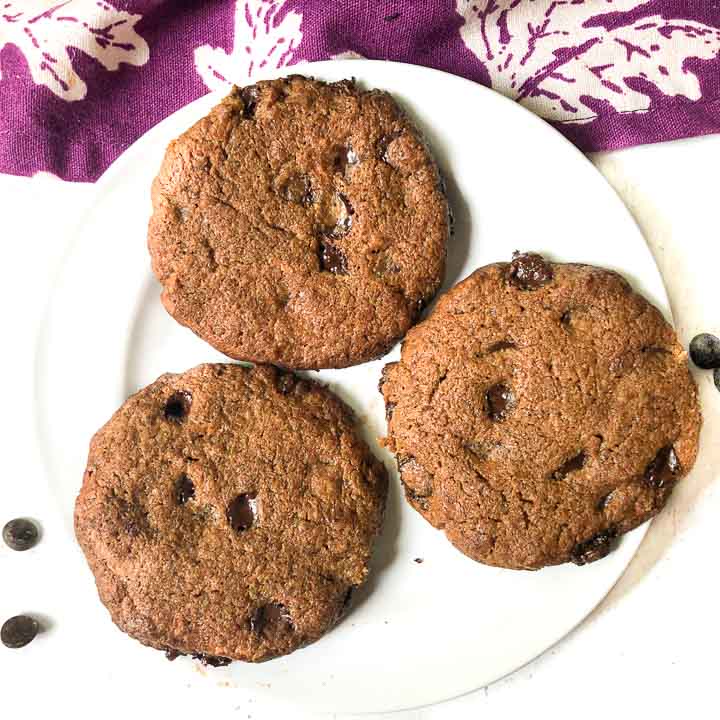 This is an very old recipe that I decide to remake. It was very tasty but since I'm eating low carb these days I had to tweak the recipe be more low carb than Paleo. These keto 5 ingredient chocolate chips cookies turned out so good and so easy and they took only 15 minutes.
What Are The 5 Ingredients?
The 5 ingredients I used for these keto cookies were: almond butter, Swerve brown sugar sweetener, an egg, baking soda and ChocZero chocolate chips.
The ingredients I used in the old Paleo recipe were: cashew butter, coconut sugar, an egg, baking soda and regular chocolate chips. So if you are more of a Paleo person just use the same quantities of these ingredients.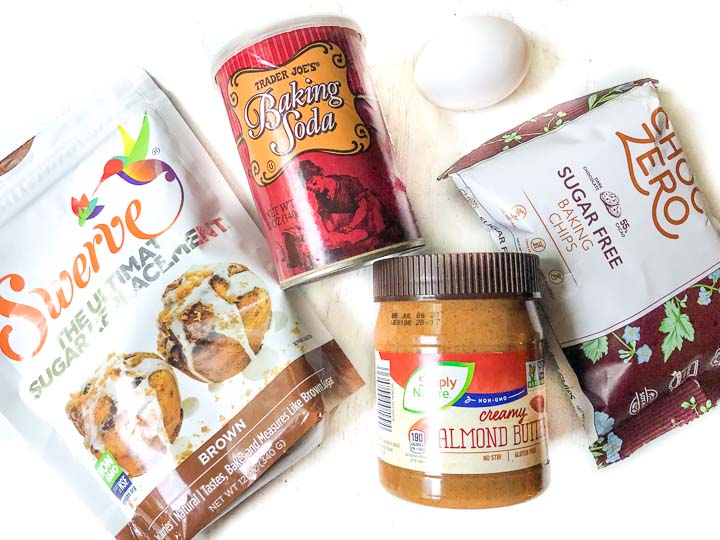 Keto 5 Ingredient
Chocolate Chip Cookie Recipe
First thing you do is add the egg, almond butter, baking soda and Swerve brown sugar to a bowl and mix well. By the way if you don't have Swerve brown sugar you can also try Lakanto golden sweetener.
Next add in your chocolate chips. I like ChocZero chocolate chips because they are very low carb and taste great. Lily's chocolate chips are also a good brand of low carb chocolate chips. You could also take a high cacao dark chocolate bar and chop it up in place of the chocolate chips.
Then you just put spoonfuls on a cookie sheet lined with a silicon mat or parchment paper. The dough is pretty sticky but you'll be able to finesse it.
I used a tablespoon to scoop out the batter and then flattened and shaped them a bit with my hands. They did spread a bit but not too much.
Now just bake them in a 375°F degree oven for about 8-10 minutes. Let them cool for 5 minutes and enjoy!
Original Paleo Grain Free Cookie Version
Below you can see the original version of this recipe that used cashew butter and coconut sugar. They were very good too. They had a lighter color and the flavor is very good as well. The nutritional information for 1 Paleo cookie is:
110 cals / 8g fat / 9.6g carbs / 2.1g fiber / 3.1g protein = 7.5g net carbs
Both versions of the cookies are very good for how easy and quick they are to make. If you want a slightly more complicated but even better tasting one, try these keto chocolate chip cookies.
I think I will keep making these keto 5 ingredient chocolate chip cookies and not the Paleo version because they taste great and have less carbs.
Note that both recipes only make 10 cookies but you could easily double it. Also it's more of a chewy cookie than a crunchy one. Enjoy!
The nutrition for 1 Keto Cookie is:
98 cals / 8.6g fat / 5g carbs / 3.1g fiber / 3g protein = 1.9g net carbs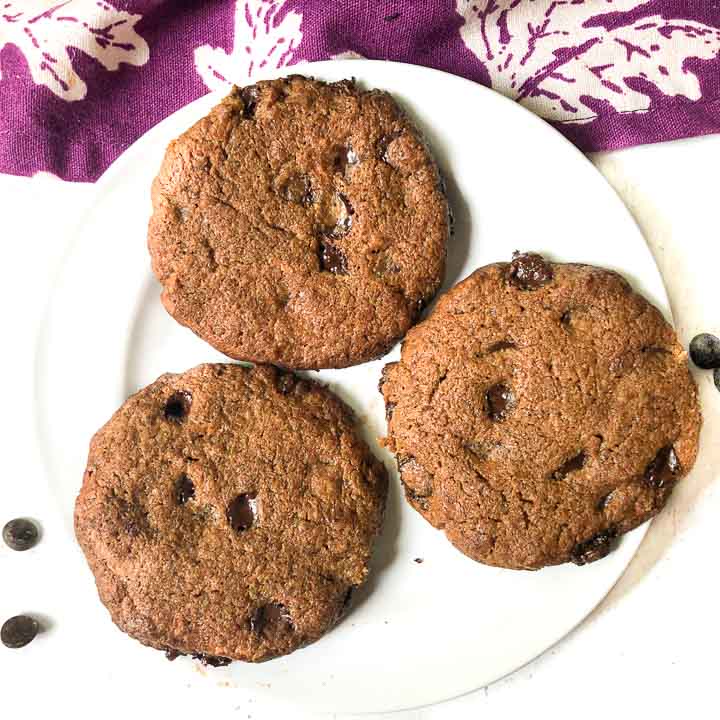 5 Ingredient Keto Chocolate Chip Cookies (grain free, Paleo)
This grain free chocolate chip cookie is so easy to make because it only has 5 ingredients. The final result is more of chewy rather than a crispy cookie but it tastes great.
Ingredients
Keto Version
½ cup almond butter
3 tablespoons Swerve Brown Sugar Sweetener
½ teaspoon baking soda
1 egg
¼ cup ChocZero chocolate chips
Paleo Version
½ cup cashew butter
3 tablespoons coconut sugar
½ teaspoon baking soda
1 egg
¼ cup dark chocolate chips
Instructions
Preheat your oven to 375 degrees.
The directions are the same for both versions of cookies.
In a bowl mix all ingredients together
Scoop about a tablespoon of dough for each cookie onto a silpat or parchment paper lined cookie sheet.
Use your fingers to flatten and shape the cookies a bit.
Bake for 8-10 minutes. The Keto Cookies only need 8 minutes.
Let cool for 5 minutes before eating.
Notes
Nutrition Information:
Yield:

10
Serving Size:

1
Amount Per Serving:
Calories:

98
Unsaturated Fat:

0g