Easy Low Carb Breakfast Ideas
If you are looking for a few low carb breakfast ideas I have a lot for you to try. Eating healthy and low carb is easier when you have simple yet tasty recipes!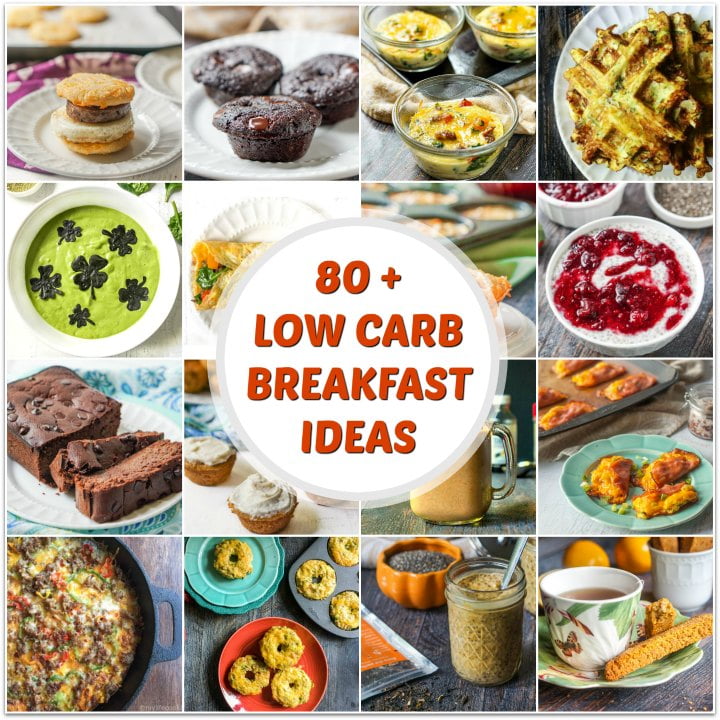 Whether you are looking for savory or sweet recipes I have it all. These low carb breakfast recipes are very easy and approachable. They are all very tasty and some of my most popular recipes. 
Low Carb Tip: Try meal prepping breakfast
I find that it's easier to stick to a keto diet if you are prepared. One way is to to plan your meals. For instance find a few low carb breakfast recipes you really like then rotate them for a month. 
Many of my keto breakfast recipes are good for meal prepping. For instance you can make a batch of low carb breakfast cookies  and freeze them for an easy and tasty breakfast on the go.
Or you can make a keto chocolate zucchini bread and eat it for breakfast all week. 
Many of these recipes are freezable so you can just take it out of the freeze and microwave for a minute or two and have a healthy, tasty meal. 
Omelets make healthy breakfasts or dinners
Omelets are great for a low carb diet. They are easy to make and you can do so much with them.
I learned how to make a most delicious omelet from a fiction book. I show you how in this post about 5 keto omelets to try.
Once you know how to make one, you can vary the fillings very easily. The post above shows you 5 tasty variations and remember you can eat omelets for breakfast, lunch or dinner.
Other Low Carb Breakfast Ideas to Try
Below are over 80 low carb breakfast recipes for you. If you don't love eggs or prefer something sweet I have you covered. If you prefer a lighter, meal replacement drink, I have a recipe for you.
Here are some of the types of recipes that are in this collection:
low carb muffins, scones and biscuits

low carb waffles

low carb breakfast breads and bagels

low carb smoothies & smoothie bowls

low carb coffee drinks and matcha tea drinks

low carb wraps, omelets, hard boiled eggs

protein ice cream and chia pudding
Truly there is something for everyone and I keep adding to this recipe collection all the time.  
So please bookmark this page or pin the graphic below so you can come back often to find more delicious recipes!