These chicken thighs with low carb sausage stuffing make a delicious and hearty low carb dinner for any night of the week. And stuffing is also gluten free so it would be a great Paleo dinner as well. 
I've been wanting to make these chicken thighs with low carb sausage stuffing for a long time. My sister in law talks fondly about her mother in law making a similar dish and it always sounded so good to me. So today I gave it a low carb spin and tried it out. I'm now psyched that I have a low carb, gluten free stuffing recipe in my arsenal! The chicken skin is crispy and meat is moist and the stuffing flavorful. You can't ask for more than that because each stuffed chicken thigh is only 3.2g net carbs.
The basis of this stuffing are my sausage and cheese muffins. However this time I used breakfast sausage, cheeses, eggs, spices and almond flour. I like this brand the best. I just made some of the dough and tucked it under the skin of the chicken thigh. On top I sprinted a bit of paprika and salt for color. Then pop them in the oven and bake for about 45 minutes and baste half way through. That's it!
I did not attempt gravy for this dish but I imagine using tapioca or arrowroot flour would thicken it up. There was no need for it today however I'll tackle that next time and get back to you about it. 
If you need a few low carb side dishes try Italian green beans or green beans almondine or maybe this loaded mashed cauliflower casserole recipe. All of these side dishes are easy and tasty.
Chicken thighs with low carb sausage stuffing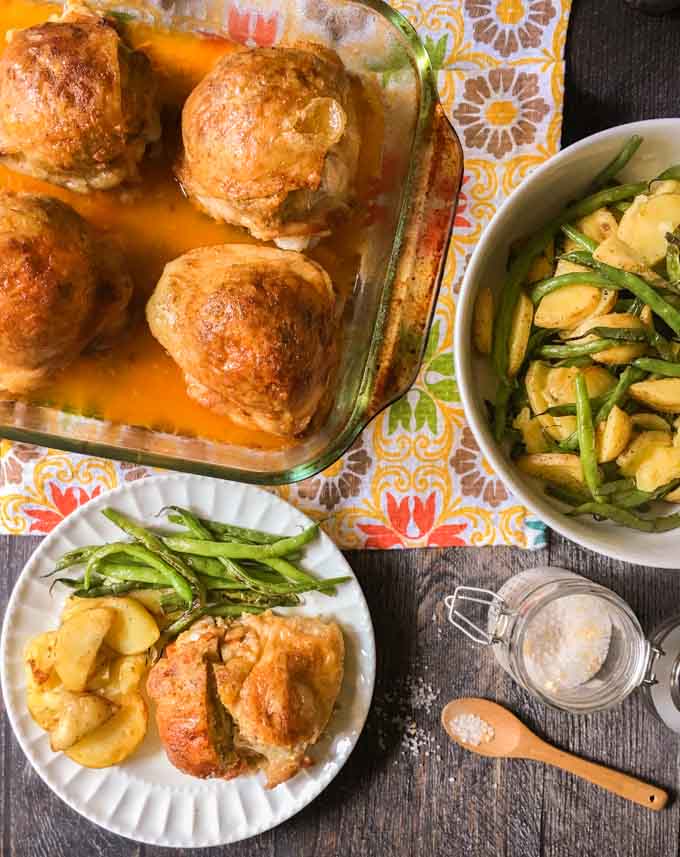 So next time you are in the mood for a hearty chicken dinner, give these sausage stuffing chicken thighs a try. I think your whole family will like them and you will feel good about eating it! Each stuffed thigh is:
352 cals / 29.5g fat/ 5.1g carbs / 1.9g fiber / 22.8g protein = 3.2g net carbs
Chicken Thighs with Low Carb Sausage Stuffing
These chicken thighs with low carb sausage stuffing make a delicious and hearty low carb dinner for any night of the week. The stuffing is also gluten free and would be a great Paleo dinner as well.
Author:
Denise Wright (MyLifeCookbook.com)
Ingredients
Stuffing
1 cup almond flour
½ cup cheddar cheese, shredded
½ cup Parmesan cheese
8 oz breakfast sausage
2 tablespoons butter, melted
2 eggs
1 teaspoon Italian seasonings
1 teaspoon garlic, crushed
6 chicken thighs, bone in and with skin
pinch of salt & paprika
Instructions
Preheat oven to 375 degrees F
Stuffing
In a large bowl add your eggs and beat with a fork.
Add in the cheeses, almond flour, sausage, garlic, melted butter and Italian seasoning.
Mix well with your hands and split into 6 sections.
Take the chicken thighs and pull the skin back of each thigh and stuff in the sausage mixture.
Continue with the rest of the thighs.
Spray a baking dish with cooking spray and place the thighs inside.
Spray the tops with cooking spray and sprinkle salt and paprika on top.
Cook for 30 minutes and baste with the juices.Place back in the oven for 15 minutes.
Check to see if the tops of the chicken are getting too dark. If so cover with foil and continue to cook for 15 more minutes.
The chicken should cook for 60 minutes total.
Take out of the oven and let set for a few minutes and serve.
This post may contain affiliate links. For more information please visit our policies page.
---
More delicious chicken dishes to try!