Chocolate peanut butter pretzel toffee has it all: salty, sweet, chocolate, crunch and peanut butter! Plus it's super easy to make and is a delicious gift to give.


This is my last toffee recipe… I promise. It's so addicting and so easy to make. However this pretzel toffee is hands down my favorite. I don't know what it is about me and pretzels and sweet things but I have been on such a pretzel kick. This is very similar to the Coconut Toffee I did last week but instead of crackers you are using pretzels as the base. Again, this recipe only takes minutes to make and is so delicious. It's the  perfect homemade gift … that is if you don't eat it all yourself.
Quick story: My mother in law has Alzheimers and she lives with us. She's the sweetest woman you would ever want to know. Truly. Anyway  a year or two ago, she was really into making this toffee and one day she ate a whole batch of it throughout the day. The next day, she came over to me and said, "I'm not mad or anything, but did you eat all of my toffee?" Sometimes you just have to laugh to keep sane. 😉
Back to my pretzel toffee. Here is the run down of the simple instructions. See pics below. First you layer your pretzels on a sprayed cookie sheet. I had to break a lot of them apart to fit into the loops of the whole pretzels. You want to cover as much real estate on the cookie sheet as you can. Meanwhile you have your brown sugar and butter melting away on the stove until it's all thick and bubbly. Pour it over your pretzels and pop in the oven.
When it comes out of the oven the toffee will form around the pretzels as you can see in the 3rd pic. Hurry and sprinkle your chocolate and peanut butter chips over the pretzels and smooth them out as they melt. Pop them into the freezer this time to harden. Take them out in about an hour and break into smaller pieces.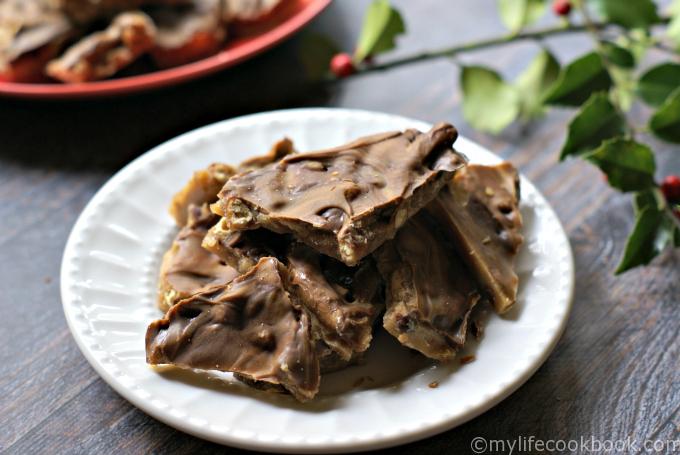 See that holly in the background? My hubs made me put that in there. Now that he has his own blog, he likes to give me artistic direction. Good thing he's cute. 😉 And there you have your glorious peanut butter pretzel toffee. It is so good. You have to try it and hopefully you will be able to give some away. I have to make another batch as the last batch seemed to disappear somehow. This time it was me. 😉

Chocolate Peanut Butter Pretzel Toffee
Chocolate peanut butter pretzel toffee has it all: salty, sweet, chocolate, crunch and peanut butter! Plus it's super easy to make and is a delicious gift to give.
Author:
Denise Wright (MyLifeCookbook.com)
Ingredients
1 cup of butter
1 cup of brown sugar
4 cups of pretzels or enough to line a cookie sheet with
1 cup chocolate chips
1 cup peanut butter chips
Instructions
Preheat oven to 375 degrees.
Melt butter and brown sugar in a pan until bubbly and thickened. About 5-10 minutes.
Meanwhile spray a cookie sheet and line with pretzels. Try to get as many pretzels as you can in a single layer. Break them up and fill in the holes if you have to.
When butter mixture is thick and bubbly, pour over pretzels.
Bake for 10 minutes.
Pull out of the oven and sprinkle chips over top. As they melt, spread them evenly over the pretzels with a spatula.
Make sure the whole surface is covered with chocolate and peanut butter.
Place into the freezer for 1 hour or so.
Take out of the freezer and bend the tray so the toffee comes out in one piece.
Break into small pieces.
Enjoy!