This coconut toffee candy is so easy to make and tastes delicious! It's a great homemade gift for teachers, neighbors and love ones.
You might also like this chocolate peanut butter pretzel toffee!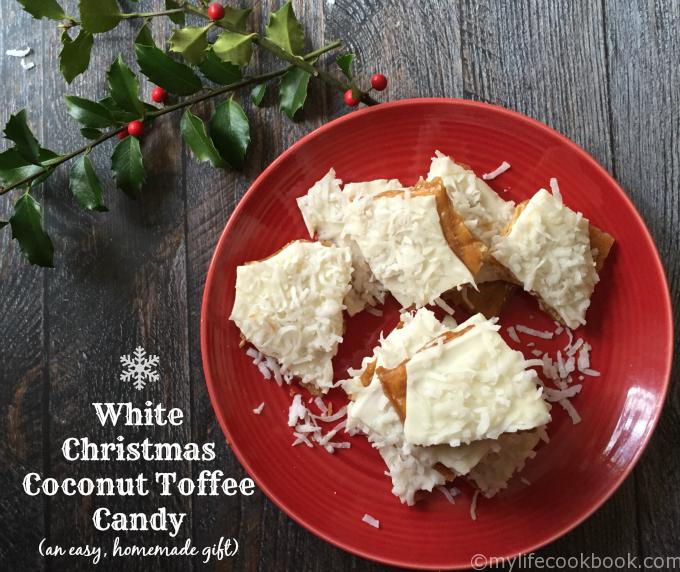 I might have mentioned to you that I was trying to cut back this year with Christmas gifts. I'm attempting to make some baked goods for my neighbors and family. Unfortunately I'm not much of baker so they are getting this addictive, sugary toffee candy instead. I think they will be please because I've practically ate a whole tray of it myself. I was just testing…making sure it tasted right, you know. 😉
I'm sure you have made this yourself. It usually calls for chocolate on the top with nuts but I changed it up with white chocolate and coconut. I picked the white toppings because it reminded me of Christmas snow and it looks very festive to me. I was also going for the Girl Scout Samoa Cookie taste, but the toffee makes it taste different from the caramel of the Samoas. Regardless it is fantastic and it is SO EASY to make. Even I can do it!
I bought some cute tin containers at the dollar store. They are rectangular in shape and have a nice winter or Christmas theme design on them. I'll have to take a picture when I put them altogether so you can see what a cute gift this can be. Just add some tissue or parchment paper and you have a tasty gift for only a few dollars. Best of all it won't take much time at all to bang out a couple batches of this tasty toffee treat!
Coconut Toffee Candy Recipe
The first thing you do is melt butter and brown sugar on the stove until it bubbly and thick. This is your toffee component. Just two ingredients. In the meantime, layer your saltine crackers on a sprayed cookie sheet. When the toffee is ready pour it evenly over your crackers. Carefully place these in the oven. The crackers may move around it while baking but when it comes out of the oven you can slide them back in place. Bake for 12 minutes and carefully pull them out of the oven.
Next chop up about 6 oz of white chocolate (I used vanilla almond bark from Aldi) and sprinkle evenly over the crackers. The chocolate should melt and then you can spread it over the whole tray. Next sprinkle with coconut and pop in your freezer for an hour or so. This makes the toffee set quickly and helps you get the candy out of the cookie sheet easily.
When you take it out of the freezer it should pop out of the tray in one big sheet of candy. You then break it up into small pieces and store in an air tight container. I am freezing mine until the holidays but I have yet to have a batch last more than 2 days in my house so I don't know what the shelf life is.
Variations And Notes For This Recipe
That's all there is to it. It's so easy and so versatile you can make all kinds of treats with this recipe. I made one batch with white chocolate chips and they did not spread. Here is what it looked like. I'm still giving it away because it is delicious too! For your information, I've used peanut butter and chocolate chips and they melted and spread easily. I've also used white chocolate and regular chocolate bark from Aldi (in the baking section) and they both spread wonderfully. As for toppings you can use nuts, coconut, sprinkles, crushed up candy or anything you can think of to make this dish festive.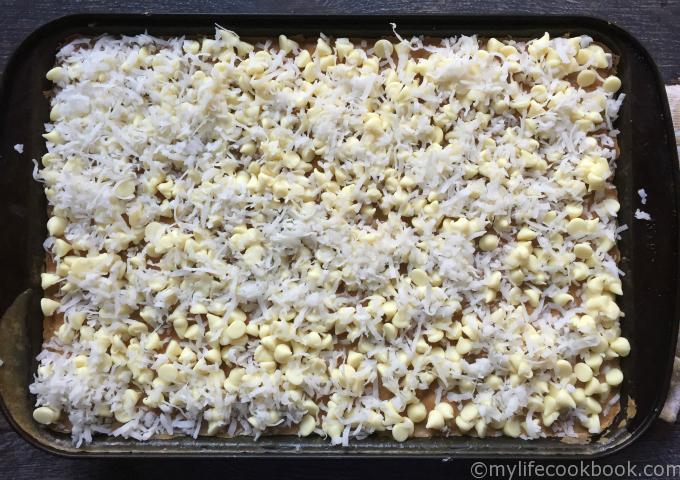 Ok, so go forth and make that coconut toffee candy and giveth it to your neighbors and friends. Or giveth it to yourself as a treat. Either way you will love it! Enjoy!
White Christmas Coconut Toffee Candy
This coconut toffee candy is so easy to make and tastes delicious! It's a great homemade gift for teachers, neighbors and love ones.
Ingredients
1

cup

butter

2 sticks

1

cup

brown sugar

1

sleeve of saltine crackers

approx. 30 crackers

6

oz

of white chocolate bark or melting chocolate

chopped

1

cup

shredded sweetened coconut flakes
Instructions
Preheat oven to 325 degrees.

In a saucepan melt butter and brown sugar. Let it bubble and get thick, constantly stirring.

When thickened (3-5 minutes) take off stove.

Meanwhile spray a cookie sheet with cooking spray and line cookie sheet with saltines.

Pour sugar mixture evenly over the crackers and make sure everything is covered. May use a spoon or spatula to help you cover the crackers if necessary.

Carefully place in the oven for 10 minutes.

Carefully pull out of oven and gently move crackers around if they have moved from their original position.

Sprinkle your chopped white chocolate evenly over the sugar mixture. It should melt enough so that you can spread with a silicone spatula nice and evenly to cover all the crackers.

Sprinkle your coconut flakes on top.

Place cookie sheet in the freezer for about an hour.

Take out of freezer and the whole sheet of candy should just pop out with a twist of the pan.

Break into small pieces and store in a air tight container.

Enjoy!