These Zucchini Lasagna Cups are a fun gluten free dish that has all the taste of traditional lasagna using zucchini instead of pasta.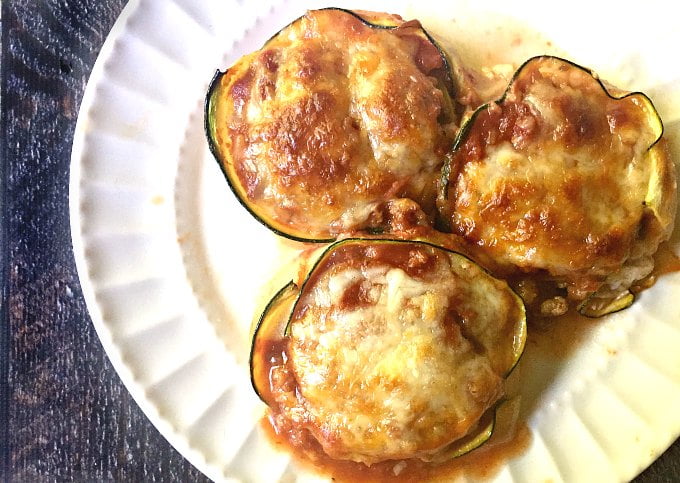 I have a fondness for eating out of cups as I may have mentioned before. I have since I was a child and I never out grew it (sorry mom.) So you can see why I would want to make and eat these Zucchini Lasagna Cups. You make them in a muffin pan or ramekin to get the cup shape. This recipe is a continuation of my zucchini cooking frenzy but don't worry … I only have a handful of recipes left to post in case you are sick of zucchini. But this one is yummy and you can't really taste the zucchini. I even made extra so that I could freeze it and eat it when I'm in the mood for lasagna.
So the first thing to do with this recipe is to cut your zucchini two ways: Long thin strips and thin rounds. I used a mandolin for uniform thickness but if you are good with a knife, go for it. You use the rounds to line the bottom of the muffin tins and the strips to wrap the sides as seen below. Make sure to spray your pan first so nothing sticks.
Next you add shredded cheese first so when it melts it will seal the bottom up for you. Then you add your layers of ricotta egg mixture, meat sauce, zucchini rounds …until your reach the top and you add a big bunch of shredded mozzarella.
Bake until bubbly and alas you have a delicious though messy pan of lasagna cups! Note: Let these set for about 10 minutes once they come out of the oven. They can be watery but once they set they are easier to get out of the pan.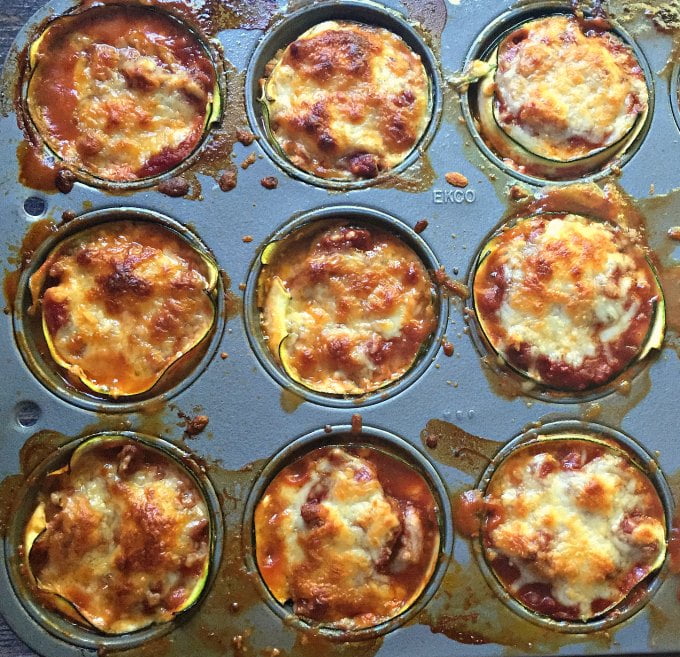 And here is what they look like out of the pan. Yum, yum, yum.
Zucchini Lasagna Cups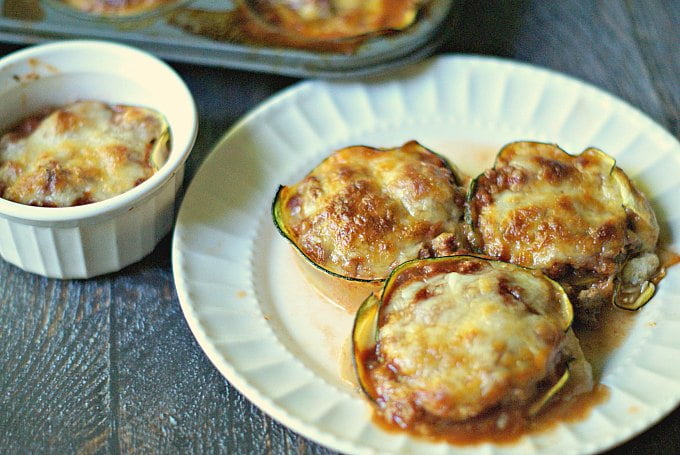 I also scooped one out and put it in a small ramekin like this….because I like to eat out of cups and it fit perfectly. Next time I will try to make them all in ramekins and freeze individually for my lunches. Actually I will probably do this soon with my garden zucchini so I can have these healthy, lowish carb lasagna cups for my lunch in the fall. Well that is all I have for you today. This was truly a tasty dish. You won't miss the noodles at all, I promise you.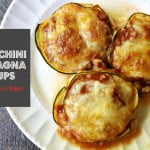 Zucchini Lasagna Cups (gluten free)
These Zucchini Lasagna Cups are a fun gluten free dish that has all the taste of traditional lasagna using zucchini instead of pasta.
Ingredients
¼

lb

ground beef

¼

lb

sweet Italian sausage

1 25

oz

jar pasta sauce

2

zucchinis

1

egg yolk

¼

cup

chopped fresh spinach

1

cup

ricotta cheese

1 ½

cup

mozzarella cheese shredded
Instructions
Preheat oven to 400 degrees

Brown your ground beef and Italian sausage. If the sausage is in links, take off the casings to brown.

Add your pasta sauces and simmer for 10 minutes and let cool.

In the meantime slice one zucchini lengthwise using a mandolin. And slice the other zucchini to make thin round circles.

In a mixing bowl add your ricotta, spinach and egg yolk and mix well.

Spray a large muffin tin with cooking spray.

Place a circle slice of zucchini in each cup. Then add one or two long slices around the sides of the muffin cups.

Add a pinch of mozzarella cheese in each zucchini cup.

Next a spoonful ricotta mixture and then a spoon of meat sauce.

Add another round slice of zucchini.

Add layers of ricotta and sauce and then top with a large spoonful of shredded mozzarella.

Bake for 25 minutes or until the cheese is brown and bubbly.

Let set for 10 minutes and serve.
This post may contain affiliate links. For more information please visit our policies page.
---
More great zucchini recipes!