These za'atar zucchini chips are a delicious and healthy snack to use some of those plentiful zucchini from your garden. Only 0 or 1 WW points.
I recently joined Weight Watchers. While it's not quite the program for me, I've done it many times before and find that it helps me get started. Sometimes I need the accountability to get back on track. One thing I really like about the Smart Points program they have now, is that fruit and vegetables are 0 points. That works great for me because I love veggies and I'm starting to appreciate fruit. Now that our garden is in full swing, I've put on my thinking cap to come up with some good vegetable recipes and came up with this za'atar zucchini chips recipe.
Za'atar is a Middle Eastern spice blend that I grew up with. It typically has thyme, sumac, salt and sesame seeds. I remember my father would pour some on a little plate and add olive oil to it. Then he would dip his toast in. When I was a kid I used to love that stuff but forgot about it as an adult. I came across a bottle in my cupboard and decide to try it on the chips. Wow they were great! It might have been because I was dieting, or because it reminded me of my wonderful dad or maybe they were just that good.
To make these tasty chips, I sliced my zucchini very thin. I think this is very important so if you have a mandolin use it. If you don't, zucchini is pretty easy to slice thin, you just have to take your time. Then I sprayed cooking spray over them and sprinkled a generous amount of the za'atar spice. By the way I bought my za'atar from Penzey. Penzeys is an awesome spice company and we have a store in the Strip District downtown. I probably bought this bottle because it reminded me of my dad but boy am I glad I finally tried it. It worked great with these chips. You can buy Penzeys' za'atr on Amazon (affiliate link) but you could probably make it too since it only has 4 ingredients (thyme, sumac, sesame seeds and salt).
Za'atar Zucchini Chips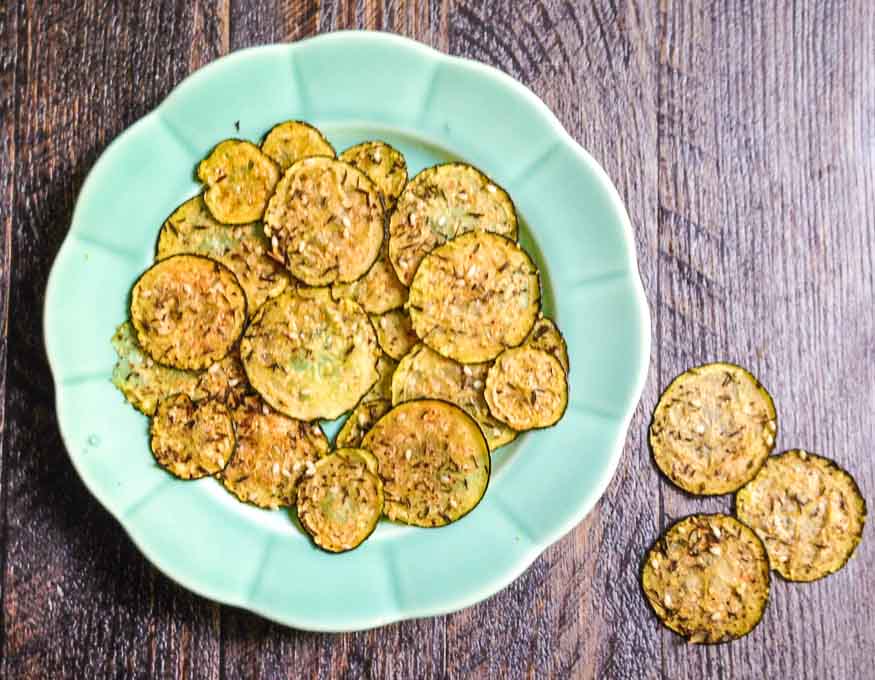 Now for the WW points. I used zucchini, za'atar and cooking spray. According to my calculations (using the WW app) it came to 0 smart points. However it depends on how much cooking spray you use. So if you use a lot of cooking spray and eat the whole recipe, I still think you are only going to have 1 or 2 points. I'll leave that calculation up to the WW experts. Regardless this is a tasty, healthy snack that anyone would enjoy.
Here are a few more healthy chips!
---
---
Zaatar Zucchini Chips (ww 1 pt)
These za'atar zucchini chips are a delicious and healthy snack to use some of those plentiful zucchini from your garden. Only 0 or 1 WW points.
Cook Time
1
hour
30
minutes
Total Time
1
hour
32
minutes
Ingredients
1

zucchini

cooking spray

1

Tablespoons

za'atar spice blend
Instructions
Preheat oven to 200 degrees.

Spray a cookie sheet with cooking spray.

Place your zucchini slices evenly on the sheet so they don't touch.

Spray with cooking spray on top.

Sprinkle za'atar spice over slices.

Cook for 1.5 hours.

Turn off oven and let sit in the oven for another hour.

Check them every once in awhile when cooking and cooling for doneness.

For maximum crunchiness eat right away.