This slow cooker veggie spaghetti is a delicious low carb dinner full of healthy vegetable noodles and spicy ground beef. Freeze it in smaller portions to have an easy low carb, healthy lunch.
You might also like these easy roasted veggie noodles.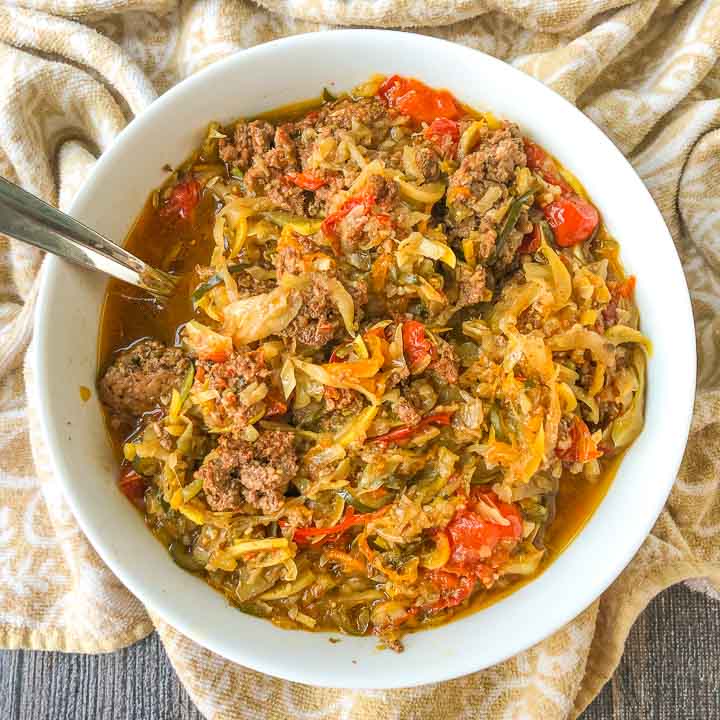 I made this dish at the end of summer to use the last of our garden vegetables. That meant I had a lot of peppers a few zucchini and tomatoes. So I decide to make veggie noodles out of them and with a few seasonings and Italian sausage I came up with this slow cooker veggie spaghetti.
Just add all the ingredients to a slow cooker and come back for a healthy, tasty low carb dinner. I made a big batch just so I could freeze portions for a quick low carb lunch.
4 Ways To Make Vegetable Noodles
There are 4 ways to make vegetable noodles.
Use a spiralizer which makes noodles for you out of most vegetables. Today I used my Paderno vegetable noodle maker for the zucchini.
Try a mandoline. I used my mandoline for the peppers and cabbage noodles.
Use a regular potato peeler or a hand held julienne peeler. These are small to store and julienne peeler can work well with some vegetables.
And lastly you can just cut them by hand but that can be more time consuming and it's a bit hard to make uniform sizes.
 As you see the collage of photos below, I like the way that it makes the zucchini noodles especially. However you can also just use a one of the tools mentioned above.
Ingredients For This Recipe
This is an update of an old recipe. Originally I used 5 links of Italian sausage which have quite a few carbs but today I use ground beef that I seasoned to taste like Italian sausage. I used paprika, fennel seed, Italian seasoning spice and hot pepper flakes. You can just use Italian sausage if you wish but it will add a bit of carbs.
For the vegetables I used grape tomatoes, cabbage, bell peppers, and both yellow and green zucchini. You can use other vegetable if you wish but these are my favorite kinds of vegetable noodles.
Let's Make Some Slow Cooker Veggie Spaghetti
As you can see above, I added the ground beef to the slow cooker first and then sprinkles all the spices on top. The next layers I the tomatoes, then the cabbage, peppers and zucchini noodles.  Let them slow cook and that's all.
Slow Cooker Veggie Spaghetti
 Recipe Tips And Notes
This recipe doesn't take a lot of time to make. You used the fast setting so I could have it for lunch but you could cook in all day on a low setting.
It produces some extra water that you can drain if it bothers you. It didn't bother me.
You could probably use just about any vegetable that you want. However I urge you to make them into noodles. The shape and texture really does add to the flavor on this one.
If you want to make this easier, you can use the Italian sausage instead of the ground beef and spices but it will add more carbs if you are low carb.
I like to add grated Parmesan cheese on top and it does add even more flavor.
As I mentioned above, I froze a few containers of this for an easy lunch. I just had to defrost it in the microwave for a few minutes until it was nice and hot. It tastes just as good as when I first made it. I hope you like this and the nutritional information for one serving is:
191 cals / 9.5g fat / 10g carbs/ 3.4g fiber / 17.3g protein = 6.6g net carbs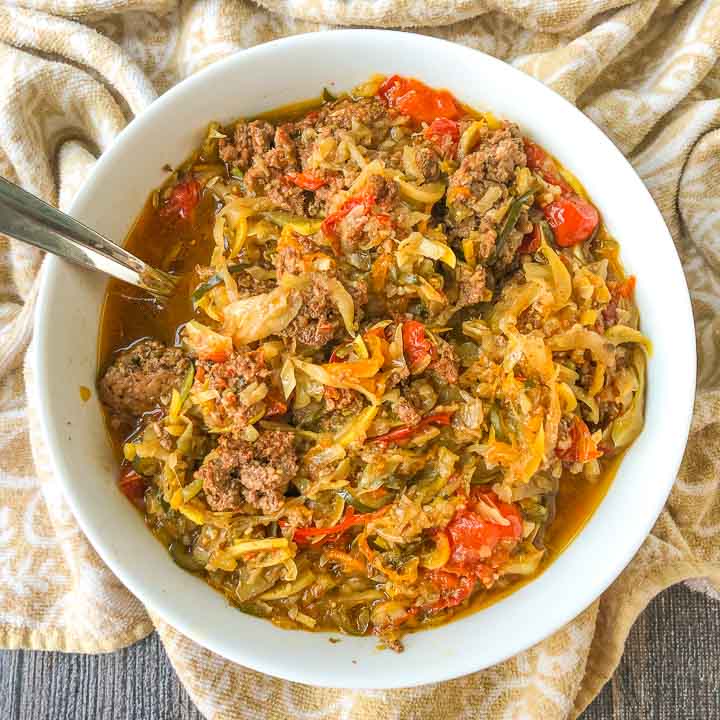 Slow Cooker Veggie Spaghetti (gluten free)
Total Time:
4 hours
10 minutes
This slow cooker veggie spaghetti is a delicious low carb dinner full of healthy vegetable noodles and spicy ground beef. Freeze it in smaller portions to have an easy low carb, healthy lunch.
Ingredients
1 lb ground beef
1 teaspoon paprika
1 teaspoon fennel seed spice
1 ½ teaspoon Italiain seasoning
½ teaspoon hot pepper flakes
3 cloves garlic
1 teaspoon salt
½ teaspoon pepper
1 teaspoon Better that Bouillon (vegetable or beef)
1 teaspoon dried minced onion
2 cups grape tomatoes
4 cups shredded cabbage
2 cups sweet bell peppers thinly sliced
3 cups zucchini made into noodles
Instructions
Add the ground beef to slow cooker. Sprinkle the spices and garlic over the beef along with the Better than bouilllon and mix with a spoon.
Next add the grape tomatoes, then the cabbage, bell peppers and finally the zucchini.
Cook for 4 hours on high or 8 on low.
Stir once the vegetables cook down so the seasonings are mixed throughout.
Top with grated cheese if using.
Note: You can also skip the ground beef, paprika, fennel seed, Italian seasoning and pepper flakes and just use 5 Italian sausages. Please take off the casings first and crumble the sausage into small pieces.
Note: This freezes well and can be easily reheated in the microwave.
Notes
1 sevings has:
191 cals / 9.5g fat / 10g carbs / 3.4g fiber / 17.3g protein = 6.6g net carbs
Nutrition Information:
Yield:

8
Serving Size:

1 serving
Amount Per Serving:
Calories:

191