Enjoy this quick and easy recipe for 3 ingredient brownie bites. Paleo, gluten free and dairy free, a healthy and delicious snack.
You might also like these superfood fruit & nut bites!
I love brownies. I really, really love brownies. But they don't love me. Both the flour and the sugar bother me sometimes with stomach aches and headaches. That and the fact that I can't eat just one.
So when I'm craving a brownie-like treat, I make these yummy 3 ingredient brownie bites. It's an easy and healthy treat that I keep in freezer and just grab one or two to satisfy my sweet tooth.
The 3 ingredients I used.
They are incredibly simple; almost like a chocolate Lara Bar. All you need are dates, walnuts and cacao powder and you can get them all on Amazon. However you can substitute any nut you like and use regular baking cocoa if you don't have the cacao powder.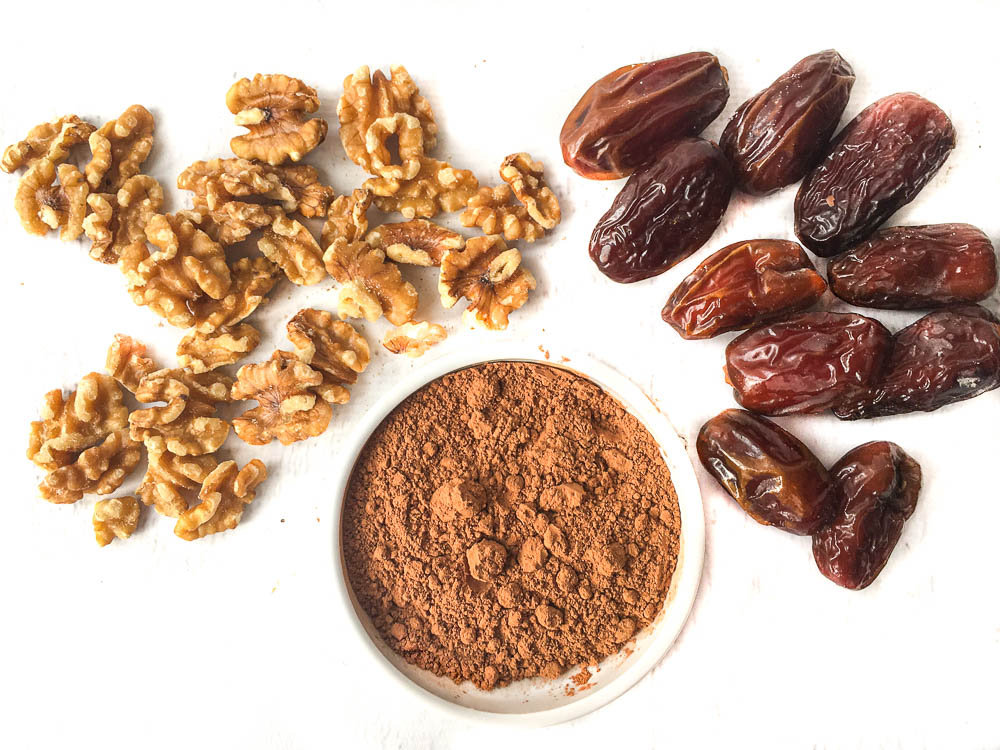 Healthy Brownie Bites Recipe
First you want to take out the pits in the dates if they have them.
Then add them to a bowl and pour boiling water over them and soak for 5 minutes. This is to soften them.
When ready to use, drain them but keep the water for later.
In the meantime take the walnuts and process them in a food processor.
Then add in the cocoa powder, mix and then the dates.
This will make a sticky dough that you can then roll into the brownie bites. I like to keep mine in an air tight container or baggie in the freezer. (Please scroll down for the recipe card)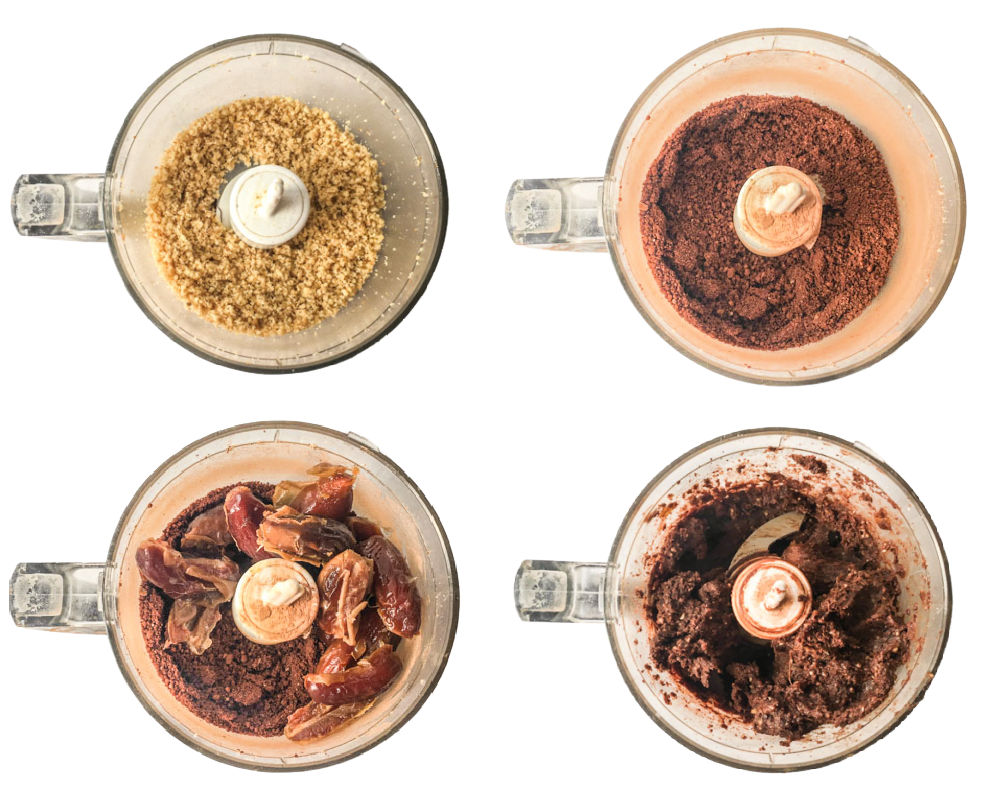 As you can see below I have kept some plain, some were rolled in the cacao powder and the rest in toasted coconut.
I make a batch and freeze them so I can grab one or two when I'm in the mood. Also in my opinion, they are as sweet as brownies so you can be quite satisfied with just a few.
Similar healthy recipe you might like.
Below is another recipe I made quite few years ago that you might also like. They are little fruit and nut bites made with superfoods! I made them as a healthy Christmas gift!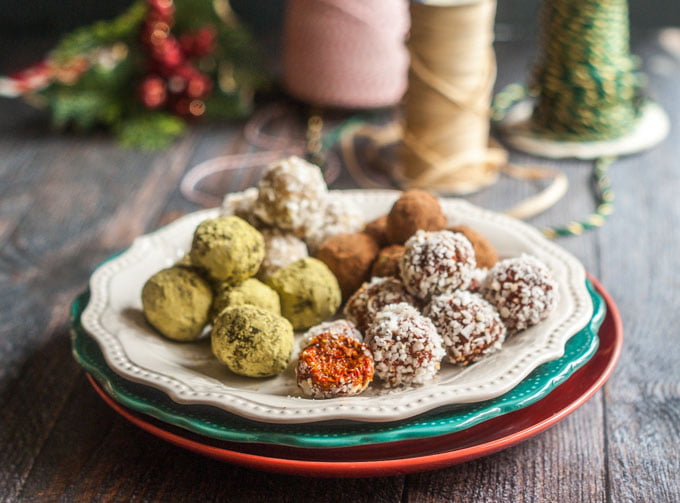 Hope you enjoy these as much as I do! They really will satisfy your sweet tooth in a healthy way. No flour, no white sugar, no eggs and no dairy! Enjoy.
Note I recently redid this recipe and got 16 out of it. So the nutritional information for 1 ball without any coating is:
160 cals / 6.1g fat / 13.4g carbs / 3.1g fiber / 3.1g protein
You might also like my friend Cassidy's keto brownies!
3 Ingredient Brownie Bites (Paleo, gluten free)
Enjoy this quick and easy recipe for 3 ingredients brownie bites. Paleo, gluten free and dairy free, a healthy and delicious snack.
Ingredients
1

cup

dates

¼

cup

cacao powder

can use baking cocoa powder

1

cup

nuts

I used walnuts
Instructions
Add boiling water to the dates and let soak for 5 minutes.

Drain the dates but reserve the water for later.

In a food processor, chop the nuts until they are a fine crumb like mixture. I use whatever I have on hand; almonds, walnuts, hazelnuts, cashews or pecans. Walnuts seem to work the best in my opinion.

Add cacao powder and mix through.

Lastly add the dates and process until it forms a dough like consistency. Add a bit of the date water if it's too dry. Add just a little at a time so it doesn't get too moist.

Take out the dough and form into little balls or press mixture into a small pan and cut into squares.

You can also roll in cacao powder or toasted coconut flakes.

Store in the refrigerator or freezer.
Adapted the recipe from Skinnyms.com.