This keto pumpkin cookies recipe is the perfect healthy snack or even grab and go, low carb breakfast. Make a big batch of these gluten free cookies, store in the freezer and you will always have some on hand. Each pecan pumpkin cookie has only 1g net carbs and are full of healthy ingredients so you will feel good about feeding them to your family!
You might also like these low carb pumpkin spice cookies!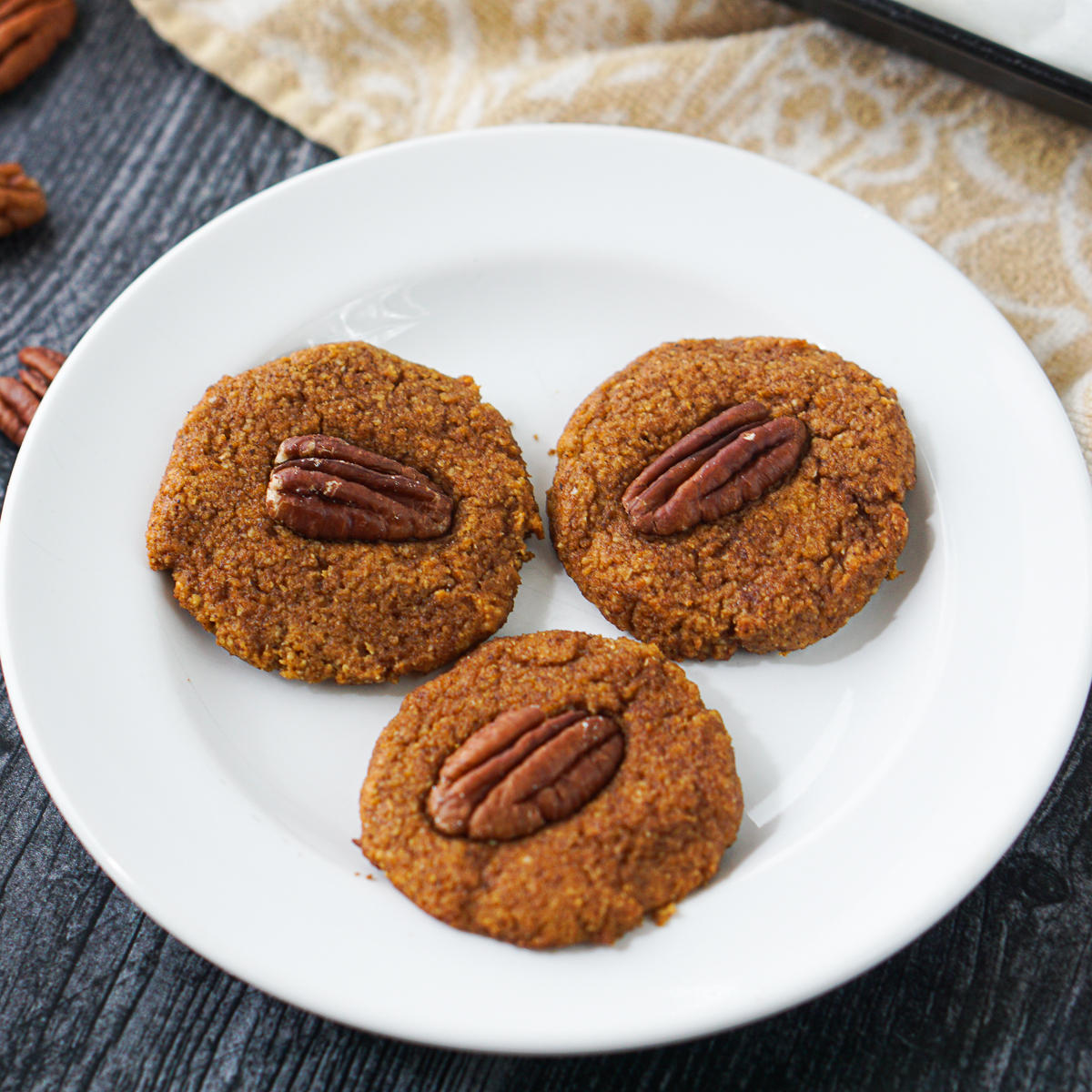 One of my most popular low carb recipes is my savory breakfast cookies. So today I set out to create a sweet healthy breakfast cookie.
You might ask what is the difference between a sweet breakfast cookie and just a regular cookie. In my opinion it is this: a breakfast cookie is a healthy cookie that you can feel good about eating for breakfast. Does that make sense?
These healthy keto pumpkin cookies are not too sweet, gluten free and full of good for you ingredients and only 1.3g net carbs each.
The texture is soft and the pecan on top is crunchy. All in all a breakfast cookie you can feel about eating. Also you can freeze them and for a grab and go breakfast or snack.
Is pumpkin low carb? How many carbs in pumpkin?
Pumpkin is a winter squash and is fairly low in carbs. It's a good low carb alternative to other starches like rice or potatoes. It has approximately 4.6g net carbs per ½ cup and has a good bit of fiber.
So yes pumpkin is low carb but you have to watch your portion size. It's great in recipes like these where pumpkin is just one of many ingredients.
The healthy ingredients I used in this recipe.
You only need a few simple ingredients to make this pecan pumpkin cookies and that is pumpkin puree, coconut flour, almond flour, pecans, cinnamon, eggs, Swerve brown sugar sweetener, vanilla stevia drops and baking soda. Here is why I used these nutritious ingredients.
Pumpkin: a good source of fiber, potassium, vitamin A, vitamin E, etc.
Cinnamon: high in antioxidants, anti-inflammatory properties, anti-diabetic effect (read more)
Coconut Flour: high in fiber, rich in trace minerals, gluten free (read more)
Almond Flour: low in carbs, gluten free, high in fiber and high in protein
Pecans: anti-aging, boost immunity, heart healthy (read more)
Sweeteners – Swerve is erythritol and both it and stevia are natural sweeteners
Note I used canned pumpkin puree and not pumpkin pie filling. Also I prefer blanched almond flour and not almond meal but that would probably work ok in this recipe. And lastly I used vanilla flavored stevia so if you use plain stevia you might want to add ½ teaspoon of vanilla extract.
How to make keto pumpkin cookies.
Step 1: Preheat oven to 350°F and cover a baking sheet with parchment paper.
Step 2: In a medium sized bowl, beat the eggs and add pureed pumpkin, Swerve brown sweetener and liquid stevia and mix well. You don't need a mixer just use a whisk and bowl.
Step 3: In another medium bowl mix the almond flour, coconut flour, baking soda and cinnamon.
Step 4: Add the dry ingredients to the wet ingredients and mix well to combine.
Step 5: Add a spoonful of cookie dough mixture (roughly a tablespoon) to the baking sheet and flatten to for a cookie shape. The cookies will not spread as you can see in the pictures below.
Step 6: Press a pecan in the center of each cookie and bake in the preheated oven for 13-16 minutes (mine took 16). Cook time may vary depending on how big your cookies are.
Just make sure they are firm to the touch and then take them out of the oven. You don't want to overcook them. Let cookies cool completely before eating.
Store in an airtight container in the refrigerator or in a freezer bag in the freezer. (Please scroll down to view and print the recipe card.)
NOTE – These healthy cookies are not too sweet so if you want them sweeter you can add a bit more sweetener.
If you would rather these cookies be more of a dessert, you could top these cookies with frosting. I have a sugar free cream cheese frosting recipe that would work great. It's my favorite frosting for pumpkin & carrot cake type recipes.
How to freeze and reheat these cookies.
To freeze these pumpkin cookies, add to a ziplock bag and try to get as much air out of it as you can and place in the freezer. Make sure the cookies have completely cooled first.
To reheat, place on a microwave plate and add your frozen cookies. Heat for 30-60 seconds until warmed. Let cool a bit as they will be soft after heating and they will firm up as they cool.
These soft keto pumpkin cookies are similar to the pumpkin bread with walnut glaze I made a while back though that was much sweeter and a little higher in carbs. And here are more low carb pumpkin recipes to try.
These are great for the person who likes to have sweet baked goods for breakfast but is on a low carb diet. My hubby is like this and really enjoyed them for his breakfast.
They also make a great snack for kids who love pumpkin flavors.
The nutrition is: 48 calories
3.6g fat / 2.6g carbs / 1.6g fiber / 1.8g protein = 1.0g net carbs per cookie
To see all the products I recommend like Swerve sweetener and coconut flour for these low carb recipes, please visit my Amazon page.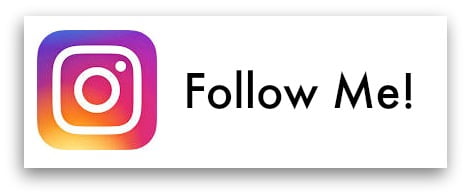 If you like these, check out my friend Stacey's Keto Pumpkin Streusel Bread.
Healthy Keto Pumpkin Cookies Recipes
These low carb pumpkin cookies are the perfect grab and go, low carb breakfast or as sweet treats. Make a big batch and store in the freezer and you are ready to go in the morning. Each cookie has only 1.3g net carbs and are gluten free too!
Ingredients
¾ cup pumpkin puree
¾ cup of almond flour
¼ cup coconut flour
2 eggs
½ teaspoon baking soda
2 teaspoons cinnamon
½ cup Swerve Brown erythritol sweetener
¼ teaspoon liquid vanilla stevia
⅓ cup pecans
Instructions
Preheat oven to 350 degrees F.
In a bowl, beat eggs and add in Swerve sweetener, pumpkin and liquid stevia.
In a separate bowl mix the flours, baking soda and cinnamon.
Add the wet ingredients to the dry ingredients and mix well.
Take a spoonful of mixture and place on a silicone or parchment paper lined baking tray. Press a pecan into each cookie. Note cookies will not spread.
Bake for 16 minutes or until the cookies are firm. Baking time may vary so check on them after 15 minutes. Don't over cook them or they will be dry.
Let cool before eating.
Notes
Note I used canned pumpkin puree and not pumpkin pie filling. Also I prefer blanched almond flour and not almond meal but that would probably work ok in this recipe. And lastly I used vanilla flavored stevia so if you use plain stevia you might want to add ½ teaspoon of vanilla extract.
Nutrition Information:
Yield:

24
Serving Size:

1
Amount Per Serving:
Calories:

48
Unsaturated Fat:

0g