Tasty Paleo waffle hash browns made with celeriac. You won't miss the potatoes with this easy and delicious dish!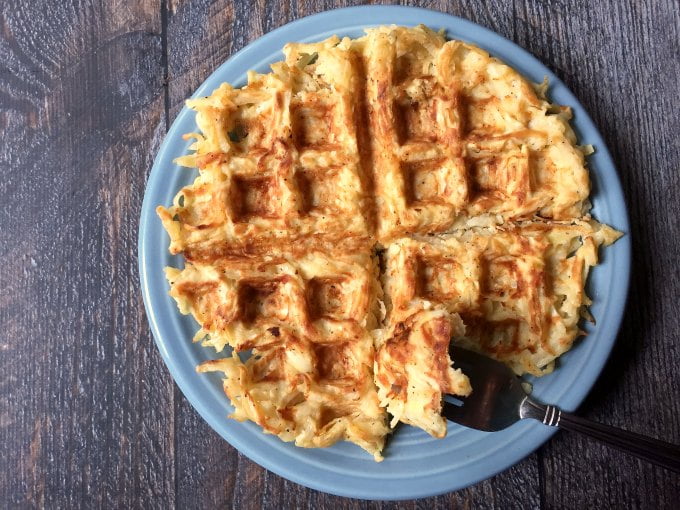 Every time I go to the Strip district I look for celeriac. It's such an ugly root vegetable (see the pic below) but I love that it's so tasty. It tastes like a combination of celery and potatoes if that makes any sense. It's also called turnip root celery or knob celery but chances are you won't get it confused with any other vegetable because look at it. However when compared to a potato, it has almost half the calories (42 vs. 77)and half the carbs (9g vs 17g). Also celeriac is an excellent source of vitamin C, vitamin K, phosphorus, potassium, vitamin B6, magnesium and manganese. But I just like it because it's a cool and unusual vegetable and has a very unique taste. These Paleo waffle hash browns were so easy that I urge you to buy one and give it a try.
As you see it's a pretty messy looking thing. You have to cut off all those little roots coming out and peel the rest. But this only takes a few minutes so no big deal. It's a bit fibrous and hard to cut. I used my food processor to grate my hash browns, but you could do it by hand if you need to. I used about half of this root and when grated it came to 2 cups.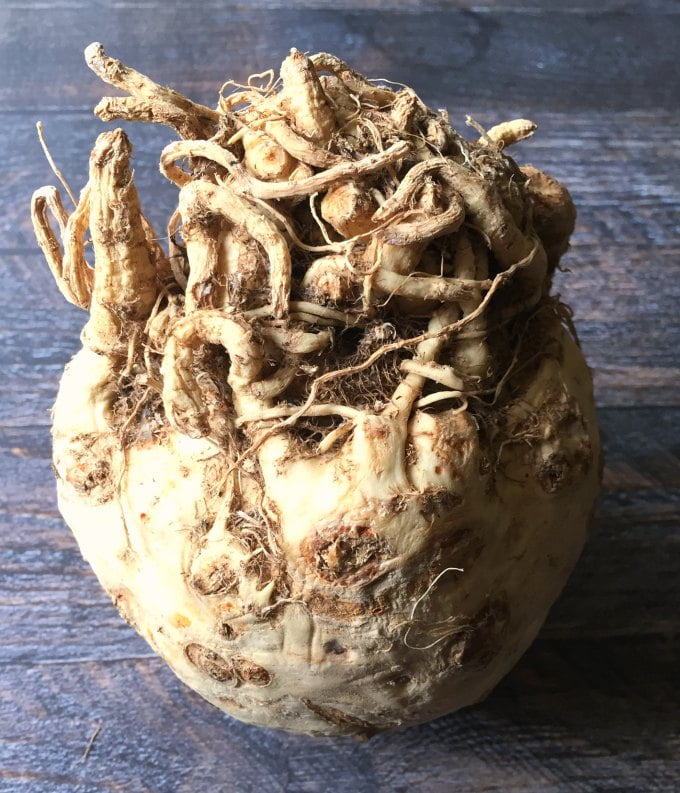 Then I tossed it with some olive oil, salt and pepper and microwaved for 1 minute. I wanted to get it a bit soft before I put it in the waffle iron.
I first used a quarter of this recipe and added it to my waffle maker but it didn't hold well together so threw it back in the bowl and added an egg. I then put the whole batch in the waffle iron. So this is a huge waffle hash brown but it stayed together and got nice and crisp.
Paleo Waffle Hash Browns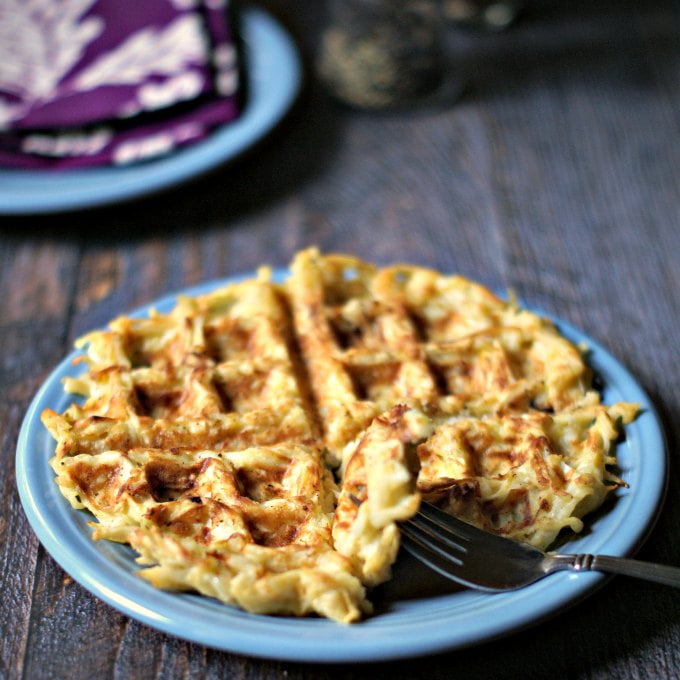 I've also made this before in a cast iron skillet with great success but it takes along time. You have to cook it low and slow so that it doesn't burn but the taste is fantastic. I've seen TONS of recipes for celeriac mash and I'm going to have to try that one next. Have you every tried celeriac? If so how do you cook it? Drop me a comment and let me know.
Paleo Waffle Hash Browns (using Celeriac)
Tasty Paleo waffle hash browns made with celeriac. You won't miss the potatoes with this easy and delicious dish!
Ingredients
2

cups

grated celeriac

2

Tablespoons

of oil

1

egg

¼

teaspoon

salt

⅛

teaspoon

pepper
Instructions
Heat up your waffle iron.

Add your grated celeriac, oil and salt and pepper to a microwavable bowl.

Heat in your microwave for 1 minute.

Let cool and then mix in your egg well to incorporate.

Add mixture to your waffle iron and cook until done. (May take a while depending your waffle iron.)
This post may contain affiliate links. For more information please visit our policies page.
---
More Paleo recipes to try!