These Paleo Chocolate Chip Cookies are not only delicious, they are very easy to make. A gluten free, healthy treat you can feel good about.
Oh how I love my chocolate chip cookies. I think they are my favorite food group. However following a Paleo/low carb diet most of the time doesn't leave a lot of room for chocolate chip cookies in my life. I made some bacon pretzel chocolate chip cookies for Christmas but haven't made any chocolate chip cookies since … until today. Today I have for you delicious Paleo Chocolate Chip Cookies.
I was fortunate enough to receive a copy of Carol Lovett's new cookbook, Ditch the Wheat
(affiliate link). It is fabulous! Full of delicious, healthy recipes that anyone following a gluten free or Paleo lifestyle will love. After all, it is from Carol that I learned of the meat bagel that I am so fond of. She has a great story to tell of how "ditching the wheat" has helped her overcome her own health problems. She also has a great blog that you should check out when you get a chance and now a big beautiful cookbook!
Of course out of the 120 Paleo recipes, I went straight to the chocolate chip cookie recipe. I had to test the recipe out a few times to make sure I got it down pat. Ok I ate the whole batch the first time I made them before I could take a few good photos. I really have a weakness for chocolate chip cookies. So today I made my second batch and hurried up to take pics before I ate them all again. They are that good!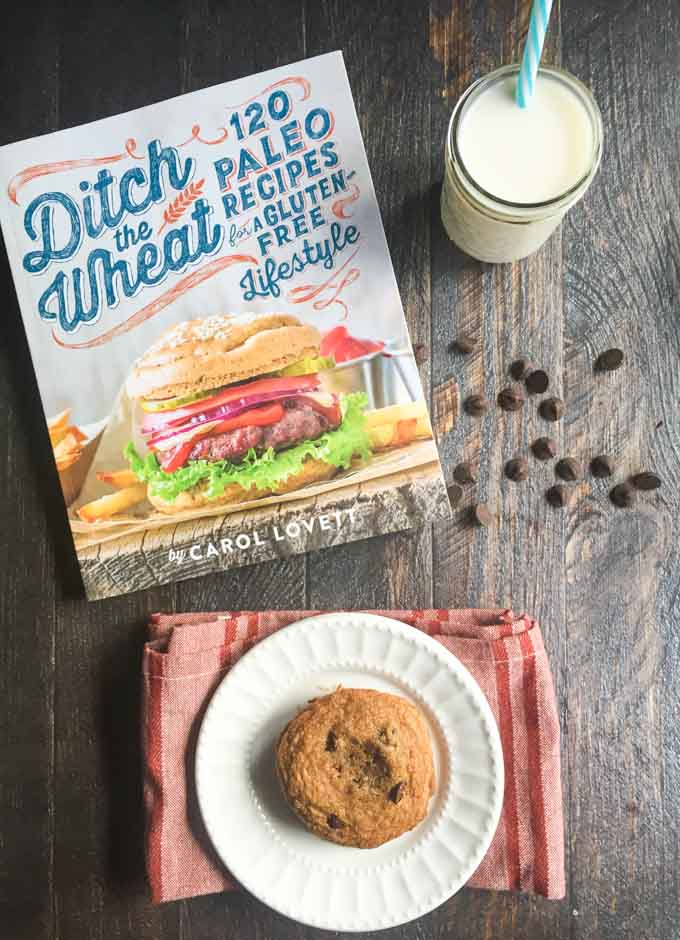 There are not many ingredients and if you use Enjoy Life chocolate chips
these cookies will be both dairy free and gluten free. I really like the taste of coconut sugar and coconut oil in this recipe. I think next time I make these I am going to add some coconut flakes as well because the coconut sugar has a caramel like taste to it that along with the chocolate and coconut remind me of Samoa Girl Scout cookies (my favorite). I'll let you know how that goes. I might have to make a few batches to get it right. <wink, wink>
Above are Carol's Salted Mexican Chocolate Clusters which are next on my list. Don't they look yummy? I hope you enjoy these Paleo chocolate chip cookies and if you do, all credit goes to Carol.
Paleo Chocolate Chip Cookies
I bet you can't stop at just one of these cookies! I find them utterly irresistible. They're sweet but not too sweet and crisp on the outside but soft on the inside. Like all great cookies, these taste fantastic just out of the oven.
Ingredients
1

cup

almond flour

¼

cup

arrowroot starch

½

teaspoon

baking soda

½

teaspoon

fine sea salt

½

cup

coconut palm sugar

¼

cup

coconut oil

1

large egg

1

teaspoon

vanilla extract

1

cup

semi-sweet chocolate chips
Instructions
Preheat the oven to 350°F. Line two cookie sheets with parchment paper.

In a small bowl, thoroughly whisk together the almond flour, arrowroot starch, baking soda, and salt. In a large bowl, using a hand mixer on medium speed, beat the coconut palm sugar, coconut oil, egg, and vanilla until smooth, about 2 minutes. Slowly add the flour mixture and mix just until incorporated. Use a spatula to stir in the chocolate chips.

Using two soup spoons, drop the dough in roughly 1-inch portions, spaced 2 inches apart, onto the prepared cookie sheets.

Bake, one sheet at a time, for 8 to 10 minutes, until the bottoms and edges ofthe cookies are lightly browned and the tops feel firm when gently touched. Let cool on the cookie sheet for at least 1 minute, then transfer the cookies to a wire rack to cool completely.

Store in an airtight container at room temperature for up to 4 days, or in the freezer for up to 3 months.
This post may contain affiliate links. For more information please visit our policies page.
Paleo Chocolate Chip Cookies