This spicy Mexican red lentils recipe makes for a hearty, healthy meal. Spicy and comforting, this is the perfect vegetarian chili alternative.
You might also like this vegetarian chili recipe!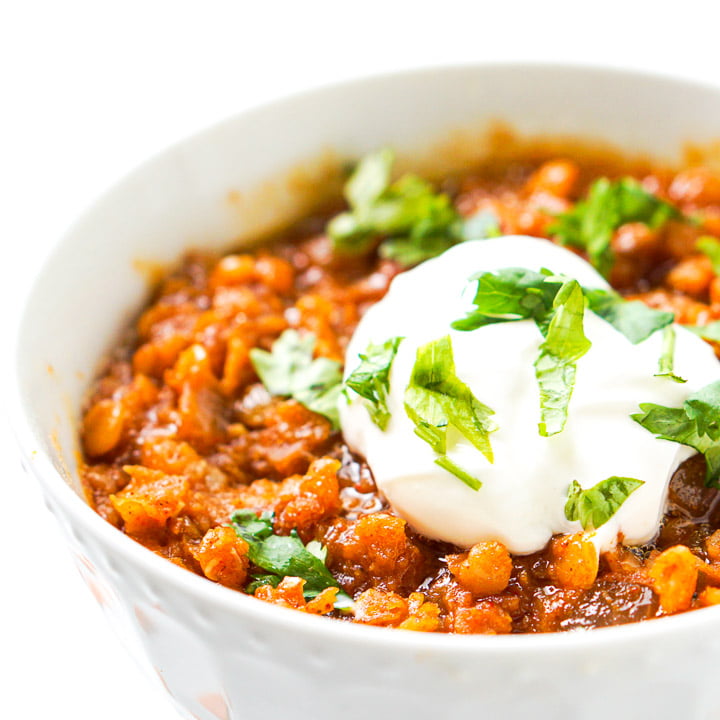 I've been craving lentils for quite a while now. I know that seems like a weird thing to crave but I really, really like them. However sometimes they are hard on my stomach and so I haven't had them for a long time. And you know when you can't have something you want it more. Or is that just me?
Anyway I decided to give them a try again and OMG this was delicious! Even my hubby who doesn't care for lentils thought it was really tasty. So if lentils are your friend, give this spicy Mexican red lentils recipe a try.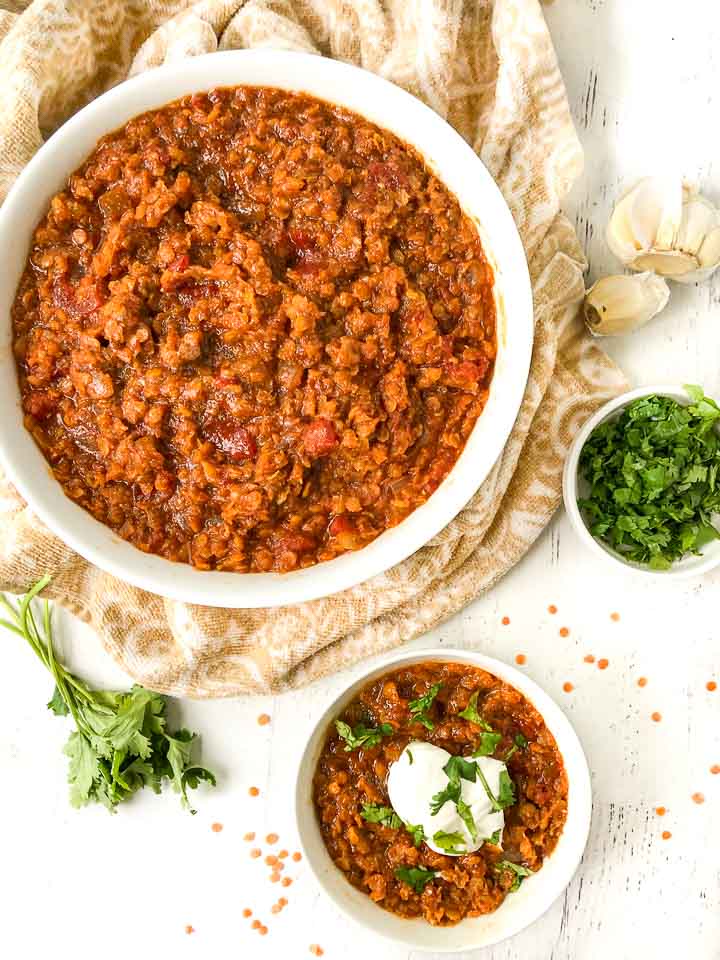 How Do You Cook Dry Red Lentils?
When using dry
red lentils
you always want to use 3 cups of liquid (water, broth, etc) to 1 cup of dry lentils. The lentils will absorb the liquid. Bring the lentils and water to a boil and then cover and reduce heat. Simmer until the lentils are tender which will usually take about 15 – 20 minutes if lentils are whole. Split lentils will take less time.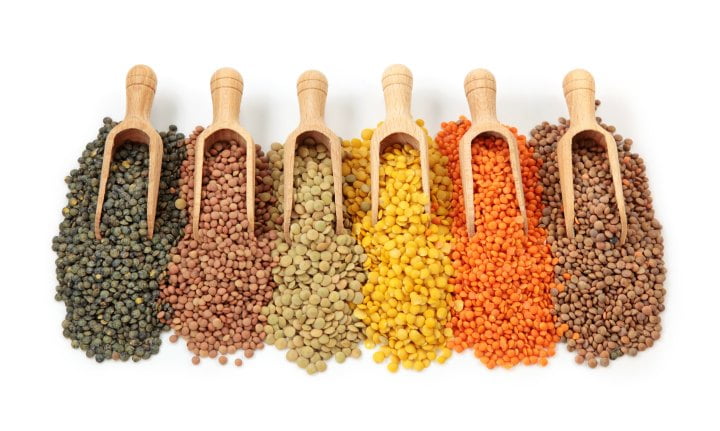 Are Lentils Healthy For You?
Lentils are a good source of plant protein and very popular in a vegetarian diet. They are an inexpensive food that can be used in a variety of ways. The nutrition of 1 cup of uncooked lentils red lentils:
22g protein
10g fiber
40mg calcium
6mg iron
60mg potassium
Difference Between Red Lentils And Brown Lentils
Red lentils tend to be mild and may become slightly mushy when cooked down so they are often used in soups and stews. Yellow lentils are similar to red lentils.
Brown lentils and green lentils hold their shape better than the red or yellow. They are milder in flavor but often used in veggie burgers, in salads or soups. To learn more check out this excellent lentils article in Cooking Light.

This Red Lentils Recipe Is Spicy!
Now let me tell you, this is spicy. Not necessarily hot spicy but rather spicy spicy. 😉 I like it this way, because then you can eat it with cool and creamy sour cream to counterbalance the spices. Yum!
It is super simple and only takes about 25 minutes. To me it tastes very much like a vegetarian chili. I've made turkey chili and veggie chili in the past but I like this dish the best.
Below are the ingredients I used which were: dried red lentils, onions, garlic, a can of diced tomatoes and a whole lotta spices.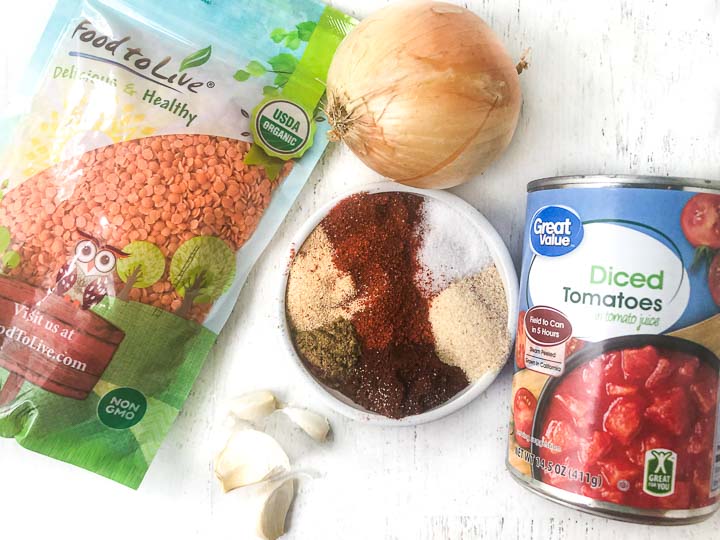 Let's Make Some Spicy Mexican Lentils
This is very easy to make. Start by browning some onion in a soup pot with a little oil.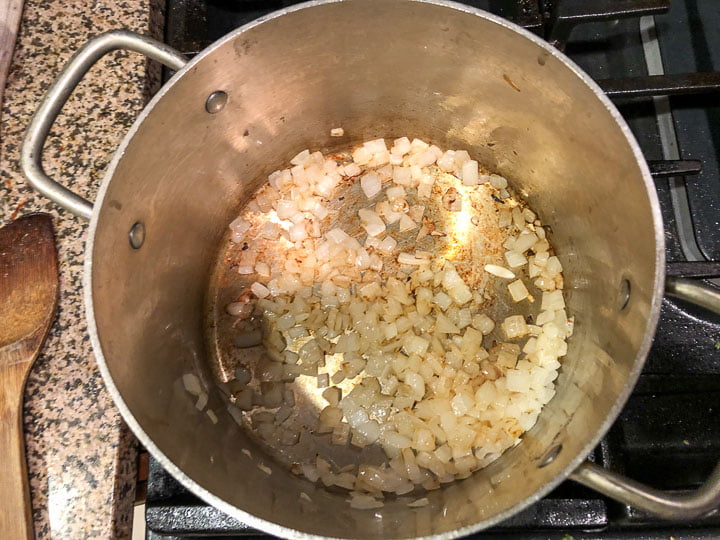 While that's cooking rinse your lentils. Then when the onions start to brown add the red lentils along with the rest of the ingredients to the pot.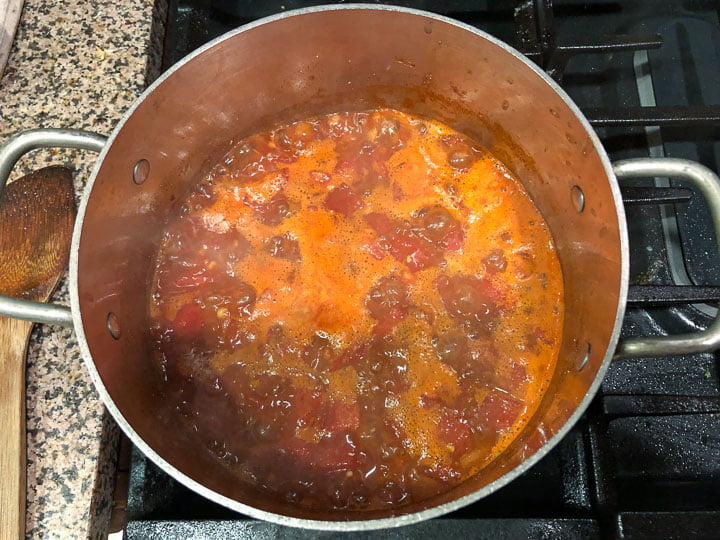 When the mixture starts to boil, turn it down so it's simmering and cook for 10-15 minutes until the lentils are tender.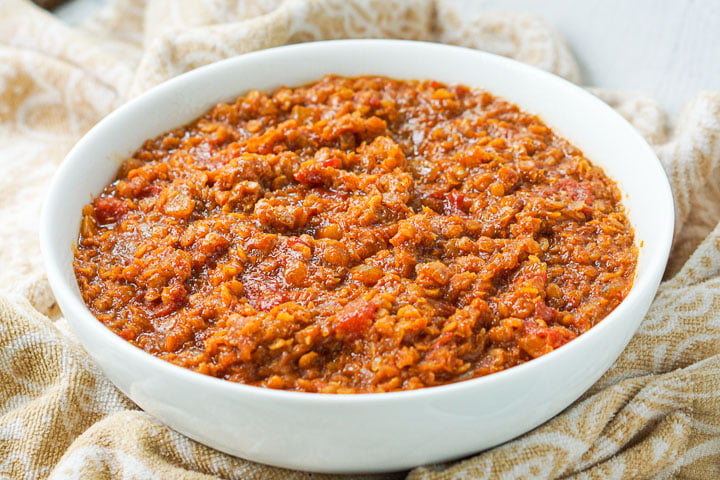 How To Eat This Vegetarian Chili
I like to eat this lentil dish as I would regular chili and that would be over rice or as is. If I eat it as is, I like to put a dollop of sour cream and a little cilantro on top. The sour cream balances the spiciness of this chili
I like to eat chili with rice but you can also mix in some macaroni noodles to have a vegetarian beef a roni type dish.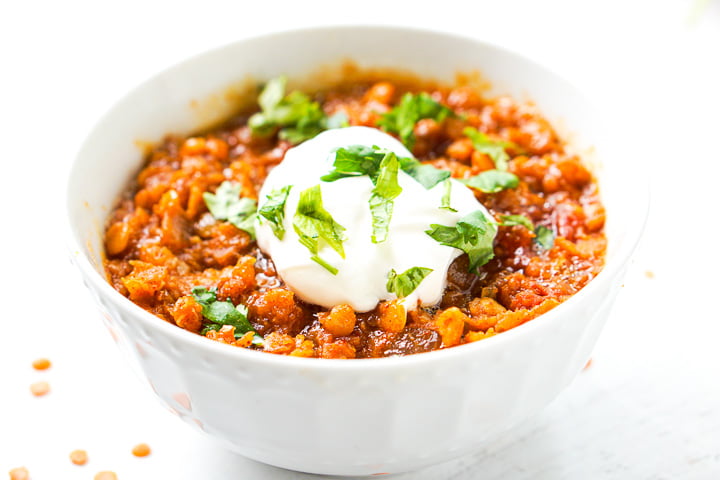 Well this was just a quick little post for you today. After the success of this dish, I had a slew of lentil recipes I wanted to try but unfortunately I'm going to have to pace myself. I ate this for lunch and dinner and it was a bit too much for my belly.
In the meantime I hope you give this a try because it was quite yummy. Enjoy!
The nutritional information for 1 serving is:
248 cals / 3.4g fat / 42.2g carbs / 9.4g fiber / 12.9g protein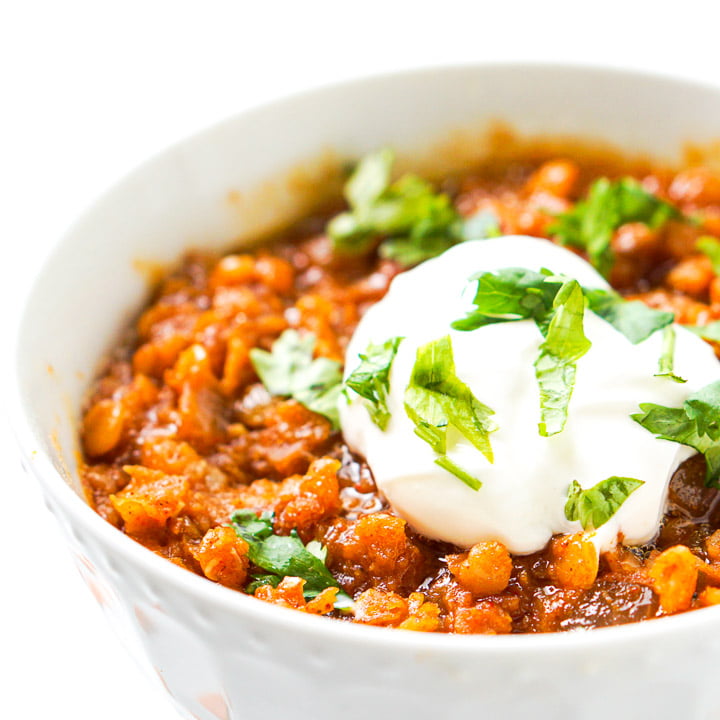 Mexican Spice Red Lentils
This spicy Mexican red lentils dish is a hearty, healthy meal. Spicy and comforting, this is the perfect vegetarian chili alternative.
Ingredients
1 cup red lentils, uncooked (dry)
3 cups water
1 Tablespoon olive oil
1 cup onions, chopped
14.5 oz can diced tomatoes
1 ½ teaspoons cumin
1 Tablespoon chili powder
1 Tablespoon garlic powder
1 Tablespoon onion powder
1 Tablespoon paprika
1 teaspoon salt
½ teaspoon cayenne powder
1 teaspoon crushed garlic
Instructions
Add your olive oil and onions to a pot and cook until they are starting to brown.
In the meantime rinse your lentils and set aside.
When the onions start to brown, add the rest of the ingredients and bring to boil.
Once boiling, turn down the heat to a simmer.
Cook for 10-15 minutes or until lentils are tender.
Garnish with sour cream and cilantro if using.
Recommended Products
As an Amazon Associate and member of other affiliate programs, I earn from qualifying purchases.
Nutrition Information:
Yield:

4
Serving Size:

1
Amount Per Serving:
Calories:

248
Unsaturated Fat:

0g