Lemon and garlic brussel sprout chips are healthy, delicious and easy to make. Lemon, garlic, olive oil and roasting make these brussel sprouts flavorful.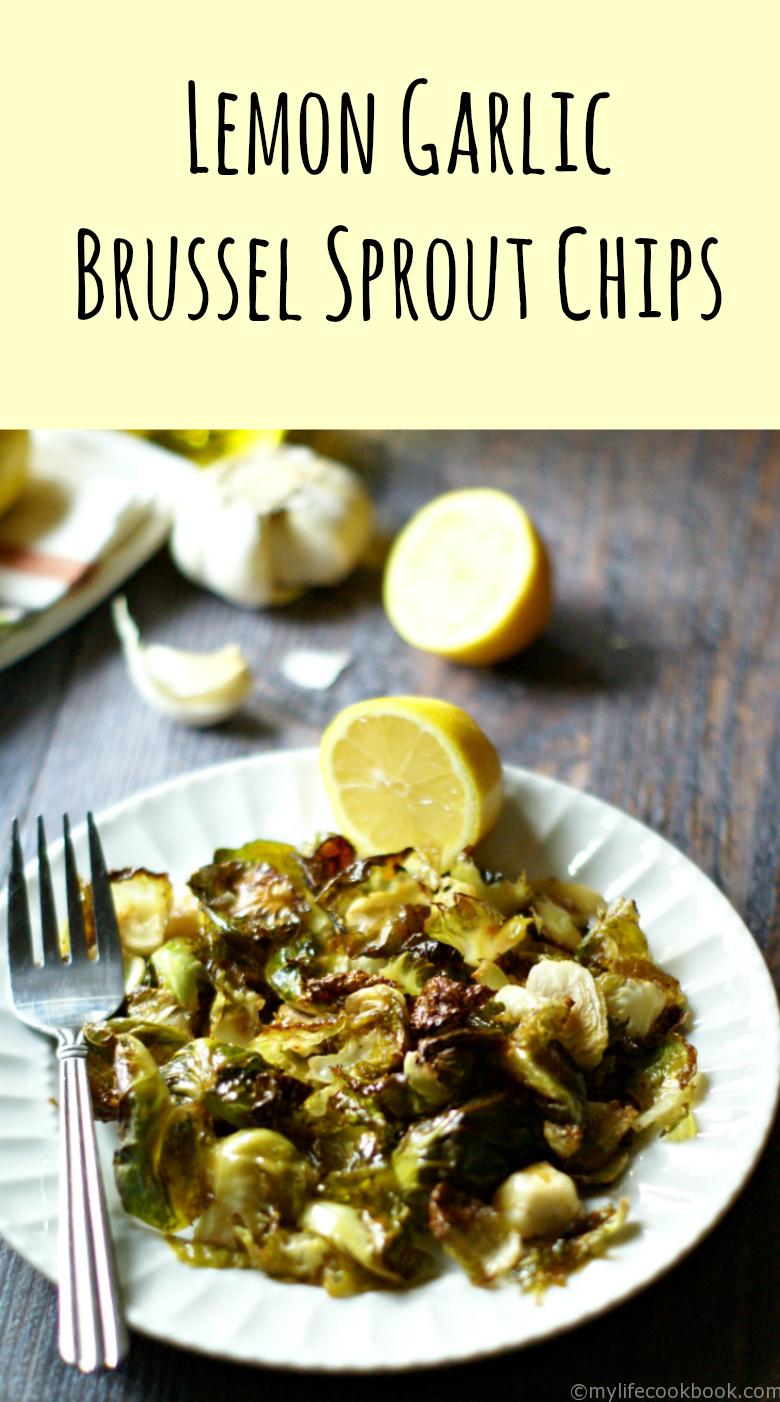 I made these for a party along time ago and everyone loved them. I know it doesn't seem like a party food but if you have a lot of rich or heavy food as your appetizers, a little veggie dish can go a long way to balance it. If you are a fan of roasted Brussel sprouts I'm sure you will like these chips.
While this is a simple dish, the peeling of the leaves can be time consuming. I found that the fastest way to do this is start from the bottom. Cut off the base and peel off as many leaves as you can. Then cut a little off the base again and peel more leaves off. When you get to the middle just throw it in with the leaves.
Above you can see that 1 lb of Brussel sprouts makes a big bowl of leaves when you separate them. So after you have separated the leaves, you want to toss them with the olive oil, lemon juice and zest, garlic and salt and pepper.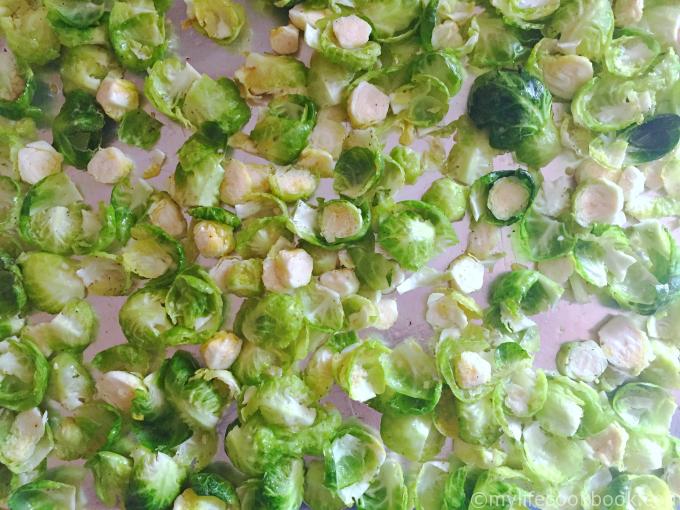 Spread them out evenly on a sprayed cookie sheet and bake for 25-30 minutes. If you ate this raw it would probably be a good Brussel sprout salad as you are basically dressing it with a lemony vinaigrette dressing. But I don't know if my stomach can take raw Brussel sprout leaves so I roasted them to give them more flavor (and make them easier to digest).
Lemon Garlic Brussel Sprout Chips
Once they are done you can pick at them or eat them as a side dish. Some freshly grated Parmesan or Romano cheese sprinkled on top would taste great too. That's all there is too it. I hope you try these Lemon Garlic Brussel Sprout Chips!
1 serving = 121 cals / 11g fat / 7g carbs / 2g fiber / 2g protein = 5g net carbs
Lemon Garlic Brussel Sprout Chips
Roasting these Brussels sprout leaves in a lemon and garlic dressing gives them such flavor! You can eat them as chips or as a tasty side dish.
Ingredients
1

lb

Brussels sprouts

3

Tablespoons

olive oil

1

lemon

juiced

zest of 1 lemon

1

Tablespoon

crushed garlic

salt and pepper to taste
Instructions
Preheat oven to 350 F

Clean Brussel sprouts and cut off ends.

Separate as many leaves as possible.

Toss with olive oil, lemon juice, lemon zest, garlic, salt and pepper.

Spray a large cookie sheet with cooking spray.

Put the sprout leaves on the cookie sheet and make sure to even them out.

Bake for 20-30 minutes until brown and crispy.

Serve right away.

Top with grated cheese if you want.