Herbal bath tea jars are both beautiful and useful. Give as a gift or use for yourself and take a relaxing bath.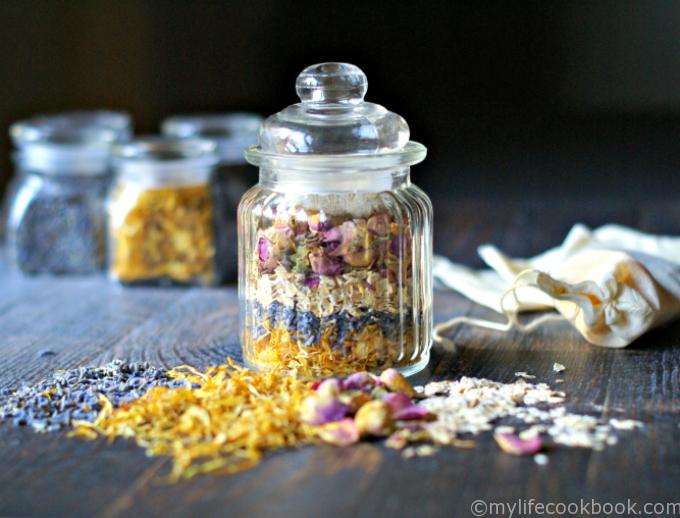 I don't know if I have told you, but my sister and I used to have an herbal gift shop. It was so much fun. I preferred the medicinal side of herbs and my sister liked the gardening and crafting aspect of herbs. We had many wonderful products in our store like Votive candles, Thymes bath and body products and beautiful wreaths from Shields Herb Farm. Good stuff, good times. Anyway, this herbal bath tea jar is from one of the classes my sister gave at the shop. I always thought they were so pretty and because I love to take a bath, I made a few for myself today. (By the way, my sister has some awesome projects on her blog and you can check it out at Gardenmatter.com.)
Below you can see what I used in my jar. I had the oatmeal on hand as well as the calendula from my bath oil post. I bought the lavender on a shopping trip in the Strip District and had some leftover rose petals from my lemongrass, ginger and rose bath salt post.
I picked the ingredients for these properties:
Oats:  Oats are anti-inflammatory and have been used for centuries to fight dry, itchy skin. They become gelatinous in the water and leave a fine protective film on your skin. The protein helps skin's natural barrier function.
Lavender: Lavender has been known for treating burns because of it's anti-inflammatory properties. It also soothes and detoxifies skin.
Roses:  Roses also have anti-inflammatory properties as well moisturizing benefits too. The natural oils lock in moisture and makes your skin feel smooth.
Calendula: Calendula also reduces inflammation and is known to promote wound healing.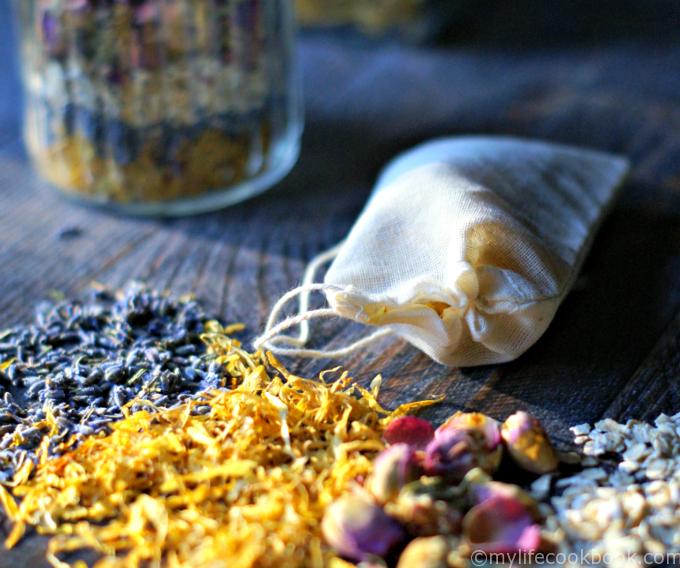 To make these lovely little jars, just layer them in any order you want. Then take a muslin bag and fold it up and place on top. To use these herbs,  just add some to your muslin bag and use it like a large tea bag. I hung mine from the tap so it steeped as the water rushed over it when I was filling the tub. Then I dropped it in during my soak. Every once in awhile I would squeeze it to get out all the "tea" from my herbs. When you are done using, empty the tea bag, rinse well and let  air dry.
Herbal Bath Tea Jars
You can also just place these on your bathroom shelf and enjoy the beauty of these pretty herbs. Or they make an easy gift for that bath lover in your life. Lastly they make nice favors for a party. I bought the jars at the dollar store and you can get the muslin bags
,  rose petals
, calendula
 and  lavender
 from Amazon (affiliate links).
Well I hope you enjoy this simple craft. Sometimes a bath can be the perfect time to relax and rejuvenate both your body and your mind. Enjoy!
Herbal Bath Tea Jars
Herbal bath tea jars are both beautiful and useful. Give as a gift or use for yourself and take a relaxing bath.
Ingredients
1

jar

I bought mind at the dollar store

¼

cup

calendula leaves

¼

cup

lavender flowers

¼

cup

rose petals

¼

cup

oatmeal

1

small muslin bag
Instructions
Layer your herbs in any order you like.

Fold and place the muslin bag on top and close the jar.

To use, add some of the herbs to fill the tea bag. Steep the muslin bag in a hot bath and squeeze occasional to get out more "tea" from your herbs.

When finished make sure to dump out the herbs and rinse your muslin bag. Set out to air dry.

You can take approximately 4 baths with this amount.