I had not intended on making this dish but when my husband picked all these beautiful zucchini flowers and looked at me expectantly, I could hardly refuse. He gets so much satisfaction from picking our produce from the garden and that in turn makes me happy. I love that he loves our home as much as I do. But I digress. This is a recipe his mom used to make all the time. She lives with us and has Alzheimer's so I cannot ask her for the recipe so I used one I found online from Tyler Florence. It came out quite tasty.
First you want to pick your blossoms when the are open. They started to wilt by the time I got around to cooking them but below is my husband's harvest. They are so pretty and just like anything else that is dipped in batter and fried, they are delicious fried.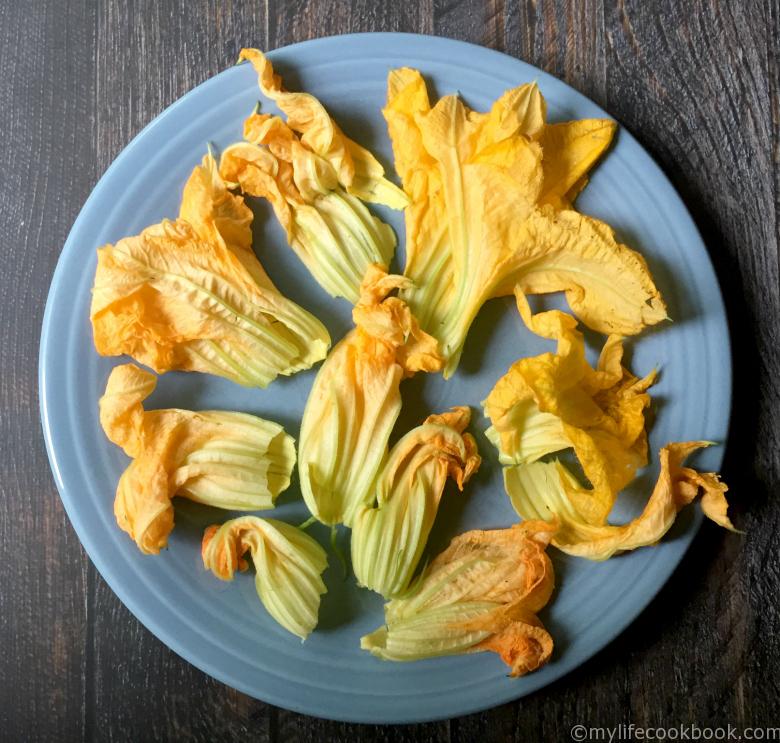 The batter is simply an egg yolk, cold water and flour. I fried them in vegetable oil because these are not low carb nor are they Paleo. But they are for my hubby and his parents so who cares about the carbs.
Eat them when they are still warm and sprinkle some grated Parmesan cheese on top. Delicous!
Fried Zucchini Blossoms
Ingredients
1

dozen zucchini blossoms

2

egg yokes

1

cup

ice water

1

cup

flour

grated Parmesan cheese for sprinkling

vegetable oil for frying
Instructions
Whisk the yolks and ice water until well blended.

Add flour and keep whisking until like a thick cream. Add more flour if you need to get this consistency. You don't want pancake batter consistency.

Heat your oil to medium high.

Dip your flours one at a time in the batter and let the excess drip off.

Fry until golden brown, flipping once.

Take out of pan and put on paper towels to absorb excess grease.

Sprinkle with grated Parmesan cheese and serve immediately.