Look no further for here are 21 delicious summer zucchini recipes that you can use for breakfast, lunch, dinner or even a snack. All are easy, healthy and very tasty! Great for using all of that summer zucchini you have growing in your garden.
You might also like these 7 low carb zucchini noodle recipes!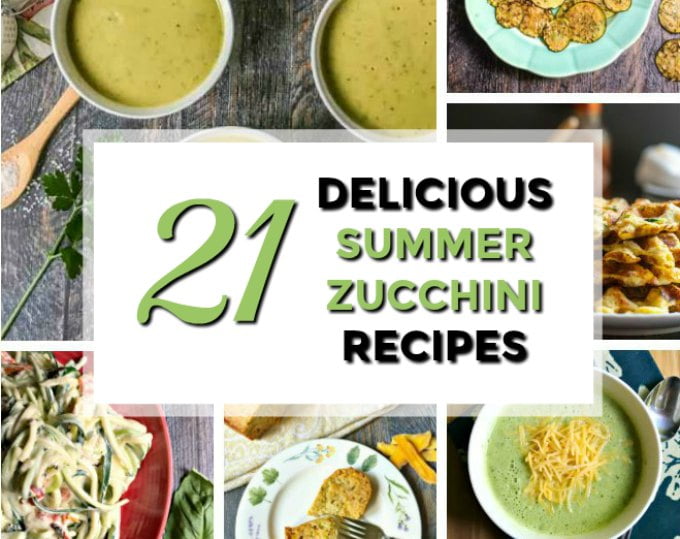 I don't know about you but come summer time I am bombarded with zucchini. What's hard for me is deciding what to make because neither my son nor my husband like zucchini.
However some of the following recipes they love, like the waffles and zucchini bread. I am fond of all the zucchini noodle recipes and zucchini chips. So today I have collected 21 of my summer zucchini recipes for you all in one place!
A few newer low carb zucchini recipes
UPDATE: I have a few more low carb zucchini recipes that's I've made since this post came out. Since I'm mostly create keto or low carb recipes now, here are a few newer zucchini recipes that are low carb or keto. Even if you are not low carb, you will love them.
Kitchen Gadgets good for preparing zucchini
I also wanted to point out that when making some of these recipes, I have a little help from these cool kitchen gadgets. For veggie noodles I love my spiralizer and julienne peeler. And for thinly slicing zucchini for chips or the hummus snacks, I love this mandoline.
Not that you need those items. A standard peeler would work in many cases. So without a further a do, check out these tasty summer zucchini recipes below!
---
21 delicious summer zucchini recipes!
---
Well that was my collection. Do you have any ways you like to use your summer zucchini? Drop me a line below and share it with me. I'd love to hear from you.