This fathead fruit pizza is a delicious low carb dessert that is perfect for a summer party. It's also gluten free and only has 4.2g net carbs per piece!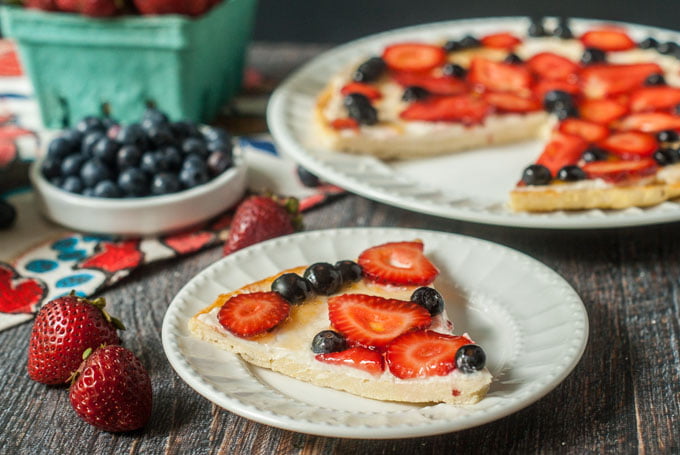 Every summer someone always brings a fruit pizza to a party or picnic. I love fruit pizzas. They are usually made with a sweet sugar cookie crust covered in a cream cheese spread and topped with fruit and jam. Very good but very sugary and high in carbs. So no fruit pizza for me. That's why I came up with this fathead fruit pizza that is both low carb and gluten free. It uses a fathead pizza crust instead of the sugar cookie crust. It's the perfect low carb substitute!
So what is a fathead crust? It is a recipe that has been going around in the low carb/keto sphere for quite some time. It was originally from the people who made the movie "Fathead" and here's their recipe. It's basically mozzarella, cream cheese, egg and almond flour. It's been used in lots of recipes for pizza. Today I used coconut flour and made it a bit sweet to go with this recipe. I haven't made a savory fathead pizza …. yet. But I'm sure I will. FYI I really like my chicken vegetable cauliflower pizza though if you are looking for low carb pizzas.
To make the crust it's really easy but kind of strange. You add the cream cheese and mozzarella to a microwaveable bowl and cook for about 1 minute. Mix it real well until it forms a dough. Then you place it on a silicone mat or parchment paper and cover it with a piece of parchment paper that you have sprayed cooking spray on. Using a rolling pin over top the parchment paper to roll out a pizza shell. I then used my fingers to clean up the edges a bit. Bake for about 16 minutes or until it's cooked. I didn't want it too brown because it's rather dry.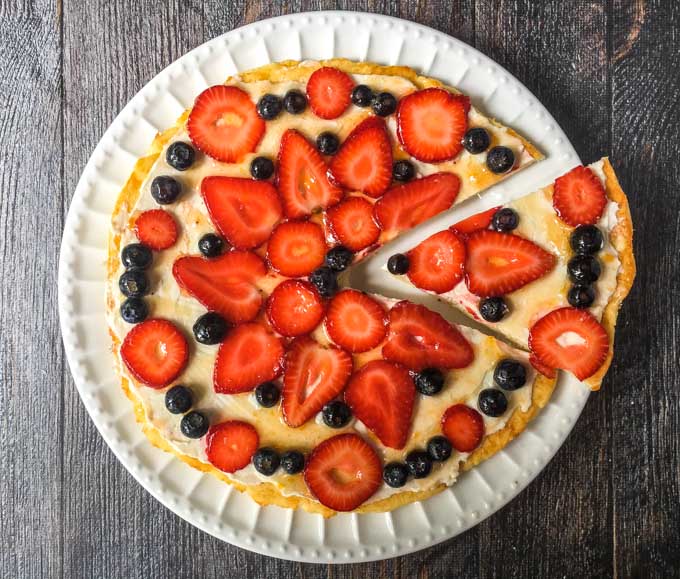 When it's done, I took it out of the oven and let it cool. I flipped it over because the bottom was smoother and easier to spread the cream cheese mixture on top. Lastly I decorated with thinly sliced strawberries and blue berries. I used a sugar free apricot preserve that I watered down a bit. It spread nicely over the fruit and added a bit more sweetness.
Fathead Fruit Pizza
Then I refrigerated until we were ready to eat. It was really tasty and delicious. I'll be honest it is not the same as the sugar cookie base but I find that to be too sweet anyway. I hope you like this delicious summer treat. The nutrition for 1 piece is:
216 cals / 17.3g fat / 15g carbs / 10.8g fiber / 9.1g protein = 4.2g net carbs
Fathead Fruit Pizza (low carb, gluten free)
This fathead fruit pizza is a delicious low carb dessert that is perfect for a summer party. It's also gluten free and only has 4.2g net carbs per piece!
Ingredients
2

cups

mozzarella cheese

shredded

8

oz

cream cheese

1

egg

5

Tablespoons

Swerve sweetener

1/4

cup

coconut flour

1/2

cup

strawberries

sliced

1/4

cup

blueberries

1

Tablespoon

sugar free apricot preserves

I used Nature's Hollow
Instructions
Preheat oven to 400 degree F.

In a bowl, add the coconut flour, 1 tablespoon of Swerve and mix well. Set aside.

In a microwave safe bowl, add 1 oz of cream cheese and the all of the mozzarella cheese.

Microwave for about 1 minute then mix well. Should be like a stick dough and cream cheese is melted. If not heat up again for 15-30 seconds.

Add the coconut flour mixture to the cheese mixture along with the egg and mix well until the egg is fully incorporated.

Take out of bowl and form into a large ball. Place onto a parchment lined cookie sheet.

Spray cooking oil on the top of another piece of parchment paper and lay on top of the ball. Using a rolling pin make dough into a pizza shape.

Bake in the oven for 16-18 minutes until crust is cooked. Will not be brown but firm to the touch.

Take out and let cool.

In the meantime take the rest of the Swerve and the cream cheese and mix well.

When crust is cooled, spread cream cheese mixture on top and decorate with strawberries and blueberries.

Take the preserves and add a tablespoon of water. Microwave for 30 seconds and mix well.

Brush preserves over the whole pizza.

Keep refrigerated until ready to serve.
This post may contain affiliate links. For more information please visit our policies page.
---
More summer low carb desserts to try!